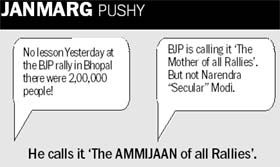 10-year jail for two carjackers
Panchkula, September 25
Two students, who had taken to carjacking, were awarded 10 years' imprisonment by a local court in the Innova carjacking case today. Though the two robbers, Vikramjeet, alias Vicky, and Tarsem, have been acquitted by the court in another (Verna) carjacking case of Raipur Rani, they have been convicted in the Innova case.
Change of land use
Pay service tax or face allotment cancellation: Admn
Chandigarh, September 25
The UT Administration has clearly told the owners of plots in the Industrial Area, Phase I and II, who have got their use status changed from industrial to commercial, to pay service tax or face cancellation of allotment of their properties.

Patients to get cheaper medicines
Chandigarh, September 25
Patients at the PGIMER are in for some relief from the exorbitant cost of medicines and surgical items. Receiving an approval for holding the auction of chemist shops on the basis of maximum discounts offered by the chemists from the Institute Body, the PGIMER has decided to begin auction from December this year.
A chemist shop at the PGIMER market, Chandigarh. A Tribune photograph

No lesson learnt
Major leakage detected in Kajauli pipeline
Morinda, September 25
The authorities, responsible for maintenance of Kajauli Water Works pipeline, don't seem to have learnt a lesson from recent major leakage problem, which had led to severe water crisis in Chandigarh and here in the town for about 15 days last month.


No lesson learnt: Water accumulates near a leaking Kajauli waterworks pipeline at New Morinda. Tribune photo: Vicky Gharu
DC asks MC Commissioner to chalk out plan to clean town
Mohali, September 25
Upset over scattered heaps of garbage all around in the town, Mohali Deputy Commissioner Tejinder Pal Singh Sidhu today directed the newly appointed Mohali Municipal Corporation's Commissioner Uma Shankar to chalk out programme to clean the town on top priority.
Garbage near the meat market; and (right) open sewerage hole at Phase VI in Mohali. Tribune photos: Vicky Gharu

Mansa Devi temple gets facelift ahead of Navratras
Panchkula, September 25
This Navratras, devotees at the Mansa Devi temple will have a 'smooth' and comfortable walk as various stretches of the heated charcoal roads and piercing pebbles are being covered with pavers.


Construction work under way at the parking area of the Mansa Devi Temple in Panchkula on Wednesday. Tribune Photo: Nitin Mittal



LPG auto owners court arrest
Chandigarh, September 25
Around 166 LPG auto-rickshaw owners from the tricity courted arrest to the police at the Sector 34 Exhibition Ground today. Later, they were released. The Tricity Auto-Rickshaw Owners' Union demanded that there should be a ban on the plying of illegal diesel-run auto-rickshaws in the city.
The agitating LPG auto-rickshaw owners at the Sector 34 police station in Chandigarh on Wednesday. Tribune photo: Parvesh Chauhan


mohali issue
Self-assessment system for property tax
Mohali, September 25
Skyrocketing prices notwithstanding, now get ready for another punch in the form of property tax in Mohali . The Municipal Corporation has already got into action to collect the tax from April 1 this year from the owners of property located within its jurisdiction.
Carpeting work on internal roads starts in Mohali
Mohali, September 25
Premix carpeting work on internal roads in the town has been started for which Rs 9 crore has been earmarked, Deputy Commissioner Tejinder Pal Singh Sidhu said here. He said development works worth Rs 4 crore had been undertaken in the first phase and now Rs 11.50 crore was being spent on the beautification of the town.
Honour for PGIMER faculty
Chandigarh, September 25
Prof Kim Vaiphei, Department of Histopathology, PGIMER, Chandigarh, has been elected as a Fellow of the National Academy of Medical Sciences (NAMS), India, for 2013.
Training workshop for UT policemen held
Chandigarh, September 25
A training workshop on trauma and advanced life support was organised for the Chandigarh police personnel at the Government Medical College and Hospital, Sector 32, Chandigarh. The workshop aimed at enhancing knowledge and strengthening life-saving skills of the police personnel in the field of proper handling of patients on the road.
TRIBUNE IMPACT
Official deployed to help pensioners
Chandigarh, September 25
The UT Social Welfare Department today deployed a representative of a bank who will help pensioners open their bank accounts. The action has been taken after the Chandigarh Tribune reported that for the past two days, no bank representative had turned up at the Bal Bhawan, Sector 23, where a counter had been set up by the department for opening bank accounts of pensioners.


'Oh Lok Jo Ruke Reh Gai' staged
Chandigarh, September 25
A play, "Oh Lok Jo Ruke Reh Gai", was staged as part of the Punjabi Theatre Festival at the Tagore Theatre here. The play was the adaptation of Arthur Miller's "A Memory of Two Monday" by Navdeep Singh.
Artistes enact a scene from the play, "Oh Lok Jo Ruke Reh Gai", at the Tagore Theatre, Sector 18, Chandigarh, on Wednesday. Tribune photo: Vicky Gharu
Fire breaks out at school's storeroom
Chandigarh, September 25
A fire broke out in a basement storeroom of Divya Public School, Sector 44, here, due to an electric spark at 8.30 am. After the smoke started coming out from the basement, all the students were immediately evacuated to the ground.


Private schools flout CBSE norms
Chandigarh, September 25
The private schools in the city seem to be shying away for disclosing their student: classroom ratio, one of the important norms of the Right to Education Act, showing the quality of education in an institute.


Now, submit PG forms online at PU
Chandigarh, September 25
Taking a step towards providing the online facility to the students, the Panjab University (PU) today introduced the facility of online examination forms submission in postgraduate (PG) classes at university, its affiliated colleges and students enrolled in the courses as private candidates and under the University School of Open Learning (USOL).
Vice-Chancellor Arun Grover launches online system of filing exam forms at Panjab University in Chandigarh on Wednesday. Tribune photo: Manoj Mahajan
Workshop on computer-aided English learning organised
Chandigarh, September 25
Chandigarh Chapter of English Language Teachers Association of India (ELTAI) held a two-hour workshop on "Trace Effects", a computer-aided language learning tool developed by the US State Department for teaching English, here at the American Centre in Sector 17 Central State Library here today.
UT schoolteachers allege violation of transfer policy
Chandigarh, September 25
Joint Action Committee of the UT School Teachers, Chandigarh, has sought a strong transfer policy in a meeting held to discuss the UT issue of schoolteachers. The members said every day few transfers were being made in violation of the transfer policy notified by the department itself.
PU delays re-evaluation results, students in a fix
Chandigarh, September 25
The delay in declaring results of re-evaluation of exams filed by the students of undergraduate classes who had got compartment in the exams, has left the students in a fix as they have also applied for the compartment exam, without knowing the result of the revaluation.
FROM COLLEGES
PU prof gets ICMR award
In recognition of sustained research work in the field of microbiology, Panjab University (PU), Prof Praveen Rishi, has been conferred Dr YS Narayana Rao Oration Award by the Indian Council of Medical Research (ICMR), New Delhi. This is a national level award given for the research.