| | | |
| --- | --- | --- |
| | OPED — Diaspora | |
Cananda Calling

Milestone for Punjabi cinema
Gurmukh Singh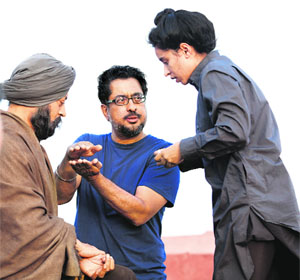 Director Anup Singh (middle) explains a scene on the sets of Qissa
The recent Toronto International Film Festival (TIFF) proved to be very lucky for Punjabi cinema. It was for the first time in the history of the world's premier film festival that a Punjabi film made an entry and was voted as the best film from Asia.
Qissa, a Punjabi film by Switzerland-based filmmaker Anup Singh, wowed audiences during its screenings and when the festival concluded on September 15, it was voted as the best Asian film of TIFF 2013.
One could not believe it when Toronto film festival artistic director Cameron Bailey opened the envelope and announced Qissa as the best film from Asia!
Qissa is the story of a Sikh, Umber Singh (played by Irrfan Khan), who is uprooted from his village near Rawalpindi following Partition of India. He was forced to move to India with his wife and three daughters.
The film portrays his displacement, both physical and emotional. And as Umber Singh tries to rebuild his life, the loss of home and identity trigger such intense emotions within him that he turns not only against those around him and his family but also himself.
Since a son is seen as the perpetuation of family name in the male-dominated society, Umber Singh, unable to have a son even after three daughters, raises his fourth daughter as a son and goes on to marry 'him' to a young girl. It is then that all family secrets spill out!
Qissa director Anup Singh told this correspondent that the film resonates with his own family's life story after the Partition: How they were displaced, how they first moved to India and then to Tanzania, where Anup was born in Dar-e-Salam, and how they again moved back to India after 15 years in East Africa.
"Our family was displaced by the Partition, and my grandfather was very bitter about being uprooted from his roots. He knew he would never be able go back to his roots. He remained very bitter," Anup Singh said.
Umber Singh, protagonist of the film, symbolises his grandfather, who never came to terms with his loss of home and identity in 1947, Anup said.
When the news of Qissa winning the award reached him in Geneva, Anup Singh said, "It was my wedding anniversary and the award doubled the celebrations. Some of the actors were travelling and heard the news as soon as they landed in Mumbai from Toronto and jumped and danced excitedly at the airport itself! Irrfan Khan was ecstatic and sent me personal congratulations as soon as he heard. All the cast and crew see Qissa as their own baby and celebrations are swinging in India, Germany, France and the Netherlands, where all our cast, crew and co-producers reside."
He added, "We believe that our Qissa caravan has just reached the first watering-hole in Toronto. There is still a vast desert to cross to reach our audience. It has been invited to numerous major festivals all over the world."
According to Anup Singh, "Qissa is going to be dubbed into German. There are talks about dubbing it into Hindi."
The film will be released in India early next year and later in Europe, Canada and the US.
Audiences will be surprised to see Irrfan Khan, who plays the role of Umber Singh in the film, speaking almost flawless Punjabi.
"Initially, I was concerned whether I will be able to speak Punjabi properly, but it worked out very well. I worked very hard on my Punjabi with the help of my theatre friends," said Irrfan, who was in Toronto for the world premiere of the film.
Interestingly, "Qissa also features Tisca Chopra, who is related to writer Khushwant Singh. She plays the role of Umber Singh's wife Maher.
Turban issue to the fore again
Just two months after the Sikhs in French-speaking Quebec province of Canada heaved a sigh of relief when the Quebec Soccer Federation rolled back its ban on turbans on soccer fields, the Sikh community is faced with another challenge.
This time, it is the proposed Charter of Values by the Quebec Government, which seeks to ban clothing — turbans by Sikhs, hijabs and naqabs by Muslim women, yarmulkes (skull cap worn by Jewish people) and large-sized crucifixes by Christians — by public employees in their place of work.
The ruling Parti Québécois says, it is introducing the legislation to separate religion from state. Though that is the intended message of the charter, the fact remains that xenophobia has raised its ugly head in the French-speaking province after France banned turbans and scarves in public schools in 2004 and hijabs and veils in public places in 2010.
Critics see the move to introduce the so-called secular Charter Values as a ploy to create political divisions between the Quebeckers and one million immigrants in the province. Most of these immigrants are Muslims from the Arab world and Francophone Africa.
Though exact numbers are not available, there could be about 10,000 Sikhs in Quebec. Many turban-wearing Sikhs joined Muslims and other Canadians in a rally in Montreal at the weekend to oppose the proposed Charter. The issue has galvanised the whole Sikh community across Canada and Sikh organisations are mounting pressure on the federal government and political parties to force Quebec to abandon the proposed legislation.
How many Sikhs will be impacted by the Quebec ban?
"There are no Sikhs in civil service in Quebec and there are a few turban-wearing doctors and university professors. Though institutions can seek exemptions for their employees, we are a long way off. No one knows whether this legislation to create the Charter of Values will be passed," says Prof Manjit Singh, who has been a resident of Quebec since 1961 and currently serves as a Sikh chaplain at McGill University in Montreal.
But turban-wearing Dr Sanjeet Singh Saluja, who is an emergency room doctor at the McGill University Health Centre in Montreal, is a worried man.
Born and raised in Montreal Dr Saluja says, he is now unsure about his future in the city where he was born.
The Sikh doctor says his faith is very important for him and he won't "feel comfortable giving up that part of my persona."
Angry over the proposed Charter of Values by Quebec, Toronto-based top Sikh entrepreneur Surjit Babra, who runs the worldwide SkyLink aviation group, adds, "Members of the Sikh faith have migrated to all parts of the world and become highly contributing citizens, without compromising on symbols of their faith. Quebec can ill-afford the economic loss and social fallout that will undoubtedly result from the message it is sending, that it is closed for business to people of faith, be they Muslims, Jews, Sikhs, Hindus, Christians or of other faiths."
The turban issue, which first hit headlines in Canada in the late 1980s when Baltej Singh Dhillon was denied entry into the Royal Canadian Mounted Police (RCMP) because of his turban, is not yet over in this country where Sikhs are now one of the major immigrant groups and where Punjabi is one the top three or four spoken languages.