Erratic rainfall and recurring droughts plague Rajasthan. About 4,000 farmers have benefited using modern technology, supported by solar energy, to grow exotic fruits and vegetables by clubbing subsidies of the state and Central government

Rajasthan taps solar energy for agriculture
Usha Rai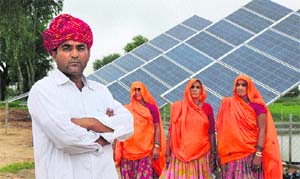 Farmers in Rajasthan with a solar pump set (with fixed structure)
Use of solar water pumps is changing the agriculture landscape of Rajasthan. Farm yields are increasing and with more farmers catching the sun and getting rid of their diesel pumps sets, environment pollution is on the decline. A farmer, used to traditional tools of farming with just basic education is growing luscious strawberries in a farm on the outskirts of Jaipur. This has been made possible with modern farming through integrated use of solar energy, farm ponds or diggies, drip irrigation, sprinklers, polyhouse, mulching etc.
Khemaram Mehriya of Bolayi village, Phulera tehsil of Jaipur district was able to get a good crop of strawberries this winter and sold it for Rs 1 lakh. In his 4000 sq. metre polyhouse, he was able to harvest a bumper crop of cucumber that fetched him Rs 6.5 lakh and bell peppers or capsicum — green, red and yellow — that fetched him another Rs 2.5 lakh.
His 3-hectare farmland, fully irrigated and lush green, is a farmer's paradise and a technology hub. It is like a mini Israel with polyhouses, shade net shelters and foggers to reduce the temperature in the polyhouse during the peak of summers. Sweetcorn and peas are the other bumper crops that have fetched him Rs 4 lakh each this year. Khemaram's annual farm income soared to Rs 13 lakh since he adopted solar water pumps and modern technology after a state sponsored visit to Israel in 2012.
Integrating water and energy
He was among the 33 outstanding farmers of Rajasthan-one from each district-honoured with the Kisan Ratna by the chief minister and the union minister for non-conventional energies for adopting solar water pumps and drip irrigation recently. While 650 solar pumps were installed in Ganganagar in 2012-2013, other districts with large number of solar water pumps installations are Bikaner (548), Jaipur (459), Sikar (270), Bhilwara (250) and Alwar (217).
Like Khemaram, over 4,000 farmers have harvested rainwater, installed photovoltaic panels and solar water pumps to grow exotic fruits and vegetables, drawing rich dividends. Though Punjab has been using solar water pumps for a longer period, it has not been as successful as Rajasthan, which has integrated use of water and energy through modern technology. By clubbing subsidies under various programmes of the state and central government, farmers get 86 per cent of the capital cost of installing solar water pumps. In fact, the farmers fear the government may not be able to meet their growing demands.
At a national conference on the solar pump programme in Jaipur, hosted by the Rajasthan government and the Ministry of Non-Conventional Renewable Energy (MNRE), farmers, bureaucrats and manufacturers of solar water pumps from various states came together to understand the nuts and bolts of solar water pumps and integrated farming. Many of them went back inspired to replicate Rajasthan's revolution in their own fields and states, whom Dr Farooq Abdullah, Minister for Non-Conventional Renewable Energy, promised full support.
The installation of 3,536 solar water pumps in Rajasthan, in 2012-2013, to tap non-conventional energy also became a national record in the Limca Book of Records with Editor, Vijaya Ghose presenting the Limca certificate to Chief Minister, Rajasthan, Ashok Gehlot. "Efficient pumping of water through solar energy is innovatively linked to water harvesting and drip irrigation. With every 1000 solar water pumps used, there is an annual saving of 6 lakh litres of conventional diesel fuel, reducing carbon footprints," the certificate points out.
The sun is everywhere
With diesel prices escalating and difficulties in getting electricity connections, farmers are happy with the new, subsidised alternative now available. While some farmers have been to Israel to inculcate new technologies for improved yields, others have taken up short courses on improved farming, which also offers on- the- field supervision by the government's agriculture assistants.
Dr Dinesh Kumar Goyal, principal secretary, Rajasthan Horticulture Department and Chairman of the State Horticulture Development Society, has been pushing the solar water pump model of development, since erratic rainfall and recurring droughts have been the norm in the state. Though, over 60 per cent of the state's population is dependent on agriculture, productivity is low due to inadequate or non-available irrigation. Some 60,000 farmers of the state are waiting for grid-based electricity connections to pump water from wells for irrigation. Even when they get the connection, electricity may be available for just five to six hours. Further, the sub soil water level has dropped to alarmingly low levels in 200 of the 249 blocks of the state, making water conservation essential. An IIT graduate, Dr Goyal realised that the panacea for the state's ills was solar energy since Rajasthan has one of the best solar insolation on earth (6-7 kWh/m2/day) combined with 320 sunny days in a year. Harnessing solar energy for various purposes, especially irrigation, was a given, he says.
The Horticulture Department prioritised enhancing irrigated areas and productivity by giving farmers an opportunity to diversify to high value horticulture. Now, in this desert state you see plantations of oranges, kinoos, guavas, pomegranate, dates and icebox melons. Other priorities are conserving ground water by efficient irrigation methods; narrowing the gap between power demand and supply and reducing the queues of farmers waiting for grid electricity; replacing the expensive and polluting diesel pump sets by harnessing solar energy. Irrigation through solar pumps continues to be most relevant for remote areas where there are little chances of grid connectivity.
Political will
Action on the ground was matched by strong political will with the Chief Minister setting solar pump targets in his budget speech. There were focussed efforts for arranging funds from MNRE, Rashtriya Krishi VikasYojana (RKVY) and other state funds. Beginning with solar water pump irrigation in 14 state farms in 2008-2009, the project was extended to other farmers in 2011-2012 with installation of 1,675 solar water pumps and in 2012--2013 a record number of 3,356 solar pumps were installed. The Jawaharlal Nehru National Solar Mission, the Rashtriya Krishi Vikas Yojana (RKVY) and State Plan Programmes provided the requisite subsidy. By the end of 2014, Dr Goyal hopes to install 10,000 solar water pumps and 1 lakh over the next five years. Already, 12,000 hectares are being irrigated through the solar water systems, yielding two crops in a year. Many farmers are even getting three crops and have migrated to remunerative cash crops. Surprisingly, the illiterate farmers have taken to the new technology like duck to water. Though male farmers are in the forefront, many women farmers too are taking to the solar pump systems. Some farmers have earned up to Rs 20 lakh in the year. The standard of living of these farmers is improving.
With the mandatory drip irrigation, 48 million cubic metres of water have been saved and 2.4 million litres of diesel. The annual saving in foreign exchange is Rs 48 million, says Dr Goyal.
Role of district administration
With targets enhanced, the responsibility of giving sanctions, releasing funds to manufactures etc. has decentralised and is with the district authorities. District Horticulture Development Societies, under the chairmanship of District Collectors, are implementing the scheme.
Of the average cost of Rs 5 lakh for a solar water system, 75 per cent is meant for the solar panels and the rest 25 per cent for motors and other equipment. While the centre gives 30 per cent of the cost as subsidy, 56 per cent is provided by the state. Maintenance is free for five years from the date of installation, and after-sales service is assured for another five years. The farmers have also learnt to clean the solar panels on their own, using wipers. The supplier has to provide an additional light outlet of 100W for lighting during pump operation and one home light as an integral part of the system. The system is also insured against natural calamities.
The success of the solar water pumps and modern farming has led to a clamour for the subsidised water pumps. When there are too many applications, draw of lots is held in the presence of the applicants. One of the farmers who became a beneficiary through draw of lots points out, "Since solar energy is best in the daytime, I and my family no longer work at night, facing the danger of snake and scorpion bites. With the press of a button, I turn on solar pumps in the morning and the water is released through drip irrigation into the fields giving me time to do other jobs in the field". An auto tracking systems turns the solar panels to get the maximum radiation from the sun.
Faster recovery on investment
Another farmer says, "I produce the power and I decide how to utilise it. I love this independence and feel powerful as an agriculturist. The pumps can discharge 5,400 to 10,000 litres of water in a day through submersible or surface water pumps and it is stored in huge water ponds or diggies. An assessment of the solar pump scheme by Mumbai IIT's Rakesh Dalal in June this year shows that 50 per cent of farmers were able to recover their investments within a year or two and all farmers were satisfied with the pumps.
While the testing of the pumps and panels is the responsibility of the MNRE's solar energy lab in Gurgaon, for integrated development of the solar water systems, a 43 Columns MIS format has been prepared to keep track of the farmer, the manufacturer, the capacity of the pumps etc. that will be updated regularly.
The writer is a well-established environment journalist
How does it work
The Clean Development Mechanism (CDM) is a unique, market based mechanism by which signatories to the Kyoto Protocol, who are required to comply with emission limitations, can work with developing partners in achieving global reductions in greenhouse gases (GHGs), while promoting those partners' sustainable development by providing financial and technology assistance. In essence, CDM creates a means for transferring the carbon credit for reducing emissions from projects in developing countries to the sponsors of those projects in developed states. Each Carbon credit or Certified Emission Reduction (CER) is equivalent to reduction of 1 ton of CO2 equivalent.
Solar Photovoltaic (SPV) irrigation pumps could be of interest under the CDM because they directly displace GHGs, while contributing to sustainable rural development. In rural India, most of the ground water used for irrigation purpose is lifted by electric and diesel pumpsets. One thousand units (1000 kWh) of coal based electricity generation emit 900 kg CO2 and if diesel is used for the same amount of electricity generation, it emits 300 kg CO2.Erratic supply of conventional sources of energy and concern for the environment and sustainable development has provided renewed thrust to the development and dissemination of renewable energy-driven pumpsets. But, so far, the cumulative number of renewable energy systems such as SPV irrigation pumps in the agriculture sector in India is far below their theoretical potential despite government subsidy programmes. The key barrier to the large-scale dissemination of SPV water pumps is the high capital cost of these systems to the farmers compared to the conventional pumps. CDM could be used as a tool to foster the dissemination of SPV pumps in the country. It could accelerate the diffusion process. One thousand solar pumps (rating 3 kW each, and at 19% plant load factor) will generate around 4500 carbon credits.