Australia has voted for change. The Australian Labour Party's six-year-old Rudd-Gillard-Rudd regime has been ousted, hoisting to power, the marathon man of Australian politics, Tony Abbott of the Liberal Party, bringing the Liberal/National Coalition to power. Labour could barely better Paul Keating's loss to John Howard in 1996.
This was our third election since we had migrated to Australia in 2007, and the second election in which we voted, after attaining citizenship in 2009. In the 2010 elections, the near-hung parliamentary results made us wonder whether we had planted the Indian ballot bug in Australian politics when we voted, but the 2013 verdict has restored the true physiognomies of Australia's predominant two-party system.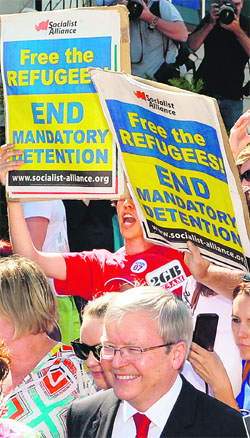 Labour Prime Minister Kevin Rudd conceded defeat. AFP
Riding on a massive 4.5 per cent national swing, the Coalition is expected to reach 90 seats (final official numbers awaited) leaving Labour behind at 50 plus, making it a resounding feat for Tony Abbott, who relentlessly and tirelessly campaigned for over four years.
Past opinion polls never favoured him as the preferred prime ministerial candidate, but Labour shooting its own foot put Abbott into an overdrive and gradually altered his planetary constellation to attain political glory.
The writing was on the wall. The electronic and print media had written Labour off, even before Australia voted. The former Labour Prime Minister, Bob Hawke, predicted a certain defeat on the television on the eve of voting, and by 4 pm the Fairfax exit polls had all but declared Abbott the Prime Minister.
Abbott despite his low popular ranking staged a thumping win, thanks to the Australian Labour Party's bitter internecine feud. It wouldn't be unfair to say that Labour deserves a 9/10 rating for running the country and 0/10 for running itself.
Internal wrangling
Much has been written on the 2010 coup by Julia Gillard, the then Deputy Prime Minister, backed by the powerful Labour caucus, to unceremoniously depose Kevin Rudd. People were outraged here at the ouster of a popularly elected Prime Minister by the Labour powerbrokers, allegedly over differences with Rudd's functioning of the party and government. Labour never seemingly recovered from it.
Although Rudd reclaimed his position in June 2013 in a Labour leadership ballot, it was too little, too late and the impending defeat had been cast in stone already. One questions the prudency of Rudd's comeback only to lose in the end. In hindsight though, he deserves the credit for getting 50 plus seats for the party and preventing a total wipeout that looked certain six months ago. He has given Labour enough to build the future generation of the party on. It will also make a vocal front bench in Parliament, something Abbott would not have ideally desired.
For the Rhodes scholar-turned-Prime Minister, it has been a long arduous journey to the summit. He ran a brilliant campaign and his physical fitness proved a key factor enabling him to cover more constituencies with ease, as opposed to Rudd who especially after his ouster and heart surgery was low in spirits and stamina and could be seen struggling physically.
At the helm, Abbott confronts several onerous policy challenges with no quick-fixes, which will keep the opposition guns blazing constantly in Parliament. His entire campaign hinged on the 'trust factor', which he skilfully used to bring about Gillard's downfall, and cannot afford to be seen back-paddling himself on the promises made to the public.
Turning it around
His three foremost challenges are fixing the budget into a surplus; stopping the 'boats'; and reverting the carbon and mining taxes that were slapped on Western Australia by the Labour regime, damaging the state economy and growth, and eventually leading to its worst-ever defeat there.
Fixing the budget would not be easy. Under the Charter of Budget Honesty, a creation of John Howard, parties release their budget plans and policy costing with figures before voting, to allow its scrutiny for substance and veracity by all. The costing issued by the Coalition strategically only 42 hours before the polls has already triggered a massive debate and slammed by the critics as 'lazy and uncertain'. The costing proposes a budget outlays cut of $AUD 42 billion and a $6 billion rise over the budget bottom line by 2017.
The costing also aims at saving another $AUD 1 billion by stopping the asylum seekers' boat that costs billions of dollars to the government in processing their cases offshore at various regional destinations as a part of the Labour's Pacific solution.
But what is attracting most negative publicity is the proposed plan for $AUD 4.5 billion massive cut in the foreign aid that would impact on poverty alleviation, humanitarian and human development programmes across the world, including India.
Nevertheless, the Coalition's victory is comforting news for India and Abbott's stay in power would coincide with the possible Indian prime ministerial visit in 2014 for the G-20 summit in Brisbane, giving ties a solid boost. And India would be well advised to engage with him proactively.
Indian connect
From an all-time low following India's nuclear test in 1998, relations have witnessed a remarkable improvement following John Howard's visit to India in July 2000. Bilateral trade and investments ever since have risen, making India the fourth largest trade partner of Australia.
The economic bonhomie coincided with the mishandling of the Muhammad Haneef's case, the cricket controversy involving Harbhajan Singh and the ill-advised Kevin Rudd's, and saw reversal of Howard's decision to supply uranium to India. These events created deep fissures between New Delhi and Canberra.
Sensing the urgency to wrest the plummeting ties, Rudd's visited India in 2009, during which ties were upgraded to a 'strategic partnership', but the enduring attacks on Indian students back home continued to batter relations, which Dr Manmohan Singh made no secret of with his counterpart.
Subsequently, with Gillard's reversal of Rudd's reversal paving the way for uranium supplies and cessation of attacks on Indian students following stringent policy measures to regulate the international student industry, bilateral relations have steadily improved.
According to an opinion poll published by an Indian community magazine, 50.75 per cent Indian-Australians supported the Coalition and believed it would forge greater cooperation with India. In Western Australia where there is a large Anglo-Indian community living, Labour's rout has been widely hailed.
The Coalition, too, connected well with the Indian community. It is believed that 'within minutes' of receiving a request for an interview from an India magazine, the Coalition had approved of Abbott's interview. In the interview Abbott said he was keen to visit India within months of his taking charge, apparently 32 years after he visited Bihar as a Rhodes scholar.
He also endorsed teaching more Hindi in schools to build cultural understanding of India and emphasised that Indian students coming to Australia on the 457 visa were regrettably demonised under the previous regime. He pointed out that tax paying immigrants help build the Australian economy and do not steal jobs.
Fixing economy
However, as per the coalitions' released costing, foreign aid slashing would impact on several health, education, sanitation and poverty alleviation programmes in India and imperil future programmes for improving water, food and energy security. But then India would not be alone at the receiving end of these austerity measures. These measures are more aimed at fixing the Australian economy than altering Australia's broad foreign policy priorities.
Many Australian 'India experts' lay excessive emphasis on defence and foreign policy cooperation to improve bilateral relations which is misplaced. Previously, Rudd's India policy was heavily focussed on defence and foreign policy and as a result in spite of forging strategic partnership and defence cooperation, relations remained cold and stagnant.
The future of bilateral ties instead, hinges on how much would Abbott be able to help India deal with its enormous domestic energy needs, human development challenges including poverty alleviation, education, agriculture and water and food security. These are issues weighing heavily upon India's current policymaking. The Queensland Liberal government is already engaging the Gujarat Government in the field of agriculture and participating in the agriculture summit in Gujarat in November.
Similarly, how closely does the Abbott regime engage with the Indian community in Australia; how friendly and hassle-free is the Indian students' experience made; and how much horizontally and vertically does it invest in India studies in Australia, at the primary and tertiary levels, will determine the quality of bilateral ties.
These issues have been flagged in the 'Australia in the Asian Century White Paper' under Gillard. Hopefully, Abbott's vision for engaging the 'once sleeping giant' translates rhetoric into practice.
The writer is Associate Investigator, ARC Centre of Excellence in Policing and Security, Griffith University, Australia.