15 students injured as school bus overturns in Patiala
Patiala, September 23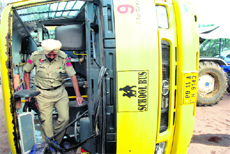 A school bus carrying around 25 students overturned near the Truck Union office today after it was hit by a speeding Innova car. At least 15 students of Kaintal School sustained minor injuries and were admitted to a nearby private hospital for treatment.




A police official inspects the accident site in Patiala on Monday. A Tribune photograph


Sukhbir again raises capital issue
Bathinda, September 23
Deputy Chief Minister Sukhbir Singh Badal today reiterated that Chandigarh was an inseparable part of Punjab, and that Haryana did not have any exclusive right over the city, the joint capital of the two states.
Bathinda Cong leaders plan parallel events
Bathinda, September 23
As the Lok Sabha elections are nearing, infighting has been growing in the Punjab Pradesh Congress Committee's (PPCC) Bathinda unit. In latest turn of events, two local leaders, both reportedly eyeing the party ticket from the Bathinda constituency, today finalised parallel events on September 25.
Akalis clash in Fatehgarh Sahib
Fatehgarh Sahib, September 23
An Akali worker, Gurinder Singh, was booked under the Arms Act here today on the complaint of Block Samiti member Iqbal Singh Bali, also of the SAD. In his complaint to the police, Bali alleged that Gurinder along with several Akali workers, including Sandeep Singh of Rhea, Jaspal Singh Kala, Jatinder Singh, Naib Singh, Gurdeep Sing of Rano and Jaspal Singh of Bhamia, came to his house yesterday night and shot at him. He alleged the accused fled when he fired at them in self-defence.


lost amid green: Farm labourers spray fertilisers at a paddy field in a Jalandhar village on Monday. Tribune photo: Sarabjit Singh
Govt awaits report from Bhabha Research Centre
Fazilka, September 23
The Punjab Government has approached Bhabha Atomic Research Centre for a permanent solution to the menace of waterlogging, said Suresh Kumar, Financial Commissioner, Development, here today.
Pumps threaten to refuse fuel to govt vehicles
Amritsar, September 23
Owners of filling stations across the state have expressed resentment over the failure of the government in clearing their dues. They have even threatened to refuse fuel to government vehicles on credit.
US needs to do more, says SGPC
Amritsar, September 23
Close on the heels of a teenage Caucasian teenager punching an octogenarian Sikh in the UK, the attack on Prof Prabhjot Singh of the Columbia University by a group of unidentified assailants has shocked the Sikhs in India and abroad.
Staff share on ebb, Punjab losing control over BBMB
Ropar, September 23
Punjab is losing its control over the Bhakra Beas Management Board (BBMB), if its employee share in the organisation is anything to go by. Even as the state has nearly 55 per cent quota in the organisation, the employee share in the BBMB has been on the decline gradually.
Key posts lying vacant in Horticulture Department
Sangrur, September 23
Several key posts in the office of Horticulture Department in the district are lying vacant for some time now. Sample this: The post of Deputy Director (DD) has been lying vacant for over a year while three posts of Horticulture Development Officers (HDOs) have not been filled for many years in the district.
Race for Improvement Trust top post gets murkier
Bathinda, September 23
The race for the chairmanship of the Bathinda Improvement Trust has got murkier with a section of people submitting representations against the former chairman of trust, who is among the frontrunners for the coveted post.
Farmers lay siege to highway in Mohali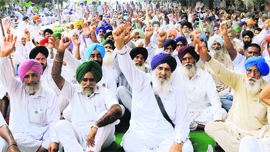 Mohali, September 23
Commuters were a harassed lot as members of the Bharatiya Kisan Union (Sidhupur) today blocked traffic on the Chandigarh-Kharar road near Max Hospital, Phase 6, here. The traffic remained suspended on the highway for several hours.

Members of the Bharatiya Kisan Union (Sidhupur) during a protest in Mohali on Monday. A Tribune photograph

Students protest against bus operators
Bathinda, September 23
Students of various colleges today took out a protest march in the city and demanded the arrest of a private operator who beat up students a few days ago over the issue of using student pass to board a bus.
30 test positive for dengue
Patiala, September 23
Out of 138 suspected cases of dengue, 30 patients have tested positive in the Mac Elisa test. The Health Department is on its toes and visiting the areas where the patients belong to.
Cop, doc & lawyer to be honoured
Faridkot, September 23
Dr Rakesh Kumar, a physician serving in rural areas for the last 16 years, HS Phoolka, an advocate in Delhi High Court, and Mandeep Sidhu, a senior police officer, have been selected for the prestigious annual Baba Farid Awards-2013 for honesty and service to humanity.
Scientists begin research to find cure for drug-resistant TB
Moga, September 23
Two scientists working at the Indo-Soviet Friendship College of Pharmacy at Moga in association with the scientists of the Indian Institute of Sciences, Bangalore, and the National Jalma Institute for Leprosy and other Mycobacterial Diseases, Agra, have begun research to develop lung specific drug delivery system to cure drug resistant tuberculosis with targeted lipid-based nano-carriers aiming to minimise the side-effects on the body without the use of chemotherapy.
DTP vaccination drive launched
Our Correspondent
Abohar, September 23 The Health Department has launched door-to-door DTP vaccination campaign after the death of two children in village Danewala Satkosi near Khuyiansarwer sub-tehsil headquarter of Abohar sub-division.
Petition to expedite trial against Jain
Chandigarh, September 23
The Punjab and Haryana High Court was today asked to expedite the trial against Punjab State Warehousing Corporation Chairman Joginder Pal Jain. The trial is pending in the Court of a Chief Judicial Magistrate.
Ban on Baba Bhaniara's granth
HC seeks list of subject experts
Chandigarh, September 23
The Punjab and Haryana High Court today asked Baba Piara Singh Bhaniarawala and the State of Punjab to submit a list of "subject experts" for finding out objectionable contents, if any, in the controversial Bhavsagar Granth.
HC allows constables' petition for promotion
Chandigarh, September 23
Nearly 15 years after Punjab Police personnel moved the Punjab and Haryana High Court seeking promotion, Justice K Kannan has minced no words to say they were discriminated against.