Pvt engg colleges stare at financial crisis
Dharamsala, September 23
The model adopted during the stint of the previous BJP government to make the state an education hub is likely to bust. Most technical education colleges established in the state in the past few years are in financial crisis.
Controversies cloud Manali mountaineering institute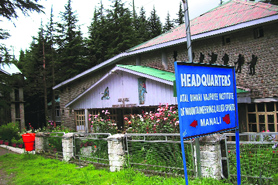 Manali, September 23
The Atal Bihari Institute of Mountaineering and Allied Sports (ABIMAS) here has been in eye of storm of late. As many as four employees of the institute face charges of misappropriation of institute's equipment and other gadgets in stores. Even ABIMAS Director Randhir Singh Salhuria is in a thick of controversy for allegedly using the institute's infrastructure for his benefit.
The Atal Bihari Institute of Mountaineering and Allied Sports in Manali.

Govt forms 14-member committee to speed up small power projects
Shimla, September 23
The government has set up an 11-member committee to address the problems faced by small hydropower projects developers, as the state has been able to realise only 225 MW of the total 1,500-MW small hydropower potential in the past two decades.
Hamirpur to have parking complex soon
Hamirpur, September 23
A proposed multipurpose parking complex in the middle of Hamirpur town, which is having a PWD rest house at present and was recently transferred by the PWD to the Hamirpur Municipal Council (MC), is now being constructed under the public-private partnership (PPP) project. The state government has already invited bids from developers which are being evaluated by the Himachal Pradesh Infrastructure Development Board.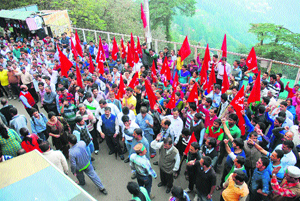 Activists of CITU raise slogans against a private hospital management at Lakkar Bazar in Shimla on Monday. Photo: Amit Kanwar

Luhnu stadium not illegal: Anurag
Bilaspur, September 23
Himachal Pradesh Cricket Association (HPCA) president Anurag Thakur today clarified that the Luhnu cricket stadium in Bilaspur was built on the Bhakra Beas Management Board (BBMB) land after getting permission from the authorities concerned. Talking to mediapersons here today, Anurag said his detractors were now trying to drag even the Luhnu cricket stadium in Bilaspur into controversy by alleging that it was "constructed without any permission".
Illegal Recruitments
Probe agency files report before HC
Shimla, September 23
An investigating agency today filed a report before the Himachal Pradesh High Court (HC) regarding an alleged illegal recruitments case and sought more time to complete the investigation. During the course of hearing, the state said the investigation of the case was going on and likely to be completed by December.
Mineral water factory workers to continue strike
Kullu, September 23
The two-month-long dispute between workers and management of a private mineral water factory at Raison, near here, remained unresolved at the conciliation meeting called at the direction of the state government here today. CITU has declared that the strike will continue till the workers get justice.
Labourer comes under stone crusher, dies
Solan, September 23
Sholan Mandal, a migrant labourer, was killed after he was accidentally crushed under a stone crusher owned by the close kin of local BJP MLA KL Thakur at Nava Gram village in Nalagarh sub-division today.
Bragta seeks Swaraj, Jaitley's help in saving Himachali apple
Shimla, September 23
Former Horticulture Minister Narender Bragta today met BJP leaders Sushma Swaraj and Arun Jaitley and senior officials of the Agriculture and Commerce Ministries in New Delhi to bring to their notice the issue of Himachali apple being severely hit due to markets being flooded with imported apple.
318 villages excluded from 5 sanctuaries in Chamba
Chamba, September 23
As many as 318 villages falling in the five wildlife sanctuaries of Chamba district have been excluded from the sanctuary areas under the rationalisation policy of the Government of India. In an official communiqué, Forest Minister Thakur Singh Bharmouri stated that the much-awaited exclusion of these villages would enable the inhabitants to avail the benefit of their traditional rights. The move would also result in lifting of restrictions on construction activities, he added.
Rs 14.93 crore for social security pension schemes
Bharmour, September 23
The state government will spend around Rs 14.93 crore on the social security pension schemes in Chamba district. As many as 25,378 eligible persons will get the benefit during the current fiscal year, Forest and Fisheries Minister Thakur Singh Bharmouri said here today.
Tourism Day celebrations in full swing at CUHP
Kangra, September 23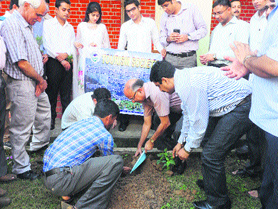 The Tourism Society of Central University Himachal Pradesh (CUHP) conducted a tree plantation and declamation contest at its temporary academic block Shahpur today as the part of the tourism week celebrations. Tree plantation was started in the morning by Pro Vice-Chancellor Yoginder Verma in presence of Dean, Student Welfare, R Sharma, Proctor Roshan Lal Sharma and Deans and Heads of various departments, faculty members and students of MBA (Travel and Tourism).
CUHP Pro Vice-Chancellor Yoginder Verma starts a tree plantation drive on the campus at Shahpur on Monday. Photo: Ashok Raina

Japan selects 2 NIFT girls for 9-day tour
Kangra, September 23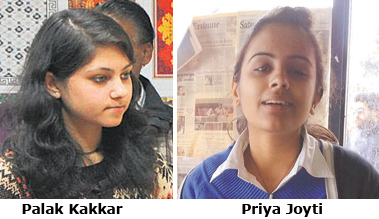 Two final-year students of the National Institute of Fashion Technology (NIFT) here were selected by the Japan International Cooperation Centre, Government of Japan, for a nine-day tour to Japan. SK Bala Siddhartha, Director, NIFT, Kangra, said yesterday that Priya Jyoti and Palak Kakkar, two final-year students of textile and accessory design, respectively, of the institute had been selected for participating in "JENESYS 20" launched by the government of Japan. He said through the programme, 232 students of Asian and oceanic countries, including India, would participate in the short-term invitation programme.
Lekhak Sangh holds foundation day
Bilaspur, September 23
The Bilaspur Lekhak Sangh held its 17th foundation day at Swami Vivekananda Memorial Government College hall at Ghumarwin, near here, yesterday. Former Deputy Commissioner Dev Raj Sharma presided over the function.
Medicinal plants can fetch good returns: CPS
Hamirpur, September 23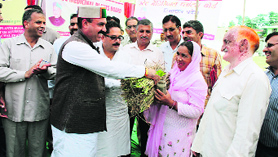 Chief Parliamentary Secretary (CPS) ID Lakhanpal said today that Rs 9 crore was being spent on the cultivation of aromatic and medicinal plants to promote their plantation in the state. He said this while addressing a gathering at a state-level programme organised by the Ayurveda Department at Bijahad.
Chief Parliamentary Secretary ID Lakhanpal gives medicinal plants to a woman at Bijahad on Monday.
Stone of 6-km Suharghat-Matnoh road laid
Bilaspur, September 23
Roads are the real mode of progress and development and villagers should come forward to offer required land to the PWD for the construction of roads in their areas.
HRTC urged to start depot at Jogindernagar
Mandi, September 23
Residents of Jogindernagar subdivision have urged the Himachal Pradesh Roads Transport Corporation (HRTC) to start its depot at Jogindernagar. They also demanded the restoration of bus services on five local routes, which was earlier closed by the HRTC, to give relief to students and the public in neighbouring areas.
CM to visit Pangi valley on Sept 26
Chamba, September 23
Chief Minister Virbhadra Singh will visit the mountainous Pangi tribal valley of Chamba district on September 26. He will reach the valley by helicopter from Shimla. According to an official communiqué issued with regard to the CM's tour programme, the Chief Minister will address a public meeting at Killar, the sub-divisional headquarters of Pangi. Virbhadra will also listen to public grievances and fly to Udaipur in Lahaul-Spiti district the next morning. — OC
Three wooden shops gutted
Chamba, September 23
Three wooden shops were completely gutted and two others partially destroyed in a fire incident last night. The Fire Brigade doused the flames with the help of local people. Confirming the incident, Manoj Kumar, Tehsildar, Chamba, said the officials were assessing the loss. According to tentative assessment, the loss had been put at more than Rs 5 lakh, the tehsildar added. — OC
Three arrested for hermit's murder
Hamirpur, September 23
The Badsar police has arrested three persons for the murder of a hermit, whose body was found by the police this morning near Chakmoh. The hermit, who has not been identified yet, was living near Chakmoh. On the basis of evidence collected during the investigation, the police has rounded up Pradeep Kumar, Barsi Ram and Kewal Singh, all residents of Raipuri village. The police has registered a case of murder against them. — TNS

Couple gets jail for assault
Nurpur, September 23
Pankaj Gupta, Additional Chief Judicial Magistrate, Indora, today sentenced Basu Dev of Damtal and his wife Krishna Devi to two-year imprisonment. Vijay Rihalia, Assistant District Attorney, said the Indora police had registered an FIR against them in October 2007 for allegedly thrashing Pramila Devi. She had sustained injuries in the attack. A land dispute was stated to be the cause of the thrashing. — OC