Over 50% pensioners in Tarn Taran ineligible
Amritsar, September 24
A preliminary inquiry by the district administration into the alleged irregularities in the enrolment of beneficiaries under various pension schemes has found certain glaring anomalies in Tarn Taran district.
Plot owners to pay for colonisers' misdeeds
Chandigarh, September 24
Punjab hopes to earn Rs 900 crore from the regularisation of 5,300-odd illegal colonies across the state. The policy, which gives major benefit to colonisers while putting an additional burden on the common man, was notified last month.
Forest Dept not paid for trees axed for highway
Ludhiana, September 24
Officials of the Forest Corporation, including the Managing Director (MD) and the General Manager (GM), have landed in soup for axing trees along the National Highway-1 (NH-1).
CAT clears way for promotion of 12 officers to IAS
Chandigarh, September 24
The Central Administrative Tribunal (CAT) has disposed of the application filed by a former Punjab Civil Services (PCS) officer, Kiran Rosy, challenging the promotion of 12 officers to the IAS cadre.
Kapil Sibal, Bajwa in Bathinda today
Bathinda, September 24
A day after confusion over parallel functions involving Union Law Minister Kapil Sibal and PPCC president Partap Singh Bajwa to be organised in the city tomorrow, efforts are being made for bringing both the leaders on one stage.
SAD, BJP conspiring to oust Sidhu from Amritsar: Bajwa
Amritsar, September 24

PPCC chief Partap Singh Bajwa today accused the SAD-BJP coalition of hatching a conspiracy to oust BJP MP Navjot Singh Sidhu from Amritsar and that it was the reason behind the "stalling of his pet projects".







PPCC chief PS Bajwa, OP Soni (R) and KS Rintu (L) in Amritsar on Tuesday. Photo: Vishal Kumar

Sidhu plans silent protest, may go on fast-unto-death
Chandigarh, September 24
Bowing to his party chief Rajnath Singh's directive, BJP MP Navjot Singh Sidhu has decided not to make any statement on any issue henceforth. But, the cricketer-turned-politician is now planning a bigger "assault": he would be sitting on fast-unto-death if no steps were initiated to complete his pet projects in Amritsar. "I will obey fully what my party president wants.



PAU experts step up efforts to save Dukhbhanjani Beri
Amritsar, September 24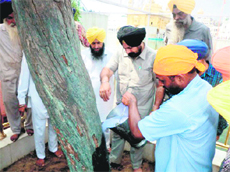 A team of experts from Punjab Agriculture University (PAU) today inspected the ancient "ber" trees at the Golden Temple Complex and initiated measures to ensure long life of Dukhbhanjani Beri whose roots were found to be wilting.





Experts inspect Dukhbhanjani Beri at the Golden Temple in Amritsar on Tuesday. A Tribune photograph

Mahilpur college principal chargesheeted
Chandigarh, September 24
The management committee of SGGS Khalsa College, Mahilpur, today chargesheeted Principal Dr SS Randhawa, a week after suspending his services on September 17. As many as nine charges have been levelled against him. Dr Randhawa has been asked to reply within seven days after the receipt of the chargesheet.
Punjab Govt to shift dairy farm to raise commercial complex
Patiala, September 24

The Punjab Government has decided to sell its property spread in over 30 acres of land in the heart of Patiala to raise approximately over Rs 250 crore. This despite its claims that the financial position of the state was comfortable.





A view of Bhupindra Farm in Patiala. Tribune photo: Rajesh Sachar

Majithia's visit to royal city keeps admn on toes
Sanaur/Patiala, September 24
The visit of Punjab cabinet minister Bikram Singh Majithia to Patiala kept the administration on toes today. While the traffic police ensured there were no traffic snarls for the VIP cavalcade of the minister, the Municipal Corporation (MC) ensured that all garbage dumps were cleared from the city roads.
Elected people can't complain about incomplete projects: HC
Chandigarh, September 24
The Punjab and Haryana High Court has made it clear that an elected representative cannot come knocking at the doors of the courts after expressing helplessness to assist people.
BBMB panel flays power engineers
Ropar, September 24
The monthly meeting of the technical committee of the Bhakhra Beas Management Board (BBMB) was convened at Chandigarh today.
Amarinder skips court hearing in land scam case
Mohali, September 24
Former Punjab Chief Minister Captain Amarinder Singh failed to attend the court hearing in the Amritsar Improvement Trust land scam case here today. Amarinder's counsel Ramdeep Pratap Singh said the Congress leader was busy in some political activities. "We had sought the court's permission for exemption from his personal appearance in today's hearing and the court has given the permission," said Ramdeep Singh.
Warehouse owner alleges extortion by truck union
Fatehgarh Sahib, September 24
In a representation to the Senior Superintendent of Police (SSP), the owner of Reliance Industries Ltd warehouse in Chunni Kalan village, Bhagwant Singh, has alleged that some "goons of a truckers' union had hijacked their truck carrying material related to 4G communication. He alleged that the truckers beat up the driver and robbed him of Rs 6,500. He alleged they had also confined the driver.
HC seeks info on action against VC by Nov 29
Chandigarh, September 24
Trouble is brewing for the Vice-Chancellor of Hoshiarpur-based Guru Ravidas Ayurvedic University. Administrative action has been recommended for the delay in initiating proceedings against the persons concerned in the re-totalling scam.