Drive against drug menace launched
Ropar, September 24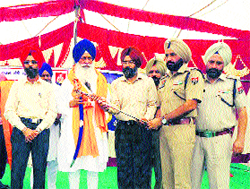 In order to tackle the drug menace, the district police and NIMAR International, a social organisation, launched a campaign 'Drug-Free Punjab' from Anandpur Sahib, near here, today.




SSP Indermohan Singh Bhatti presents a sword to Jathedar of Takht Sri Kesgarh Sahib Giani Mall Singh during a function to start a campaign against drug menace in Anandpur Sahib on Tuesday. A Tribune photograph
Hearing impaired lawn tennis player gets aid
Patiala, September 24
Fulfilling the promise of providing financial assistance to Parul Gupta, Punjab's first speech and hearing impaired youngest lawn tennis player, who represented India in the Deaf and Dumb Olympics held at Sophia (Bulgaria), Bikram Singh Majithia, Information and Public Relations and Revenue Minister, Punjab, presented a cheque of Rs 2 lakh to the player at her residence here today.


Burail jailbreak case hearing adjourned to November 8
Chandigarh, September 24
Hearing in the Burail jailbreak case involving assassins of former Punjab Chief Minister as accused was adjourned to November 8. Babbar Khalsa International (BKI) terrorist Jagtar Singh Hawara and Paramjit Singh Bheora are facing trial in this case.
Judges take Burail Jail authorities by surprise
Chandigarh, September 24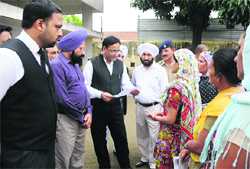 UT district court judges today made a surprise visit at the Burail jail and inspected food and other conditions there.




Honourable District and Sessions Judge, Chandigarh, along with Chief Judicial Magistrate of Chandigarh and other Judicial Magistrates and the District Attorney of the UT, Chandigarh, listen to grievances at the Burail Jail in Chandigarh on Tuesday. A Tribune photograph
London-based youth gets 2-year jail
Chandigarh, September 24
A 21-year-old UK resident was sentenced to two years rigorous imprisonment in a drug peddling case.
7 yrs on, UT told to pay Rs 3.65 lakh to family of electrocuted youth
Chandigarh, September 24
Seven years after a 17-year-old youth died of electrocution, the court today directed the UT Administration to pay a compensation of Rs 3.65 lakh along with the interest at the rate of 9 per cent per annum from the date of incident to the victim's family.
Youth gets 10-year jail for rape
Panchkula, September 24
A youth, convicted for raping a 17-year-old girl, has been awarded 10-year jail by a court. The accused, Vinod, is a resident of Maheshpur.


Class XII student commits suicide
Chandigarh, September 24
A Class XII student of St Soldier School, Mohali, allegedly committed suicide by hanging herself from the ceiling fan at his residence in Progressive Society, Sector 50, this morning. The police said depression was cited as the reason for suicide.
70-year-old man killed in road accident
Chandigarh, September 24 In a blind hit and run case, a 70-year-old man was killed after he was hit by an unidentified vehicle at the main link road between Dhanas and Mullanpur near Panjab University last night.
Man booked for harassing woman doctor
Chandigarh, September 24
The UT Police today booked a Sector 39 resident, Ranjit Singh Panjatha, for harassing a female doctor after delivering a parcel of undergarments to her sister-in-law.
Renu upsets Trannum in tennis
Chandigarh, September 24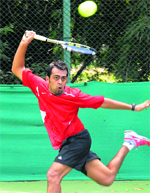 Renu Sharma upset Trannum Handa in a three-set clash that lasted for more than three hours during the first round of ongoing CLTA-AITA All-India 1 Lac tournament for men and women being held here today. Renu won the 1st set at 7-5 but Trannum bounced back to win the 2nd with 7-5. In the final set Renu played solid ground strokes to name the match at 6-1. In another match, Riya Bhatia upset 8th seed Megha Sherawat at 6-1, 6-2 while Shruti Dhawan continued her winning streak by defeating Rizvi Shamreen. Gayatri Kumaraiah defeated last day's winner Pious Mudgil at 6-0, 6-3.

A player returns as shot during the ongoing AITA-CLTA Tennis Championshipin Chandigarh on Tuesday. Tribune Photo: Manoj Mahajan

SGGSC-26 clinch inter-college volleyball title
Chandigarh, September 24
The team of SGGS College, Sector 26, has won the Panjab University Inter-College Volleyball Championship for Men (A-Division).
DAV School-8 went down to Indian National Academy
Chandigarh, September 24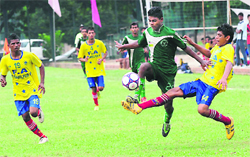 Facing the toughest competitors of the tournament, the local team of DAV School, Sector 8, got humiliated by the Indian National Academy of the All-India Football Federation, during the 11th edition of the Administrator's Football Cup for boys (U-17), at the grounds of the sports complex, Sector 42, here today. The visiting side drubbed down the localities by a margin of 10 goals.
Players in action at the Administrator's Football Cup at Sector 42, Chandigarh, on Tuesday. Tribune photo: Parvesh Chauhan
GGS College for Women log win
Chandigarh, September 24
The GGS College for Women defeated BKS College, Muhar, 10-0 during a match of the Panjab University Inter-College Softball Championship for Women being played on the Panjab University campus, today.
Punjab Police thrash SGGS Club 5-2
Chandigarh, September 24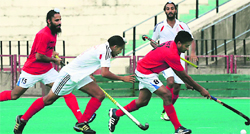 In the ongoing 43rd SN Vohra's All-India Gurmit Memorial Hockey Tournament, the team of SGGS Club, Chandigarh, went down against Punjab Police team, at the hockey stadium of the sports complex, Sector 42, this evening.

Players in action at the SN Vohra's All-India Gurmit Memorial Hockey Tournament at the hockey stadium in Sector 42, Chandigarh, on Tuesday. Tribune photo: Parvesh Chauhan
Diehard Trinidad & Tobago fans cheer players
Mohali, September 24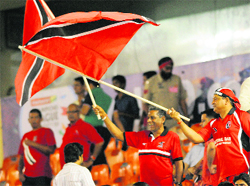 In a drought of spectators, above the pavilion end and at the terrace block, there was a group of fans painted all in red colour and waving a flag that belongs to Trinidad and Tobago. Cricket has a big fan following and a live example of this was witnessed at the PCA Cricket Stadium Mohali, here, today.




Fans enjoy a match of the CLT20 Championship at the PCA Stadium in Mohali on Tuesday. Tribune photo: Vicky Gharu
Skating tourney on Oct 4
Chandigarh, September 24
The St Xavier's High School, Panchkula, will organise the ICSE Speed Skating Championship for Chandigarh region schools affiliated to the CISCE, New Delhi, on October 4, at the skating ring of Sector 10. Around 200 skaters are expected to participate in this championship. —TNS