Owner, staff of Barbeque Nation booked
Mohali, September 29


The Mohali police has registered a case against the owner and staff of Barbeque Nation at Phase V on the charges of causing hurt by act endangering life or personal safety of others (Section 337 of the IPC), professional misconduct (Section 338) and sale of noxious food and drink (Sections 272 and 273) at the Phase I police station.
In-laws held for harassing woman
Mohali, September 29
The Mohali police has arrested father-in-law and sister-in-law of an NRI woman for allegedly harassing her for dowry. The complainant, Maninder Kaur, also alleged that her father-in-law tried to outrage her modesty when she was alone at his house at Phase VII. The accused have been identified as Kulbir Singh and Jasbir Kaur.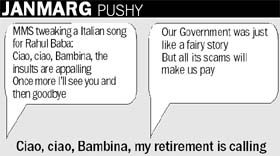 Drunk youths held for teasing salesgirl
Chandigarh, September 29
The police has arrested three youths for allegedly teasing a salesgirl at a mall in Industrial Area, Phase I, on Saturday. The accused, identified as Daljit Singh, Gautam and Kamal Preet Singh, are in their early 20s and reside in a paying guest accommodation at Phase IV, Mohali.
Now, study tour for women councillors
Chandigarh, September 29
They might have failed to do their bit for women in the city, but members of the Women Empowerment Committee are all set to head for Gujarat on a five-day study tour starting from October 14.
open house response
International flight service grounded
How can international flight service be held up? By extending watch hours, we can create job opportunities. The Ministry of Defence must make some room for private airlines. Security is above all, but then change is also a must.

Parul Gupta, a hearing impaired tennis player, receives a cash prize of Rs 1 lakh from Bikramjeet Singh Majithia, Revenue Minister of Punjab, at a ceremony in Patiala. Parul represented the nation in the recently held 22nd Deaflympics at Sofia in Bulgaria. A Tribune photo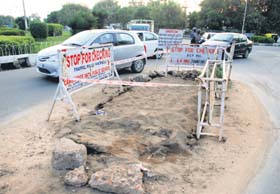 Grave of tragedy: A patch of road barricaded near the Sector 10/11/14/15 roundabout causes inconvenience to commuters in Panchkula. Tribune Photo: Nitin Mittal
PUDA, GMADA plan world-class mall for Mohali
Mohali, September 29
Mohali will soon have a replica of The Dubai Mall. After paying a visit to Dubai recently, officials of the Punjab Urban Development Authority (PUDA) and Greater Mohali Area Development Authority (GMADA) have decided to construct the mall over 80 acres at Phase VIII.
Welfare board without teeth
Chandigarh, September 29
The Chandigarh Social Welfare Board is a dormant body, courtesy the slack approach of the UT Administration. As the Administration has failed to issue a notification, the board has not been able to launch even a single project for the past 11 months.
Country on a high
Chandigarh, September 29
India is one of the fastest growing markets for alcohol in the world, state figures of the the Associated Chambers of Commerce and Industry of India (ASSOCHAM). During a CME at the PGIMER today, experts said official figures revealed that 50 per cent of alcohol consumed in the country during 2012 was country made.
Revision of poll rolls to be conducted
Chandigarh, September 29
On the directions of the Election Commission of India, the UT Election Department is conducting a special summary revision of electoral rolls in the city. This was announced following a meeting conducted by Home Secretary Anil Kumar.
wheat allergy
Gluten-free diet intake not easy for patients: Experts
Chandigarh, September 29
Inability to adhere to diet-free of gluten (a component of wheat causing allergy) is a major challenge for patients suffering from wheat allergy as they are prohibited to eat all forms of breads, which are most common food item in households, say experts.


world tourism week
Penultimate day witnesses a plethora of activities
Chandigarh, September 29
The colourful coffee cup-making contest marked the fourth day of World Tourism Week at Sukhna Lake. Organised by the Chandigarh Tourism department in association with CITCO and The Tribune, over 200 children from across various schools of Chandigarh participated in the competition.

Children paint coffee mugs at Sukhna Lake on Sunday. Tribune photo: Parvesh Chauhan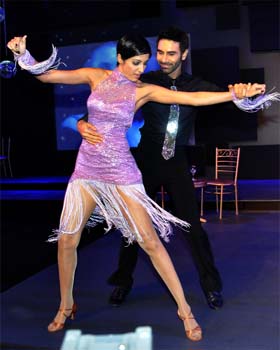 Glamorous: Jesse Randhawa and Sandip Soparkar during a fashion show at Hotel Mountview at Sector 10, Chandigarh, on Sunday. Tribune Photo: Pradeep Tewari
Special pay allowance for sportspersons revised
Chandigarh, September 29
The special pay allowance for sportspersons posted in different Central Government offices has been revised, benefiting hundreds of them. The allowance had not been revised since 2006. The previous allowance was Rs 50, 100 and 150 per month as per the pay scale, which has now been revised to Rs 210 to Rs 1,000 per month depending on the pay scale.
reporters' diary
'Jagtey raho, sote raho'
Doctors and paramedical staff at the PGIMER have come up with a new definition of JRs and SRs, defining their responsibilities at the hospital. While JRs(junior residents) and SRs(senior residents) are those involved in direct monitoring of patients at the emergency and work for over 30 hours at a stretch, they define each others as "Jagtey raho (JR) and sote raho (SR)", in terms of seniority.


A glittering night:

Showstoppers Ayushmann Khurrana and Yami Gautam walk down the ramp during an event at Hotel Mountainview; and (below) models take part in the grand finale of a fashion competition at Elante Mall in Chandigarh on Sunday. Tribune photos: Pradeep Tewari and Parvesh Chauhan
Picture not rosy:

A greenbelt in Sector 18, Chandigarh, is in a bad shape. Cycle track in the park needs repairs. The track was dug up for laying pipelines. Residents prefer to keep off the littered park as the civic body has failed to maintain it. Stink makes things even worse and stray dogs are seen roaming freely in the greenbelt. The residents have to go to the other parks for morning and evening walks. Area councillor Mukesh Bassi said the track would be repaired soon. Tribune photos: S Chandan

PU senate meeting
Over 70 items discussed
Chandigarh, September 29
Over 70 issues, mostly pertaining to teachers and the affiliation of colleges, were taken up for discussion during the Senate meeting of Panjab University today. Approving the appointment of a Director Public Relations (DPR) at PU, Senate member Tarlochan Singh said the DPR should be given the pay and perks on the lines of the Punjab Government.


Students and employees submit memorandums to a Senate member before the House meeting at Panjab University in Chandigarh on Sunday. Tribune photo: Pradeep Tewari
Senators question harassment of research scholars at PU
Chandigarh, September 29
The Panjab University Senators today raised the issue of "sexual harassment" of PhD students by their guides during the zero hour at a meeting today. Senator Varinder Gill, the youngest member of the House, alleged that many research scholars, especially girls, were being harassed by their guides.
A 'hurt' Vice-Chancellor offers to quit
Chandigarh, September 29
The Panjab University Vice-Chancellor, Arun Kumar Grover, today offered to resign after a Senate member accused him of criticising the Senators and Syndics on various platforms in the past few months.


Academicians attend workshop
Chandigarh, September 29
The University Institute of Engineering and Technology of Panjab University organised a two-day workshop on mathematical modelling and computational techniques at the department of mathematics.



A speaker conducts a maths workshop at Panjab University on Sunday. A Tribune photograph
PU NOTES
Hindi Divas
Chandigarh: Prof Babu Lal from Kurukshetra will deliver a lecture during the Hindi Divas celebrations at the auditorium of the department of evening studies, Panjab University. The event, being organised by the Hindi department, will begin at 11 am on Monday.
FROM SCHOOLS
Animation camp
Chandigarh: Kendriya Vidyalaya Sangathan, New Delhi, in association with Goethe Institut Max Mueller Bhavan, New Delhi, has launched an animation and youth camp at Kendriya Vidyalaya, Sector 31. Eighty students of KVS, Chandigarh Region, are participating in the camp.