Lack of cohesion hurting country's defence
In India, much of the problem of civil-military relations is centred around the nature of relationship between the armed forces and the country's political executive and bureaucracy.
Dinesh Kumar
The controversy generated both by and about former Army Chief General Vijay Kumar Singh reflects poorly on the current state of civil-military relations in the country. General Singh has been a lightning rod for controversy starting from a year after he attained the highest office in the Army's hierarchy in 2010 and continuing well after his retirement last year.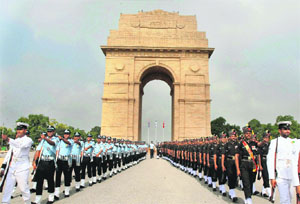 Inter-Services personnel march near Amar Jawan Jyoti at India Gate during a ceremony to pay homage to Kargil war martyrs on the occasion of Vijay Diwas in New Delhi. PTI
Among the many firsts that he has 'scored' in the last two years alone, General VK Singh became the first Service chief to represent against the Ministry of Defence (MoD) in the Supreme Court over his age issue which coincided with a questionable if not ominous military movement of Army troops in the direction of New Delhi. While still as Army Chief he also sought a CBI enquiry against a serving Lieutenant General without even informing let alone seeking permission from the MoD; allegedly used a military intelligence electronic surveillance unit to snoop on the MoD; allegedly orchestrated a Public Interest Litigation against his named successor who is presently the Chief of Army Staff; 'revealed' that there was a long standing practice by the Army of paying bribes to a section of state ministers in Jammu and Kashmir and also went on to soon after his retirement associate himself with a briefly popular public movement against corruption led by Anna Hazare.
All this and, in fact, even more by a man who, starting from his teenage, spent about 45 years of his life associated with an institution revered for its professionalism, for its apolitical nature and for its unquestioned obedience to its civilian masters including even on orders for controversial operations by the government and, that too, in a neighbourhood that is replete with a history of coups, military dictatorship and authoritarian rule. Phew! What a man, some might remark.
But is this issue about a former service chief who many demonise and regard as a deviant or is it about a larger issue relating to a range of far more complex and serious issues involving the current nature of civil-military relations in the country, the manner in which the country's higher defence management system is structured, the quality of our polity, the generalist nature of the MoD's senior level bureaucracy that sometimes confuses and misinterprets civilian supremacy to be civilian superiority, personality clashes among the top military brass and inter-services rivalry to name a few.
Well known American academic Peter Feaver has summed up the civil-military 'problematique', as he succinctly terms it, as follows: 'Because we fear others we create an institution of violence to protect us. But then we fear the very institution we created for our protection'. This raises two important points – the need to have protection by the military and the need to have protection from the military
Civil-military relations
Unlike Pakistan and Bangladesh, which have been carved out of pre-Independent India, the Indian armed forces have never been a threat to civilian rule. Given the manner in which both the higher defence management system and the command system of the armed forces have been structured, it would be difficult for the armed forces as a combined entity to execute and, more importantly, to sustain a coup and run a country as geographically vast and politically and ethnically diverse as India. The Indian Army, which has kept away from political interference, has a long record of battling insurgents and terrorists in states where, for years together, it has had sweeping powers and where often there has also not been a politically elected government.
In India, much of the problem of civil-military relations has been about the relationship between the armed forces and the country's political executive and bureaucracy. The armed forces nurse a grievance against the political executive for not devoting time and having the inclination to seriously understand, consult and involve them in decision making. They regard the bureaucracy with distrust and resent the fact that generalist bureaucrats occupy pivotal positions in the rank of joint secretary and above and wield considerable power and authority with little or no understanding of the armed forces. In fact, let alone joint secretary and additional secretary level officers, there have most strangely been instances of the top post of Secretary of Defence being appointed barely a year or two before his retirement without ever having previously served in the MoD.
Most politicians in turn regard the armed forces with awe but have little time for the armed forces and for reforming the system since, as a vote bank, the latter are far too limited and dispersed. They are used to and prefer dealing with bureaucrats who, in turn are adept at dealing with politicians. Many (not all) senior rung bureaucrats consider themselves to be superior to the fauji who, in their view, 'does not read or write enough and knows only how to fire a gun, drive a ship or fly a plane and knows little about the intricacies of governance in a complicated country like India'.
Lacking in synergy
The trust deficit is no less palpable within the armed forces. There is not enough jointness and synergy between the armed forces and the service chiefs, each of who is possessive about his own turf. Barring a few occasions such as on the issue of corrections for anomalies in the Sixth Pay Commission award, seldom have the service chiefs been united on matters pertaining to, for example, procurement of defence weapons. Following the Kargil War, a secretariat headed by a Chief of Integrated Staff was formed but the services remain uncoordinated at the top in the absence of a Chief of Defence Staff who is meant to serve as the principal defence advisor to the government.
Then, within the services, there has been serious infighting and differences. For example, in recent years Army chiefs have been targeting their successors or predecessors either directly or by proxy. Former Northern Army Commander Lt General HS Panag blew the whistle on General Deepak Kapoor, a former Army Chief who was his predecessor at the Command headquarters in Udhampur. Thereafter, General Kapoor and General VK Singh (who was then an Army Commander) were locked in a standoff over a land scam involving the former's principal Staff officer (Military Secretary) Lt General Avadesh Prakash. Soon after he took over, the present Army Chief General Bikram Singh was quick to reinstate Lt General Dalbir Singh Suhag against whom a CBI inquiry for alleged corruption had been ordered by General VK Singh.
The dissent
Service chiefs in India are known to have expressed their difference with the political executive. In 1959, General Kodendra Subayya Thimayya resigned following differences over policies on China but was persuaded by Prime Minister Jawaharlal Nehru to withdraw his resignation only to end up being criticised in Parliament. In 1971, General (later Field Marshal) Sam Hormusji Framji Jamshedji Manekshaw differed with Indira Gandhi over when to send the Army into East Pakistan (now Bangladesh) but yet succeeded in convincing her. In 1991, General Sunith Francis Rodrigues publicly criticised the government's policy of deploying the Army in internal security operations and made disparaging remarks against both the US and Pakistan. He was subsequently criticised in Parliament. But the most serious incident occurred in December 1998 when the government resorted to a historic first-ever dismissal of a service chief – Chief of Naval Staff, Admiral Vishnu Bhagwat owing to a serious breakdown in civil-military relations between Admiral Bhagwat and the government, notably defence minister George Fernandes.
Regardless of how superior the military view of a situation may be, the civilian view trumps it. In other words, 'civilians have a right to be wrong', both Feaver and Michael Desch, another American academic, have argued. The armed forces have been pushed into controversial operations such as Operation Bluestar in Punjab (1984) and Operation Pawan (Indian Peace Keeping Force) in Sri Lanka (1987-1989). The Army has been fighting insurgency in Jammu and Kashmir for almost two-and-a-half decades following a long history of political and administrative mismanagement by successive governments in the state and at the Centre. The same is true in the north east where the Army's engagements have been for far longer durations owing to precisely the same reasons. In other words, officers and men of the Indian Army have been making the supreme sacrifice fighting the demons that have been created due to dirty politics and bad administrative policies of the civilian government.
Since the 'civilians have the right to be wrong', the latters then must also bear greater responsibility. They must be prepared to listen and to educate themselves about the armed forces. They also must ensure that the relevant officer cadre of the armed forces is appropriately educated about the complexities of governance and decision making at the top.
Need to address the problem
General VK Singh has been a loose cannon making sensational statements and allegedly engaging in even more questionable activities. While personifying the issue or demonising him is one way of looking at it, General VK Singh's outbursts and behaviour reflects sorely on the inner functioning of India's higher defence machinery and selection system. General VK Singh's outbursts are symptomatic of a deeper malaise. For, indeed there are serious misgivings between the government and the armed forces and within the services themselves.
The government needs to give a serious re-look into the way the Ministry of Defence is structured. The Ministry of Railways has its own cadre of bureaucrats. The Ministry of Finance permits posting of only those bureaucrats with domain experience in finance. In contrast, all pivotal bureaucratic positions in the MoD are occupied by bureaucrats on short term deputation, many of whom have had no prior experience of working in this key ministry.
In the armed forces, service officers attain the rank of Major General and above much later in their service and therefore end up spending fewer years in these ranks and so have limited years of experience in senior positions. In contrast, promotions are faster in the civilian bureaucracy up to the pivotal rank of joint secretary at which point they spend longer time and therefore attain greater exposure and experience of government functioning.
The government must not fall into the trap of further emasculating the armed forces just because of outbursts by a former Army chief. Similarly, the senior officer cadre within the services must desist from launching a witch hunt and 'fixing' officers. Rather, there is a need to look holistically and deeper at the above issues. A country that does not look after its soldiers does so at its own peril. The internal health of the armed forces and the functioning of the MoD is a matter of serious concern, marked as it is by corrupt practices, serious deficiencies in self-reliance capability and severely impoverished by indifferent and self absorbed politicians, a generalist and arrogant bureaucracy and some egoistic self-seeking generals.
We have a problem. Is there anyone out there addressing it?