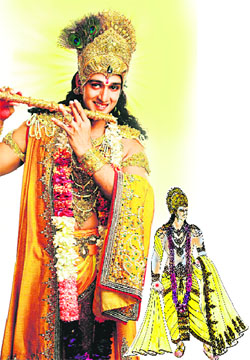 An epic task
Two decades and three versions later, people still swear by the original on-screen edition of the epic, Mahabharat. Its spot-on casting, fluid screenplay, superb performances…everything they say was so perfect that it is almost impossible to match. Nidhi Yasha understood the magnanimity of the challenge and realised that nothing short of slogging at the task in hand would suffice. In the pursuit to excel on her part, of designing costumes and jewellery for the new Mahabharat that went on air this month on Star Plus, she delved into literature, visited ancient temples and referred to Raja Ravi Verma's artwork.







Saurabh Jain as Lord Krishna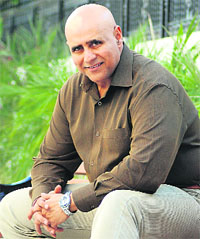 Power dressing
The makers of Mahabharat are often quoted as saying that this series is for the present generation, who missed the charm of the BR Chopra's magic. Elaborate sets, picturesque sceneries and add to that costumes and jewellery of actors, targeted viewers have all to gain and nothing to lose.








old charm: Puneet Issar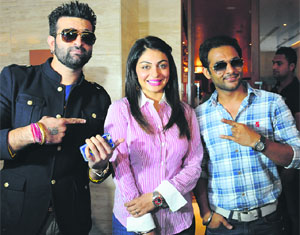 Face the music
If only you have to cry after marriage as the title of the Punjabi film RSVP, Rondey Saarey Vyah Pichon suggests, then why not face the music or better still enjoy the music before it? If you share the same views, turn your ears to the songs of this Punjabi film and dance all your way to the wedding arena!



Song & Drama: (L-R) Navraj Hans, Neeru Bajwa, Harish Verma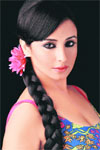 CELEB POINT
Thank god for small blessings
Sometimes we take life for granted—cribbing, fussing, fighting and stressing. Not our fault. Times are tough and it's not easy to survive in today's competitive world. But when you see people suffering, you realise how fortunate you are and how you should be grateful for leading a normal life.
Designs on men
Her decision to focus on menswear was backed by a thorough survey in Chandigarh. While a number of boutiques and women designer studios dot the map of Chandigarh, there is hardly anyone catering to men's wardrobe needs. Hence, Amanjot Bajwa decided to design sherwanis, Nehru jackets, sadris, coats, overcoats and three-piece suites.
Twist in the tale
With the view of bringing something different to the platter through their up and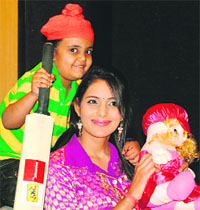 coming show, Raavi, channel Big Magic has come up with a new concept, wherein Raavi, the girl child, is made to dress like a boy by her mother. Wondering why? Rashmi Singh, who essays the role of Raavi's mother, explains the plot as she says, "The story of this television show is unlike any other that one has ever seen. I essay the role of Raavi's mother, whose husband has been murdered by a money grubbing crook, Shamsher, who conspires to take over the entire property of the family. However, according to the grandfather's will my husband's son will be entitled to the property, else it could be taken over by Shamsher. That is the reason, why I as Raavi's mother, dresses her up as a boy (Ravinder)."
Rimmi Srivastava & Rashmi Singh

Par Excellence


The influence of the path
The path of the stroke also influences the direction of the ball but has a less significant role as compared to the position of the putter face. The effect of the path is approximately 20 per cent. Therefore if a putter face is one degree open at impact the path would have to be five degrees out to in to result in a ball starting straight. But this would put side spin on the ball causing it to drift to the right (for right handed golfers).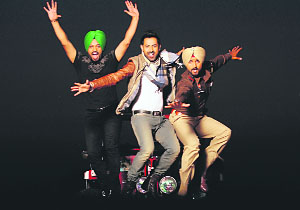 Don't miss IT
Upcoming Punjabi film Bhaji in Problem starring Akshay Kumar, Gippy Grewal, Gurpreet Ghuggi and Harbhajan Singh (Bhajji) records over a lakh hits on youtube
The teaser of the much awaited Punjabi heart warmer, Bhaji in Problem that was released this month has created ripples, not only among the Punjabi audience, but also the mainstream cinema buffs, with the movie getting a record high of over 1,08,914 likes on you tube, till now.
(L-R) Gurpreet Ghuggi, Gippy Grewal & Harbhajan Singh in Bhaji In Problem

star track
Vidyut Jamwal unplugged
Vidyut Jamwal has become a known name in a short span of time. He has some promising films under his belt. He talks about growing up, maintaining his art, movies and much more.



A wardrobe malfunction


Aishwarya's comeback not confirmed


A day well spent


Enough is enough!


Mistress of spices
Rhythm and 'blues'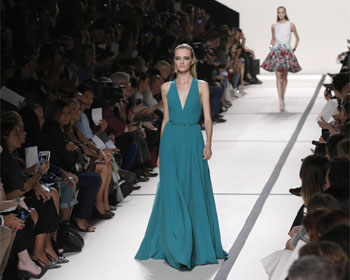 Models present creations by Lebanese designer Elie Saab from his Spring/Summer 2014 women's ready-to-wear collection during Paris Fashion Week. — Reuters
chatter box
Ruffled the wrong way
While Drashti Dhami claims to be single, she was rumoured to be linked up with her choreographer, Salman Yusuff Khan. Also, her alleged boyfriend, Neeraj Khemka, was spotted during the finale of Jhalak Dikhhla Jaa. Apparently, Drashti's skimpy clothes and sexy dance moves have irked Neeraj's parents and led to a tiff between the two lovers, but they seem to have patched up now.



Fashionably yours!


Of being hot and glamorous


Cause and effect


Mallika's tryst with a bike


Not so happy and gay