Virbhadra accepts CPS Dharmani's resignation
Shimla, October 4
Chief Minister Virbhadra Singh today confirmed that he had accepted the resignation of Chief Parliamentary Secretary Rajesh Dharmani. With this, the number of Chief Parliamentary Secretaries has come down to seven and Bilaspur district did not have any representation in the ministry.
Lawrence School founder's day celebrations end
Sanawar, October 4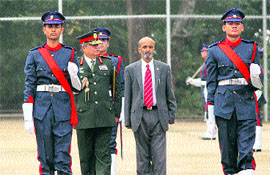 General Gaurav Shamsher Jung Bahadur Rana, Chief of the Nepal Army and a distinguished alumnus of Sanawar, 1972 batch, presided over the last day of a three-day 166th Founder's Day celebrations, which concluded today at The Lawrence School, Sanawar.
General Gaurav Shamsher Jung Bahadur Rana, Chief of the Nepal Army, inspects a parade at Lawrence School, Sanawar, on Friday.

5 get jail in assault case
Nurpur, October 4
Additional Chief Judicial Magistrate, Indora, Pankaj Gupta today sentenced five persons to two years' imprisonment and a fine of Rs 4,000 each in an assault and beating case.
Rohru to get parking complex soon
Shimla, October 4
A multipurpose car parking complex will be constructed at Rohru with a capacity for 300 vehicles in the public private partnership (PPP) mode.
Justice VK Sharma sworn in as HC Judge
Shimla, October 4
Chief Justice AM Khanwilkar administered the oath of office to Justice VK Sharma as a Judge of the Himachal Pradesh High Court at a ceremony held at the courtroom of the Chief Justice today.
Preparations in full swing for Durga Puja, Navratras
Kangra, October 4
The Kangra temple town is all set for Ashwin Navratras and Durga Puja celebrations starting from tomorrow. The famous Survojonin Durga Puja of the district will begin from tomorrow at the Tara Devi Mandir, Ghurkari, on the outskirts of the town. The festival would conclude on October 13 with the immersion of the idols.
Hidimba returns to her Mandi abode today
Mandi/Chiuni, October 4
Thousands of devotees of Hidimba, a Hindu goddess, would converge on an ancient temple at Sarahi Chiuni in Seraj valley tomorrow as the goddess returns to her abode after spending one and half years in exile. As many as 31 he-goats would be sacrificed on the first day of Navratra.
Need to regulate social media, stress experts
Shimla, October 4
The question whether or not the ongoing competing social media campaigns projecting Narendra Modi and Rahul Gandhi for the top post make an impact on the outcome of 2014 polls dominated the discussion on the final day of the two-day National Conference on Mass Media and the Indian Public Sphere: Issues and Challenges, here today.
Panel to select HP technical varsity V-C
Hamirpur, October 4
The Board of Governors (BOG) of Himachal Pradesh Technical University (HPTU) has decided to form a high powered select committee for the selection of Vice-Chancellor (V-C) of the university.