Jewellery stolen from Hotel Parkview room
Chandigarh, October 11
A major theft of jewellery and other valuables worth over Rs 3.5 lakh was reported from Hotel Parkview in Sector 24 today. The police is scrutinising the CCTV footage of the hotel to get a clue. It has registered a case of theft under Section 380 of the IPC at the Sector 11 police station.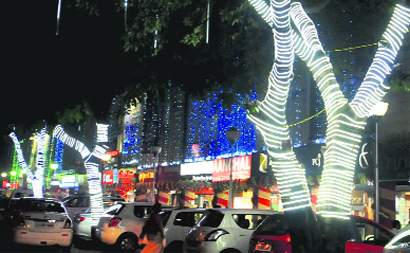 The Sector 22 market all decked up before Dasehra in Chandigarh. Tribune photo: Vicky Gharu
Traffic police gets tough
Chandigarh, October 11
A random survey by the UT traffic police has revealed that a majority of the deaths involving two-wheelers in the city were caused as the riders did not fasten their helmets properly. This year, as many as 39 two-wheeler riders have died in accidents.
Mixed response to Rahul's statement
Chandigarh, October 11
Congress vice-president Rahul Gandhi's recent statement that India's next government would be a 'government of the youth' has bagged a mixed response from residents of Chandigarh.
Open shed: An act in futility?
Chandigarh, October 11
The attempt of the PGI authorities to address the heavy rush of patients at the sample collection centre of the New OPD Block by setting up an open shed for fee payment and registration of lab tests is all set to add to the patients' inconvenience.
CHB fails to act against violators
Chandigarh, October 11
When it comes to taking action against illegal constructions, the Chandigarh Housing Board (CHB) chooses to look the other way.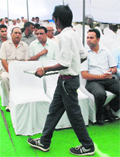 Only 3 of 25 HUDA commercial sites auctioned
Panchkula, October 11
In yet another setback for the Haryana Urban Development Authority (HUDA), only three out of 25 commercial sites were sold today during an auction held at the HUDA office, Sector 6, Panchkula, this morning.



A student in school uniform serves water to visitors during an auction of commercial sites by HUDA at Sector 6, Panchkula, on Friday. Tribune Photo: Nitin Mittal
Low visibility hits flight operations
Chandigarh, October 11
The ghost of low visibility has returned to haunt the authorities of the Chandigarh domestic airport.
High-velocity dust storm hits city
Chandigarh, October 11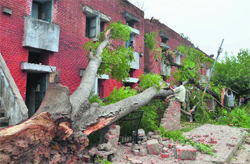 A dust storm having a velocity of 40 km per hour hit the city this morning. Met officials said increased moisture and low pressure building up in the central part of the country resulted in the high-velocity storm. The Met department has predicted another storm in the next 24 hours.


A tree that was uprooted by the dust storm in Sector 28, Chandigarh, on Friday. Tribune photo: Manoj Mahajan
Plays havoc with Ramlila organisers' plans
Panchkula, October 11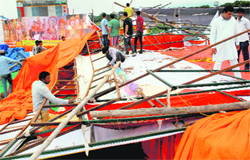 The high-velocity dust storm wreaked havoc, damaging tents on Ramlila grounds. Devotees at Mansa Devi Temple had to face the nature's wrath. Organisers of Ramlila had to set up the stage for the third time at Shalimar ground. A member of the Adarsh Ramlila Dramatic Club said they suffered losses to the tune of Rs 3 lakh due to the storm.

Workers reset a damaged stage in Sector 5, Panchkula, on Friday. Tribune photo: Nitin Mittal
Women and child helpline launched
Chandigarh, October 11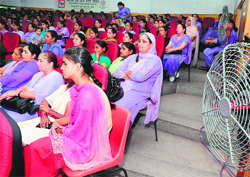 The UT social welfare department launched a women and child helpline '181' on the International Day of the Girl Child today. The helpline will be set up at various places in the city, including the railway station, bus stand and office complexes. Senior citizens and physically challenged persons can also avail the service.

Women attend a function on the International Day of the Girl Child at Bal Bhawan in Sector 23, Chandigarh, on Friday. Tribune photo: Parvesh Chauhan
Auction of vanity numbers on Oct 19, 20
Chandigarh, October 11
The Registration and Licensing Authority (RLA) will be conducting a two-day open auction of vanity numbers on October 19 and 20. The venue for the auction will be the open space adjoining the basement of the RLA's office.
Estate Office employees in trouble
Chandigarh, October 11 A few employees of the UT Estate Office are in the dock for fraudulently transferring the general power of attorney (GPA) of a house. A Sector 38 resident, Rajbir Singh Randhawa, reported to the police that five persons, including his father and younger brother, along with two Estate Office employees had fraudulently transferred the GPA of his house in their names on Friday. The employees have been identified as Sanjay Watts and Ashok Bisht.
Differently abled welcome SC decision
Chandigarh, October 11
The Supreme Court on Tuesday directed the Centre and state governments to provide three per cent reservation in jobs to differently abled persons.

96-year-old World War-II veteran honoured
Mohali, October 11
A 96-year-old World War-II veteran, Narinder Singh, who had remained incarcerated for four year as a prisoner-of-war, was honoured here today and given a lifelong monthly financial assistance by a non-government organisation.


Narinder Singh at a function in Phase XI, Mohali, on Friday. Tribune photo: Vicky Gharu
Unlicensed travel agents to face action
Mohali, October 11 The district administration has announced that it is mandatory under the law for travel agents to get themselves registered, failing which action would be taken against them.
MP releases 'Masjids of the Tri-City'
Mohali, October 11 A coffee-table book, "Masjids of the Tri-City," was released by Pawan Kumar Bansal, MP, Chandigarh, at a function held at Gian Jyoti Institute of Management and Technology yesterday.
DGP announces Rs 1 lakh reward
Panchkula, October 11
A week after an amounf of Rs 16 lakh was looted from two petrol pump employees in Panchkula, the Haryana Director General of Police (DGP), SN Vashisht, has announced a reward of Rs 1 lakh to anyone who provides information about the robbers who committed the crime outside a bank at Amravati Enclave in Pinjore, Panchkula.



The sun livens up a pale sky on Friday evening. (Left) and Effigies of Ravana, Kumbhakarna and Meghnad being readied at Sanatan Dharam Mandir in Sector 46, Chandigarh, on Friday. Tribune photos: Manoj Mahajan
PU gives golden chance to students
Chandigarh, October 11
In a decision that will benefit hundreds of students, Panjab University has decided to give a one time golden chance to those who had appeared for the postgraduate examinations while the annual system was still in place, but could not appear for the compartment or apply for the improvements as the university shifted to the semester system.
PU Syndicate takes U-turn
Chandigarh, October 11
Taking a U-turn to a decision taken over a year ago to ensure transparency, the Panjab University (PU) Syndicate has decided that the video recording of the Syndicate meeting will not be provided under the Right to Information (RTI) Act.
PU dept to take part in INO project
Chandigarh, October 11
The Physics Department of the PU would participate in the prestigious India-based Neutrino Observatory (INO) project being set-up near Madurai in Tamil Nadu. The Department of Science and Technology (DST), GoI, has sanctioned a grant of Rs 1.50 crore in this regard.
Schools seek review of policy
Chandigarh, October 11
UT Government schools have demanded a review of the current school uniform procurement policy following a delay in the procurement of the summer school uniform due to hectic official process involved in its purchase.
Students spread message of love, joy
Mohali, October 11
Saupin's School here celebrated the 'Joy of Giving' week in an innovative way by thanking their neighbours who always extend a helping hand in every possible way. As part of the activity, children went to different places like Fortis hospital, Max hospital, Ivy hospital, BSNL exchange, fire station and police station and to their neighbours, spreading the message of love and joy by giving small tokens of love and affection.
Teams battle it out on Day 1 at 'Efficycle'
Chandigarh, October 11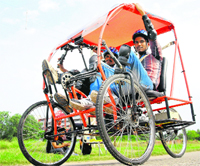 Showcasing a new innovation in the prototype three-wheel electric-human powered hybrid vehicle, Griffins, a team of engineering students from College of Technology, Coimbatore, have designed a vehicle that has automatic gear shifting system that runs with the help of sensor that senses the speed of the vehicle and changes the gear itself. The team with the new innovation is hopeful of taking over other teams in the endurance race to be organised at the Panjab University's UIET Department during the event 'Efficycle'.
Students from the College of Technology, Coimbatore, with their vehicle at the PU in Chandigarh on Friday. Tribune photo: S Chandan