dasehra celebrations
Weather hangs like sword of Damocles over organisers
Chandigarh/Panchkula, October 12
A day ahead of Dasehra, all organising committees in the city were seen struggling to "save" the effigies of demon Ravana and his kin from the fury of the weather god.

Effigies of Ravana, Meghnad and Kumbhakarna installed at Sector 43 in Chandigarh on Saturday. Tribune photo: Parvesh Chauhan

Sukhna walkway gets biodiversity plaques
Chandigarh, October 12
With the aim of making visitors aware of biodiversity around Sukhna Lake, the UT Forest Department has installed informative plaques all along the walkway at the lake. The 15 decorative plaques provide information about the type of flora and fauna in the lake area.

Visitors read a plaque installed at Sukhna Lake. Tribune photo: Parvesh Chauhan




Drug haul in city
Chandigarh, October 12
The operation cell of the Chandigarh police today arrested a resident of Badheri with more than 1.23 lakh capsules of banned drugs worth Rs 10 lakh. He was arrested while he was carrying the capsules on a rehri near Sector 41. The DSP (Operation Cell), Jagbir Singh, stated the accused, identified as Pawan Kumar (28), was a drug addict.
Pawan Kumar in police custody. Tribune photo: Manoj Mahajan



Dasehra with a cause in Panchkula
Panchkula, October 12
In a bid to make a difference and root out social evils like female foeticide, the authorities have decided to create awareness in style. This Dasehra, planes will be showering pamphlets on the audience with a social message at the Parade Ground in Panchkula.
Workers carry an effigy of Ravana at the Parade Ground in Sector 5, Panchkula, on Saturday. Tribune photo: Nitin Mittal


UT Admn to go for mini buses
Chandigarh, October 12
After failing to procure AC and non-AC buses through the tendering process, the Chandigarh Administration has ultimately decided to go for midi buses, a low-floor bus larger than the traditional mini-bus.
MP seeks extension of watch hours at city airport
Chandigarh, October 12
The issue of limited watch hours at the Chandigarh domestic airport has further got the thrust after Chandigarh MP Pawan Kumar Bansal, in a letter to AK Antony, Minister of Defence, has sought extension of watch hours to 11 PM.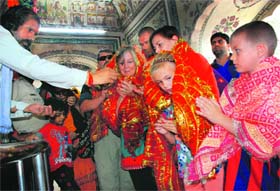 Faith matters: Foreign tourists pay obeisance during the Navratras at the Mansa Devi temple in Panchkula on Saturday. Tribune photo: Nitin Mittal
Cattle catchers continue protest
Mohali, October 12
As residents face the menace of stray animals, it's been almost two weeks since the cattle catchers' team of the Municipal Corporation here stopped work in protest against the failure of the police to take action against the persons who had allegedly attacked the team members on duty.
Be a leader not a follower, says Kargil war veteran
Chandigarh, October 12
India's first blade runner, who has been an inspiration and motivation to scores of people, believes that if someone goes through amputation and lives the life fullest then that person is stronger than someone who has both the legs.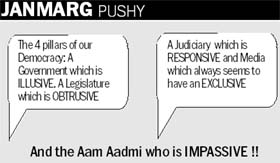 MC Joint Commissioner gets additional charge
Chandigarh, October 12
In the reshuffling of departments in the Municipal Corporation, Joint Commissioner Rajiv Gupta was given the charge of a few more departments.
Protest rally against property tax
Mohali, October 12
Opposing the imposition of property tax in Mohali, Congress MLA Balbir Singh Sidhu said a massive protest would be held here on October 15 against the government for putting an additional financial burden on residents.


| | |
| --- | --- |
| For a cause: Flying Sikh Milkha Singh takes part in a marathon on the occasion of World Arthritis Day at the Sukhna Lake. Tribune photo: Manoj Mahajan | Festive fervour: Devotees take part in a shobha yatra in Sector 20, Chandigarh, on Saturday. Tribune photo: Manoj Mahajan |

379 get degrees at PEC convocation
Chandigarh, October 12
The 43rd Annual Convocation of the PEC University of Technology, Chandigarh, was held, here today. Padma Vibhushan Prof Man Mohan Sharma, Co-Chairperson of the Board of Management, was the chief guest and VK Singh, Secretary Technical Education, was the co-chairperson.


PhD scholars and young graduates of the PEC University of Technology during their convocation at Sector 12 in Chandigarh on Saturday. Tribune photo: Pradeep Tewari

'Science an engine of growth'
Mohali, October 12
It is important for the country to excel in science and technology because it is the engine of growth of any country, more so for India because of the number of poor people living here, said Prof Goverdhan Mehta, National Research Professor, University of Hyderabad, said here today.


Students in a jubilant mood after receiving their degrees at the 7th Convocation of NIPER in Mohali on Saturday. Tribune photo: Parvesh Chauhan

PU Efficycle: 52 teams qualify for next round
Chandigarh, October 12
Day-two of Efficycle organised by University Institute of Engineering and Technology (UIET) at Panjab University (PU) witnessed around 52 teams who had to struggle hard to cross the hurdles in the tracks and finish the challenge with the best timings.

A team from Tamil Nadu takes part in Efficycle at the UIET, Sector 25, in Chandigarh on Saturday. Tribune photo: Pradeep Tewari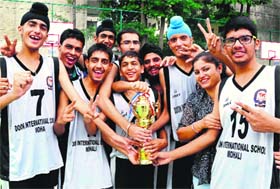 Cagers of Doon International School flash the victory sign after winning the Bhagwant Singh Memorial Inter-School Basketball Trophy at Vivek High School in Mohali on Saturday. Tribune photo: Parvesh Chauhan
Seminar on libraries held at college
Chandigarh, October 12
"Libraries in their traditional form will continue to remain an important source of education even in this age of advanced technology," said Pawan Kumar Bansal, Member of Parliament, Chandigarh, while inaugurating the 2nd CLA national seminar on 'Libraries in Digital Era' at the Dev Samaj College of Education, Sector 36.
Play directed by Zubin Mehta staged
Chandigarh, October 12
Students of the St Kabir Public School, Sector 26, Chandigarh, made the audience spellbound with their scintillating performance in the play "My Fair Lady" held here at the Tagore theatre, Sector 18.