M A I N N E W S
Phailin fury strikes Odisha, north Andhra
Powerful cyclone with 200 kmph winds batters coastal areas, brings heavy rain

5 killed

Over half a million evacuated
Tribune News Service & Agencies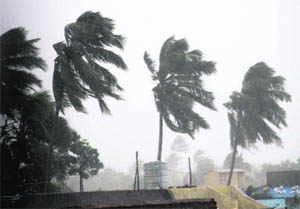 Worst-hit areas
Odisha: Gajapati, Khurda, Puri, Jagatsinghpur, Nayagarh, Cuttack, Bhadrak, Kendrapara and Bhubaneshwar
AP: Srikakulam, Vizianagaram, Vizag
Blackout in coastal Odisha
Darkness enveloped wide swathes of the coastal districts of Odisha, especially Ganjam, whose Gopalpur was the entry point for the storm
Railways cancels 120 trains

The Railways cancelled 120 trains passing coastal AP and Odisha


At least 10 incoming and outgoing flights cancelled at Bhubhaneswar
Eye of the storm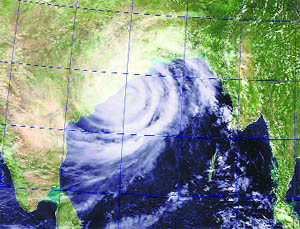 A satellite image obtained from the US Naval Research Laboratory (NRL) shows the eye of cyclone Phailin approaching the coastline from the Bay of Bengal
6.79 lakh taken to safer places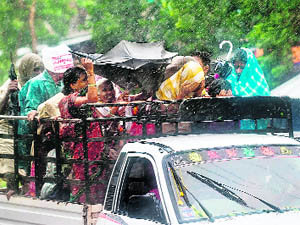 At least 6.79 lakh people (5.5 lakh in Odisha and 1.29 lakh in Andhra Pradesh) have been evacuated. Around 500 specially built cyclone shelters have been set up
Army, NDRF teams ready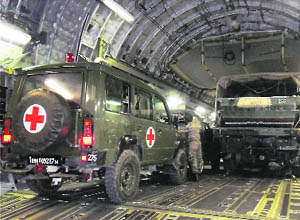 The Army has readied 18 helicopters, 12 aircraft and two naval warships, besides 2,000 personnel; the NDRF has put in place 29 teams for Odisha and 15 for Andhra Pradesh
Gopalpur(Odisha)/Hyderabad, October 12
'Phailin', a very severe cyclonic storm, said to be the second strongest after the disastrous super cyclone of 1999, today struck the Odisha coast, bringing in its wake torrential rains and wind speeds of over 200 kmph in the state and in the neighbouring north coastal Andhra Pradesh.
Darkness enveloped wide swathes of the coastal districts of Odisha, especially Ganjam, whose Gopalpur-on-sea was the entry point for the storm uprooting trees and electric poles.
People were forced to remain indoors by the pounding rains and vehicular traffic came to a grinding halt.
Heavy to very heavy rainfall were also widespread in the districts of Gajapati, Khurda, Puri, Jagatsinghpur, Nayagarh, Cuttack, Bhadrak and Kendrapara in coastal region besides state capital Bhubaneshwar.
However, the extent of damage wreaked by the cyclone was not immediately available. Five persons ople were killed in Odisha in the heavy rains ahead of the storm. Of them, three persons, including a woman, were killed after uprooted trees fell on them in the state capital and at Khalikote and Polsara in Ganjam district, the police said.
"The cyclone made its landfall very close to Gopalpur town around 9 pm and has just started crossing the coast in Odisha," IMD Director General LS Rathore told reporters in New Delhi.
"Still there is scope for the speed to go up as the cyclone will remain very severe for six hours. Post landfall, there will be no large change in the intensity," he said, adding that for another 12 to 24 hours, there will be moderate rains in large parts of east India. He denied that 'Phailin' was a super cyclone.
In Andhra Pradesh, Srikakulam, Vizianagaram and Visakhapatnam districts were pounded by heavy rains and gusty winds which uprooted trees, blocking roads and disrupting movement of vehicles.
In Srikakulam district alone, bordering Odisha, 20 villages were marooned. Almost the entire district plunged into darkness with the power supply lines being snapped. In Vizianagaram, fishermen tried in vain to save their boats and nets as the pouncing waves snatched them into sea. The impact of Phailin was also felt in East Godavari and West Godavari districts.
Chief Minister N Kiran Kumar Reddy reviewed the situation and directed the collectors of nine coastal districts to remain on high alert.
"Ministers and special officers in the coastal districts were monitoring the situation. Revenue Minister Raghuveera Reddy will be camping in Visakhapatnam to oversee rescue and relief operations," said the Chief Minister.
Army, Air Force, Navy, CRPF and National Disaster Response Force were positioned in vulnerable areas. IAF's latest strategic transport aircraft — the C-17 Globe Master — flew in with 60 troops, relief materials, special Army vehicles and ambulances from Allahabad. The IAF started flying in NDRF personnel and heavy relief equipment by IL-76s and AN-32 to the area from various bases across the country.
The force has kept two C-130J Super Hercules for rescue and relief efforts, Group Captain Basant B Pande said. Mi-17 V5 helicopters were also standing by in Barrackpore near Kolkata.


Typhoon Nari kills 13 in Philippines

Manila: Typhoon Nari pummelled the northern Philippines on Saturday, ripping roofs off buildings, killing 13 persons and leaving more than two million people without electricity. Nari slammed into the coast with 150 kmph winds
(With inputs from Suresh Dharur)