M A I N N E W S
water Pollution-1: In a series of reports, The Tribune team takes a look at the state of various rivers and other water bodies. Here is what it found

Govt sleeps as toxic waste poisons water in Punjab
Umesh Dewan/TNS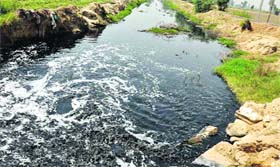 The polluted Kala Sanghian drain in Jalandhar. Tribune photo
Jalandhar/Kapurthala, Oct 13
Notwithstanding claims of the Punjab Government and the state Pollution Control Board (PPCB) that emphasis is being laid on ensuring clean and green environment in the state, the practice of discharging domestic waste and untreated industrial effluents into drains, rivulets and water channels continues unabated in Jalandhar and Kapurthala.
The worst affected is the Kala Sanghian Drain, which originates from Bullandpur village in Jalandhar and goes to Chiti Bein, which finally connects with the Sutlej.
In Kapurthala, untreated sewage waste is polluting Kali Bein. Same is the fate of Wadala Drain. It merges with Kali Bein, which finally falls into the Beas. Pollution of drains and rivulets has also started affecting groundwater. This has started affecting he health of people in many parts of Jalandhar and Kapurthala.
Apart from skin diseases, a number of cancer deaths have also been reported in many villages of Jalandhar. Intake of polluted water is said to be the main cause behind rising number of cancer cases in these areas. Though, the PPCB has tightened the noose around the tanneries at the Leather Complex and electroplating units in Jalandhar, the violation of anti-pollution norms continues.
The problem
Out of about 200 electroplating units in Jalandhar, many do not have effluent treatment plants (ETPs). The result: Toxic chrome effluents are discharged into Kala Sanghian Drain.
It is being claimed that electroplating units send effluents to the Common Effluent Treatment Plant (CETP) at Ludhiana for treatment, but there are reports that many units continue to discharge untreated effluents into Kala Sanghian Drain. There are about 60 tanneries in Leather Complex.
Kapurthala has a sewage treatment plant (STP) with total capacity of treating 25 million litre discharge per day (MLD). Since the plant is not properly functional, the discharge of untreated domestic waste into Kali Bein goes on. Untreated domestic waste of some areas also finds its way into Wadala Drain. Lakhs of fish were found dead in Kali Bein at Sultanpur Lodhi in April this year.
The promises
Sewage treatment plants (STPs) were to be set up in Jalandhar, Kapurthala, Nawanshahr and Hoshiarpur. Industrial units had to send effluents to the CETP, Ludhiana, or had to install their own ETPs. On February 28, 2008, it was announced that Kala Sanghian Drain would be made pollution-free within one month, but there has not been much improvement five years down the line.
On May 18, 2011, some Rajasthan residents came to Jalandhar to lodge a protest with the administration saying the 45-km Kala Sanghian Drain was polluting the Sutlej and ultimately the Indira canal that carried water to several districts of Rajasthan.
The reality
The Punjab Effluent Treatment Society (PETS) has set up a 5 MLD CETP at Leather Complex for the treatment of toxic waste, while the old CETP (1.5 MLD) is non-functional. The installed capacity of tanneries at leather complex is about 8.8 MLD.
PPCB Senior Environmental Engineer SP Garg said the PETS had initiated the process to re-commission the old CETP at the Leather Complex. "The capacity of the new CETP is being increased from 5 MLD to 6 MLD. We are hopeful that work will be completed by October 31," said PETS Secretary-cum-Director Ajay Sharma.
Garg said board officials kept conducting surprise checks on tanneries and action was initiated whenever any violation was noticed. Kapurthala MC Executive Officer and President had been prosecuted for not been able to ensure that the STP operated properly and achieved desired standards, he added.
Jalandhar needs to have STPs with a combined capacity of 235 MLD. At present, two STPs (100 MLD and 25 MLD capacity) are functional at Pholriwal. A 50 MLD STP is coming up Opposite the Leather Complex, whereas two STPs of 25 MLD and 10 MLD capacity are being set up along the Hoshiarpur Road and the GT Road in Jalandhar. Phagwara has an STP of 20 MLD capacity, while two other STPs of 8 MLD capacity each are being set up. In Nawanshahr and Hoshiarpur, 6 MLD and 30 MLD STPs are coming up. The deadline for the commissioning of all STPs is March 31, 2014.
Health hazard
Consumption of polluted groundwater has left a large number of people suffering from various diseases, including cancer. Gazipur, Allowal, Badshapur, Mehmuwal Mahla, Kohar Kalan, Athola, Mandala Chana, Gidderpindi, Bahmania, Madala, Isewal and Namajepur villages in Jalandhar district are the worst-hit. Bulerkhanpur, Sidhpur, Sunra, Chaka, Ahmedpur and Mallu villages are among the worst-affected in Kapurthala.
Tumour and cancer cases, besides stomach, eye, skin and respiration problems are common among residents of Jalandhar villages that fall in the vicinity of Kala Sanghian Drain.
Jarnail Singh of Badshapur village said: "There had been eight cancer deaths in the village. Residents of other villagers are also suffering from various ailments. The state government has completely failed to check pollution of groundwater." Inhabitants of many other villages also claimed that the people were suffering due to consumption of polluted water.
Seechewal's take
According to environmentalist Seechewal, the discharge of Kala Sanghian Drain goes down to Chitti Bein, then to the Sutlej and finally to Harike headworks, from where drinking water is supplied to the Malwa region. Polluted water poses a serious risk not only to the aquatic life, but also to humans.
Till all STPs were in place, the Jalandhar Municipal Corporation should make arrangements to segregate silt from untreated waste at different points, so that less polluted water was discharged into the drains, he said. "An STP has been set up in Kapurthala at a cost of Rs 12 crore, but it is non-functional. The entire domestic waste goes into Kali Bein, which is really unfortunate," he added.
(To be continued)
The sorry state of rivers
Chandigarh: Punjab ranks 23rd among states and UTs in environment performance index benchmarked by the Planning Commission in its 2012 report. The poor ranking is in sharp contrast with the commitment made by Chief Minister Parkash Singh Badal in October, 2010 that all state rivers will be cleaned by November 30, 2011. The Shiromani Akali Dal manifesto for the last Assembly polls promised "clean air, water, sky and land (saf paun, pani dharti and akash)". It had also spelled out a 5-point programme. Nothing has changed: The Sutlej continues to be a major victim, the Ghaggar is a repository of chemical waste, as toxins are dunked into the subsoil water at various places. The result is stark: most rivers and choes remain polluted. Government sources cite the lack of funds for handling pollution. For instance, they say, the state government identified 45 towns and cities from where untreated effluents flow into either rivers or nearby choes. Safely created dumps would have taken care of solid waste. But the government doesn't have funds to set up treatment plants. –TNS