Give me a song...
With most Punjabi singers turning to acting, the music industry feels the void
Give us a song….. Even better, show me a singer who can give us a song. While you quickly get down to working on it, we run though a in-your-face fact. With every second Punjabi singer now acting in films, we wonder who is left behind, recording in the studios. With almost every singer, turning to a Mohawk hairstyle, we would want to know who is looking after their own singing style.
First cut
Baljinder Kaur's debut in Shahid has won her much appreciation and more roles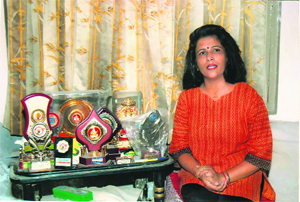 She has left the 'what next' question travel with the tide of time. A strong feeling pushes her to take a decision for her better future, but then much is at stake. Baljinder Kaur, a school teacher at Hisar is busy attending phone calls. Those of who have seen the trailers of the soon to be released Bollywood movie Shahid, phone her to congratulate her work in the movie. Baljinder plays Ammi, Shahid's (the protagonist) mother in the film. "Oh, they have just seen the trailer, picture to abhi baaki hai," she breaks into a throaty laugh.
pet passion
Street smart
There is something about Sohnie that keeps Angad Anand rather amused as he romances the notion of having her around. Perhaps, it is her 'nakhras', of which he speaks so fondly, or probably, it is just her sheer presence, that translates into their expression of togetherness that further speaks volumes about their bond.


Sheer indulgence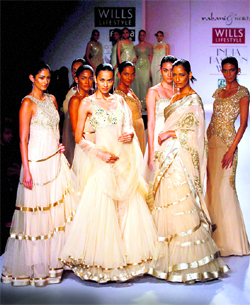 Models display creations of Designer Rabani & Rakha during the Wills Lifestyle India Fashion Week-Spring Summer 2014 in New Delhi. PTI Photo
Shopping time
With Diwali around the corner, is you want to shop for some handicrafts and handlooms, Crafts Bazaar on at sector 34 Exhibition grounds, Chandigarh has products from Assam, Manipur, Meghalaya, Tripura, Nagaland, Mizoram, Arunachal Pradesh and Sikkim.
Master Chef
Southern delight
Within the periphery of our great nation we have many diverse cuisines which we all relish and enjoy. Like the dosa has become a household word here and butter chicken is a favorite down South. Let's try this recipe which will give you a whiff of the southern culinary culture.
it's rocking
Royal debut
Royals, the debut song by the New Zealand based singer-songwriter, Lorde, is a single from her debut album, The Love Club EP (2012), Pure Heroine (2013). Lorde and Joel Little co-wrote and produced the song, which is an art pop and minimal song. Lyrically, it expresses the protagonist's disdain for celebrities' lavish lifestyles and vows that she will not become one of them
stress buster
Stay relaxed, stay healthy
Whenever I watch any of my clients walk into my clinic in a huff, the first thing I tell them is — relax. When agitated, I know it is the most difficult word to listen to but then it helps. We must realise that learning how to relax will enhance the quality of our lives by beating the negative effects of stress.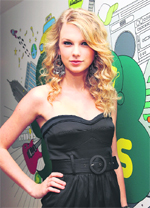 Meet Taylor Swift, the educationist!
Country singer Taylor Swift has opened her USD 4 million education center at the Country Music Hall of Fame and Museum. The 23-year-old singer inaugurated the new education center in Nashville, which has a classroom space, an instrument room and other music education opportunities, reported a publication. "I am really excited about this music education center and the fact that right now they have three different classes going on today," Swift said. "It is really exciting that we can be here on a day when they're not only unveiling it, but they are starting to actively use it today," she added.

A touch of conservatism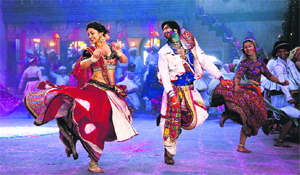 Actress Deepika Padukone, who is rumoured to be dating Ram Leela co-star Ranveer Singh, admits that she is very narrow-minded and conservative about her relationships. Is that why she is keeping her lips-locked or it is just a part of the promotional strategy for their film? Guess we will know after the film releases.
Personal professional: A still from the film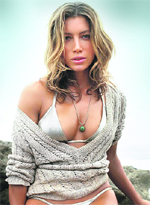 Jessica calls the shots at home
Singer-actor Justin Timberlake says that he makes minor decisions about his home decor as his actress wife Jessica Biel takes the overall charge of it.
The 32-year-old Mirrors hit maker says he is obsessed with small details in the decor, reported a website.
"I'm a bit of an art collector and I can get a bit obsessed with details, like handles on drawers and such. But I guess 'contemporary with a bit of other stuff mixed in' would describe our home," Timberlake said. —PTI

House proud: Jessica Biel
Jagya to go to jail?
Sanchi's (Roop Durgapal) worries are about to get passed on to Ganga (Sriti Jha) and Jagya (Shashank Vyas) in Balika Vadhu withJagya getting arrested. Jagya will be put behind the bars in the upcoming episodes of the show and Sanchi will be responsible for it.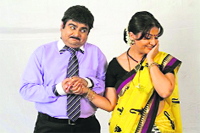 Deven gets candid
He played the memorable role of Gattu in Baa Bahoo Aur Baby and became a household name. Now Deven Bhojani is back on TV with yet another show called Bh.. se Bhade wherein. In the show, he is shown to be blessed with the power of touch which can help people deal with their problems.
Two to tango
Kiku Sharda who is a well known comedian of fame FIR and Comedy Nights With Kapil will show his dancing moves with his wife Priyanka in the upcoming season of Nach Baliye. The two have apparently confirmed for the show.
The year ahead
If your birthday is October 14...
Astro Turf
ARIES: Love, celebration, and romance are on the cards. You will be able to accomplish many things today. Working out a new schedule will be useful. You are generous and giving in family and personal relationships.