Cong questions Madani's love for Modi
New Delhi, October 15
A day after the influential Muslim cleric Mehmood Madani came out in support of BJP's prime ministerial candidate Narendra Modi by accusing the Congress of playing the secular card to garner votes, the party vehemently denied the charges saying it had nothing to do with individual remarks.
Now, UIDAI moves SC on Aadhaar card
New Delhi, October 15
The Unique Identification Authority of India (UIDAI) has joined government and PSU oil firms against the Supreme Court order making Aadhaar card not mandatory for availing social benefits saying, its directive has "very serious implications" in implementation of welfare schemes.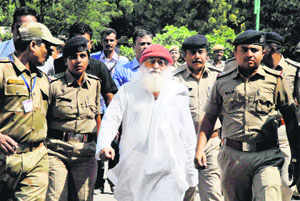 Asaram in 5-day police remand
Ahmedabad, October 15
A Gandhinagar court today granted five days police remand to rape-accused Asaram Bapu amid accusation from Congress leaders that the self-styled 'godman' practiced black magic for the benefit of Gujarat Chief Minister Narendra Modi and veteran BJP leader LK Advani.
Gujarat Police takes Asaram Bapu to Ahmedabad, in Jodhpur on Monday. — PTI

Police gets CD on burials in Jammu ashram
Jammu, October 15
The allegation against Asaram that some bodies were buried inside Jammu ashram took a turn today as Badri Nath, a man from the ashram, handed over a CD to the police.
ASI to pursue UP sadhu's gold dream
Lucknow, October 15
The Archaeological Survey of India will soon dig inside a ruined fort in Uttar Pradesh to locate 1,000 tonnes of gold which a mystic saw in his dream being buried there. Sounds incredible, but it's true!
Dreamliner's panel falls off mid-air; DGCA probe on
New Delhi, October 15
A large panel on the belly of a Bangalore-bound Dreamliner of Air India fell off mid-air, putting about 150 passengers on board at a grave risk, but the aircraft landed safely. The DGCA is probing the incident which occurred on Saturday when an 8X4 feet panel in the fuselage fell off while the plane was on its way to Bangalore from Delhi, leaving a gaping hole in the cargo hold, official sources said.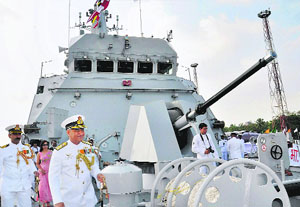 INS Sunayna commissioned: Vice-Admiral Satish Soni, Flag Officer Commanding-in-Chief, Southern Naval Command, at the launch of the indigenously-built naval offshore patrol vessel, INS Sunayna, at Kochi on Tuesday. — PTI

Barrel of Bofors bursts during trials
New Delhi, October 15
A barrel of the indigenous-version of the Bofors howitzers burst during their trials in the Pokharan range, delaying plans to induct these artillery guns into the Army. The Defence Acquisition Council had recently approved the procurement of 144 such guns by the Army which are being manufactured by the Ordnance Factory Board, Jabalpur.
3 days on, no water, power in Ganjam; offices shut
Berhampore (Ganjam), Oct 15
Normal life continues to be in disarray in this worst cyclone affected district of Odisha, with electricity supply yet to be restored and banks and other public offices remaining shut three days after the deadly storm.
Notice to Sami for overstaying in India
Mumbai, October 15


The Mumbai police today issued a notice to Pakistani singer Adnan Sami for overstaying in India after his visa expired last fortnight, sources said. The Foreigners Branch of the Mumbai police is probing the matter after it emerged during the divorce proceedings between him and his estranged wife Sabah Galadari that Sami's visa had expired. While Sami said he was in the middle of renewing his visa, the Maharashtra Navnirman Sena demanded that he be deported from India.
Pantry car of Rajdhani Express catches fire
Guwahati, October 15
A fire broke out in a pantry car of the Dibrugarh-New Delhi Rajdhani Express near Dharamtul Railway Station in Morigaon district early today.
Co-operative societies don't fall within ambit of RTI Act: SC
New Delhi, October 15
Co-operative societies do not fall within the ambit of Right to Information Act, the Supreme Court has said while quashing a Kerala government circular to bring all such societies within the scope of the transparency law.

Aarushi's body tampered with, says CBI
Ghaziabad, October 15
The CBI today told the special court hearing the Aarushi case that the scene of crime was "completely dressed up" and the teenage girl's body was tampered with by dentist couple Rajesh and Nupur Talwar on the night of the crime. "The scene of the crime had been heavily dressed up. The bed, on which Aarushi's body was found, didn't have a single crease on it," special CBI prosecutor RK Saini said.
Was beaten up by Mulayam's kin: Doctor
Etawah (UP), October 15
A doctor here has alleged that he was beaten up by a relative of Samajwadi Party supremo Mulayam Singh Yadav and his men over a trivial issue of vehicle parking. Pawan Pratap Singh, a state government doctor, said he had parked his car near the house of Mulayam's brother-in-law Ajant Singh Yadav in the Friends Colony area last evening. Angry over it, Yadav, along with some other persons, not only beat him but also damaged his vehicle and broke its window panes, the doctor alleged. Singh also alleged that the police was not registering his complaint, a charge refuted by officials. SHO, Civil Lines police station, D K Sisodia said they have not received any complaint in this regard. — PTI
Priyanka in politics? No, says Cong
New Delhi, October 15
Denying reports of Priyanka Vadra, the daughter of Congress chief Sonia Gandhi, foraying into politics, the Congress today said these rumours were being fuelled by people interested in deflecting nation's attention from the failure of the BJP government in preventing the MP stampede. In an indirect reference to the BJP being behind the Priyanka-in-politics-talk, Congress spokesperson Meem Afzal said the talk was nothing but a diversionary tactic. Afzal was silent on the Allahabad Congress Committee's resolution today requesting Priyanka to context from Phulpur seat which Pt Jawahar lal Nehru represented in his lifetime. The Congress has not won the Phulpur seat for a long time. — TNS
Quality, not quantity of proof needed for conviction, says SC
New Delhi, October 15
It is the quality and not the quantity of evidence which is required for conviction that can even be based on the testimony of a sole eyewitness, the Supreme Court has said. "In the matter of appreciation of evidence of witnesses, it is not the number of witnesses but quality of their evidence which is important, as there is no requirement under the Law of Evidence that any particular number of witnesses is to be examined to prove/disprove a fact," a bench of Justices BS Chauhan and SA Bobde said. — PTI