(1) Stray cattle eat garbage at Sector 16, Panchkula. Tribune Photos: Nitin Mittal (2) Children tease a stray cow at Sector 4; and (3) a cow squats on a road at Sector 14, Panchkula.
Tribune impact
CJM holds his breath, orders action
Panchkula, October 25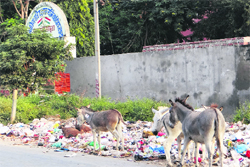 Acting on a report published in these columns regarding the "pathetic garbage situation" in Panchkula, Chief Judicial Magistrate-cum-secretary, District Legal Services Authority, Sunil Chauhan, along with a team, carried out an inspection and found that the vicinity of a government school in Raipur Rani, Panchkula, had been turned into a dumping ground.
Garbage dumped outside a government school in Raipur Rani, Panchkula. A Tribune photograph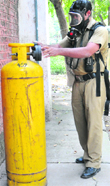 Chlorine leak triggers panic
Chandigarh, October 25
A major tragedy was averted when chlorine leak was detected from a huge cylinder at a tubewell in Sector 19 at around 12.30 pm today. The gas leak triggered panic among shoppers at Palika Bazar situated adjacent to the tubewell (waterworks). One of the shopkeepers alerted the fire department following which the leak was controlled, which could have harmed more than 100 people present in the area.


A fireman checks the cylinder from which chlorine leaked at Sector 19, Chandigarh, on Friday. Tribune photo: Pradeep Tewari



Plot owners want back Rs 1,500 crore from Admn
Chandigarh, October 25
While the UT Administration was planning to implement the Micro Small and Medium Enterprises Development (MSMED) Act after its recent meeting with officials of the MHA and the city-based industrialists, the converted plot owners' association has now demanded back their money, which is around Rs 1,500 crore.


Bumpy ride for patients
Chandigarh, October 25
Suffering immense pain due to jerks caused by the speed-breakers installed on various roads at the PGIMER, a patient has complained to the public grievances committee seeking substitution of these speed bumps.
Residents face hassles in getting high security number plates
Chandigarh, October 25
Getting high security number plates fixed on your vehicle at two centres earmarked by the Registration licensing authority (RLA) has become a struggle for the people due to shortage of parking space.
House tax: Residents of Sectors 48, 49, 50, 51 allege discrimination
Chandigarh, October 25
Residents of the societies in Sectors 48, 49, 50 and 51 have opposed the imposition of house tax on the societies by the Municipal Corporation.
SP (Traffic) to probe charges of 'hafta wasooli'
Chandigarh, October 25
A team headed by the UT Superintendent of Police (Traffic) will now look into the allegations of "hafta wasooli" or patronage and protection charges at the Sector 26 vegetable market.
Fire breaks out at factory
Chandigarh, October 25

Goods worth Rs 40 lakh were destroyed in a fire that broke out at a corrugated boxes factory in the Industrial Area, Phase II, in the wee hours today. However, no loss of life was reported. The flames intensified within a few minutes and it took the firemen over 6 hours to douse the fire.
People at the site where a fire broke out in a factory at the Industrial Area, Phase II, in Chandigarh on Friday. Tribune photo: S.Chandan
Special counters set up to sell onion at Rs 55 per kg
Chandigarh, October 25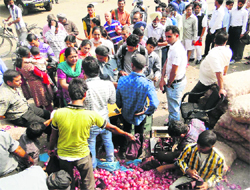 Amid the skyrocketing prices of onion in the city, touching Rs 90 per kg in the retail market three days ago, the UT Administration has set up five special counters for selling onions at Rs 55 a kg at the Sector 26 Grain Market.






People stand in a queue to buy onion from a government stall at the Grain Market, Sector 26, in Chandigarh on Friday. Tribune photo: Pradeep Tewari
Border tension no deterrent to Pak exhibitors at CII fair
Chandigarh, October 25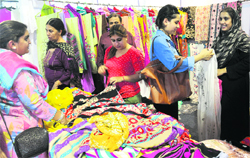 The border tension and ceasefire violations are proving no deterrent to Pakistani exhibitors to visit the CII Chandigarh Consumer Fair that began at the Parade Ground here today.





Women buy clothes from a Pakistani stall at a fair in Chandigarh on Friday. Tribune photo: Pradeep Tewari
UT Admn didn't give Jaspal Bhatti his due, says wife
Chandigarh, October 25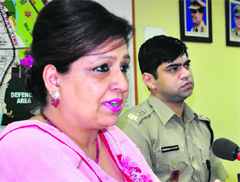 Lashing out at the city and the Chandigarh Administration for not giving late satirist Jaspal Bhatti his due, his wife, Savita Bhatti, today said her husband's contributions to society had still not been fully recognised. Savita was addressing the media at the first death anniversary of her husband when Jaspal Bhatti has been made the brand ambassador for the Chandigarh Administration.

Savita Bhatti, wife of the late Jaspal Bhatti, addresses mediapersons on Friday. Tribune photo: S.Chandan
Lawyers protest outside DC's office
Mohali, October 25
Lawyers staged a dharna outside the office of the Deputy Commissioner here today demanding the rollback of the Punjab Rent Act, which harmed their interests.
Dept objects to terms of CREST petition
Chandigarh, October 25
The UT Electricity Department today objected to the terms and conditions of the petition moved before the Joint Energy Regulatory Commission (JERC) by the Chandigarh Renewable Energy Science and Technology Promotion Society (CREST), seeking permission to sell power produced through solar power plants.
Business experts emphasise on strong leadership at annual summit
Chandigarh, October 25
The Indian School of Business (ISB) hosted top business leaders at the second edition of its annual leadership summit - 'Pinnacle', on the Mohali campus today.
Seminar on railway safety organised
Chandigarh, October 25
There is a dire need to sensitise the railway staff on exchange of signals and proper communication, as in past three years, four major accidents occurred due to human errors. This was stated by the Ambala railway division senior divisional safety officer Paveen Gaur during a safety seminar at Chandigarh railway station.
Breast cancer: Don't ignore early symptoms, say experts
Chandigarh, October 25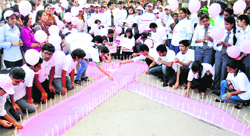 Max Super Speciality Hospital organised a breast cancer awareness drive and 200 families of breast cancer survivors participated in spreading awareness on breast cancer by holding a candle light march and forming a human chain to drive home the message of early detection of cancer, preventive measures to be taken and how to keep a positive attitude in life.
Students light candles on the pink ribbon during a breast cancer awareness drive at Sector 17 in Chandigarh on Friday. Tribune photo
Expert discusses 'cosmic illusions'
Panchkula, October 25
Seeing is believing but not always, especially in science, said Prof Jayant V Narlikar, while explaining how gravitational force changes the path of light rays coming from stars and galaxies and what one actually sees on earth as an image may not be exactly how it exists in the space and went on clarify how human eye perceives a single source of light (a quasar) as twin quasars.
'Grasping impact of history not easy'
Chandigarh, October 25
Eminent biographer and research professor at the Centre for South Asian Studies in the University of Illinois, USA, Prof Rajmohan Gandhi said today that grasping the impact of history was not easy for people in the present.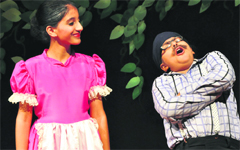 Play highlights orphan girl's plight
Chandigarh, October 25
Students of Yadavindra Public School, Mohali, staged a play, "Wizard of Oz" at the Tagore Theatre today.



Students enact a scene from the play, 'Wizard of Oz', at the Tagore Theatre in Chandigarh on Friday. Tribune photo







A road near the Sukhna Lake all decked up for the Chandigarh Street Art Festival, which begins on Saturday (Left) and A family prepares 'diyas' ahead of Diwali at Sector 25, Chandigarh. Tribune Photo: Pradeep Tewari
'Big bucks not ensuring quality performance by teachers'
Chandigarh, October 25
During the inauguraal function of the national seminar on "Making of modern Punjab: Education, science and social change in Punjab' , GK Chadha, a former chairman of the University Grants Commission (UGC) Pay Review committee, said teachers have failed to deliver services which were expected from them after their salaries were revised under the 6th pay commission. The former Vice-Chancellor of Jawaharlal Nehru University (JNU), New Delhi, said, "In academics, we have to be harsh and upright. Teachers should not only chalk out their responsibilities and but also strive to fulfil them. It is the responsibility of the teachers to think if they are successful in fulfilling the commitment towards students or not."
SPACE Group helps students study earth's surface
Panchkula, October 25
Students of The Gurukul, Sector 20, Panchkula, on Thursday participated in Earth Knowledge Acquired by Middle school students project (ISS EarthKAM), an educational outreach programme of NASA executed by the SPACE Group in India.
Arts most-opted stream in PU colleges
Chandigarh, October 25
Arts is the most-opted stream by students studying at Panjab University (PU)-affiliated colleges.
PU to institute annual lecture in memory of botanist
Chandigarh, October 25
Panjab University (PU) will institute Prof SR Kashyap Annual Lecture in memory of world renowned botanist SR Kashyap.
Students showcase talent at function
Chandigarh, October 25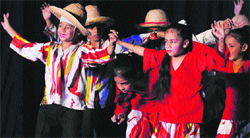 Over 400 students participated in the second day of the annual function of Guru Nanak Public School, Sector 36 Chandigarh. Maj-Gen MS Kandal, who was the chief guest, applauded the talent displayed by the students. Principal Gurnam Kaur Grewal read the annual report of the school, which highlighted the achievements of the students.
Students stage a play at Guru Nanak Public School in Sector 36, Chandigarh, on Friday. A Tribune photograph
Lack of ethics in education stressed
Chandigarh, October 25
The second and the last day of the education intelligence conference at Mount View, Sector 10, highlighted lack of ethics in education. Organised by a USA-based education technology company, Student Space, in collaboration with Punjab Technical University and the Nihal Technology Group, speakers at the conference said there were larger gaps found in the ethical behaviour in the present society.