Nodal agency seeks details of action taken by PGI
Chandigarh, October 29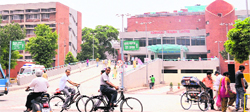 The Department of Administrative Reforms and Public Grievances, Government of India, has sought details of action taken by the PGIMER on the grievances of patients submitted on the portal in the past few months.

The Advanced Trauma Centre at the PGI, Chandigarh. A file photo
Excise Department fails to sell liquor vends yet again
Chandigarh, October 29
There are no takers for liquor vends in the city. An attempt made by the UT Excise and Taxation Department to sell off 77 liquor vends proved futile , as not a single bid was received against the vends, today being the last day. This was the sixth attempt to dispose of the vends.
Raid at Sector 26 Grain Market
Chandigarh, October 29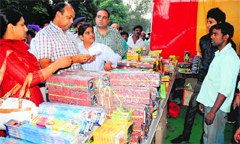 A day after being asked by the Punjab and Haryana High Court to check encroachments in the Sector 26 Grain Market, the UT Deputy Commissioner, accompanied by a battery of officials, conducted a raid in the market today.


Mohammed Shayin, UT Deputy Commissioner, inspects the licence of a stall owner selling firecrackers at the Sector 26 Grain Market in Chandigarh. Tribune photo: Parvesh Chauhan
Sellers flout safety norms at cracker market
Kurali, October 29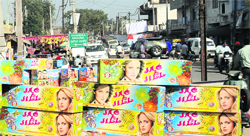 In the regionís biggest wholesale firecracker market, several safety norms are being flouted by the sellers with impunity right under the nose of the authorities.




Firecrackers being sold in the open at Kurali on Tuesday. Tribune photo: Vicky Gharu
UT Adviser pulls up officials
Chandigarh, October 29
UT Adviser KK Sharma pulled up various department heads for not completing their projects on time.


30 quintal of sweets destroyed
Zirakpur, October 29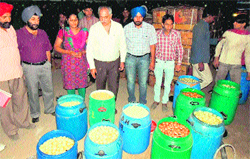 In perhaps the biggest raid by the Health officials in the region this season, a team of Punjab food inspectors raided a cold storage here and seized 30 quintal of fungus-laiden sweets. The sweets stored in plastic boxes were found from Baba Ajit Singh storage.



Health Department officials with the seized sweets from a cold storage in Zirakpur on Tuesday. A Tribune photograph
Better panchkula/ mohali
Cyclists, rickshaw-pullers have a free run
Panchkula
Exclusive tracks donít figure in planning
The township of Panchkula known for its open spaces hardly has any designated place for cyclists. Itís a free run for cycle rickshaws here with no regulation of their movement. In the absence of rules, the police is not able to challan them.
Crackers to be sold at 2 sites in Mohali
Mohali, October 29
Gone are the days when residents could buy crackers for Diwali at more than 10 authorised sites in Mohali. The administration has restricted the sale to only two places. The crackers will now be sold only in the open space near Bassi theatre in Phase II and in the vacant area in Phase VIII. Those interested in selling crackers will be given only three daysí time to dispose of their stocks starting from November 1.
22-yr-old youth falls off tractor, dies
Panchkula, October 29
A 22-year-old youth was crushed under a tractor at a construction site near Amravati in Panchkula.
Upset over officials' apathy, man resorts to agitation
Chandigarh, October 29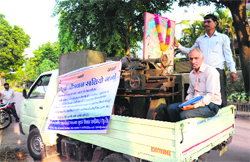 Upset with officials of the UT Administration and MP Pawan Kumar Bansal, Hallo Majra resident Om Prakash, who was allegedly manhandled by the security staff of UT Administrator Shivraj Patil, during a hearing session in October last year, today staged a dharna outside Bansal's residence in Sector 28.

Om Prakas, a resident of Hallo Majra, protests outside the residence of MP Pawan Kumar Bansal at Sector 28, Chandigarh. Tribune photo: Manoj Mahajan
Encroachments galore at PGI
Chandigarh, October 29 Food vendors at the new shopping complex on the PGI premises have encroached upon corridors. The PGI authorities seem to have adopted a slack approach towards getting the encroachments removed. "The authorities should ease the congestion at the Gol Market (new shopping complex)," said a patient.
Child welfare staff vent ire
Chandigarh, October 29
Employees of the Indian Council for Child Welfare (ICCW) today staged a dharna against the UT social welfare department.
Brain stroke affecting youngsters, say doctors
Chandigarh, October 29
Brain stroke is now affecting patients as young as 20-year old say experts. According to experts at the PGIMER stroke is not only related to stress but to sedentary lifestyle which silently increases blood pressures. These are symptoms which are often ignored but stroke attacks instantly and golden hour is exceptionally limited in saving patients from irreversible damages, said the doctors.
Cancer awareness camp marks concluding ceremony of AFWWA
Chandigarh, October 29
Air Force Wives Welfare Association (AFWWA) week celebrations concluded with a cancer detection camp at No.3 Base Repair Depot, here today.
Panache-2013 ends on high note
Mohali, October 29
A two-day cultural extravaganza, Panache-2013, concluded at Manav Mangal Smart School here today .



Campaign to spread awareness on brain stroke begins
Chandigarh, October 29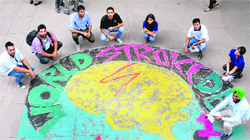 A week-long campaign to create awareness about brain stroke started today on the Panjab University campus.





Students of Panjab University celebrate World Stroke Day at the Student Centre on Tuesday. Tribune photo: Pradeep Tewari
Students bring laurels
Panchkula, October 29
Two students of Hallmark Public School, Panchkula, have made a mark in the skating event held as part of the CBSE North Zone Inter-School Sports & Games Competition, 2013-14, organised recently.