Two killed, 7 hurt in Imphal blast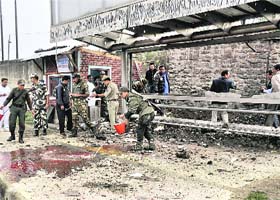 Securitymen at the Moirangkhom bus stand in Imphal after a blast on Wednesday. — PTI
An IED

went off near the Yaiskul bus stand around 6.20 am in Imphal. The blast scene is just 1 km south of Chief Minister Okram Ibobi Singh's official residence
This comes

a day after the Manipur Chief Minister presided over a high-level meeting to review the state's law and order situation
Azam Khan's personal staff seeks mass transfer
Lucknow, October 30
Accusing Uttar Pradesh minister Mohammad Azam Khan of using "abusive and undignified" language against them, his two personal secretaries and five additional secretaries have approached the state government for being transferred elsewhere.
No one to chair, minority education meet cancelled
New Delhi, October 30
A crucial meeting of a high-level education panel looking after the schemes related to five listed central minorities stands cancelled without members of the body being assigned any reasons.
third front Talk
Cong sees opportunity to target Modi
New Delhi, October 30
On a day when its ally, the Nationalist Congress Party, joined other political formations in calling for a third front in Indian politics, a smug Congress saw the development as an opportunity to build an atmosphere against BJP's prime ministerial candidate Narendra Modi.
Rahul: Central funds not reaching people in UP
Lucknow, October 30
Congress vice-president Rahul Gandhi today targeted the Samajwadi Party government in Uttar Pradesh and also the earlier BSP government for not letting benefits of the Bundelkhand package reach people of the region. He was addressing a Jan Adhikar rally at Rath in Hamirpur district of Bundelkhand.
Sanjay Dutt returns to Pune jail
Mumbai, October 30
Actor Sanjay Dutt today returned to the Yerwada jail in Pune after availing of a 30-day furlough to undergo medical treatment. Dutt, who was convicted for illegally possessing weapons during the 1992-93 Mumbai riots, was granted a 15-day furlough on October 1 after he was diagnosed with clots on his legs.
Chandigarh-born engineer is Skype vice president
Chandigarh, October 30
Chandigarh-born software engineer Gurdeep Singh Pall has been named as the corporate vice president of Skype, a popular and free international voiceover and messaging service, by Microsoft Corporation, its developer.
Mars orbiter's mission life may not exceed 6 months
Sriharikota, October 30
The Mars orbiter, proposed to be launched by the ISRO from the first launchpad of its spaceport at Sriharikota on November 5, will orbit the Mars for a short period not exceeding six months.
Kayani discusses LoC tension with Chinese leaders
New Delhi, October 30
On a crucial visit to China just a month before his retirement, Pakistan Army Chief General Ashfaq Pervez Kayani is learnt to have discussed with the Chinese political and military leadership the tension with India over ceasefire violations along the Line of Control.
Asaram's bail plea turned down
Ahmedabad, October 30
The Gandhinagar sessions court today rejected the bail application of Asaram on grounds that the investigations into the alleged sexual assaults on the Surat-based sisters had reached a "crucial stage."
NIA to probe Patna blasts
New Delhi, October 30
The Union Home Ministry today tasked National Investigation Agency to probe the October 27 blast at the political rally addressed by BJP's Prime Ministerial candidate Narendra Modi. The move comes after Bihar CM Nitish Kumar called on Home Minister Sushil Kumar Shinde at his North Block office. Shinde said, "Nitish has written a letter to us to hand over the case to NIA. We are handing over the case to NIA." — TNS
Fresh Muzaffarnagar clashes leave 3 dead
Muzaffarnagar (UP): Three persons were killed in fresh violence in the Budhana area of Muzaffarnagar district, hit by riots last month that left over 60 dead, on Wednesday evening. The three victims - Afroz (20), Meherban (21) and Ajmal (22) - were beaten to death while another was injured in clashes between members of two communities at Muhammadpurraisingh village, District Magistrate Kaushal Raj said. — PTI