Train passengers denied e-tickets against waiting seats
Chandigarh, October 31
Defeating the very purpose of e-ticketing, that started today by the Chandigarh Administration as a pilot project at Sector 7 e-sampark centre, rail passengers were denied e-tickets after UT's Information Technology (IT) Department unilaterally decided not to issue tickets against waiting seats.

Dinesh Kumar, a resident, was denied e-ticket against waiting seats at the e-Sampark centre in Sector 7, Chandigarh, on Thursday. Tribune photo: Parvesh Chauhan
booth scam
Bansal not for fair probe: Former ADC
Chandigarh, October 31
Former UT Additional Deputy Commissioner (ADC) PS Shergill, who had conducted a magisterial probe in the infamous booth scam, today, targeted former Union Railways Minister and local MP Pawan Kumar Bansal in the booth scam.


My resignation was wrong: Bansal
Chandigarh, October 31
"I resigned from the post of the Union Railways Minister in keeping with the democratic set-up of the country, but my resignation was wrong." Former Union Railways Minister and local Member of Parliament (MP) Pawan Kumar Bansal said this at a press conference in the Mayor's room after the MC House meeting today.
Local MP Pawan Kumar Bansal (extreme left) tries to reply to allegations made by the BJP amid protests during the MC House meeting in Chandigarh on Thursday. Tribune photo: Manoj Mahajan
Local MP finds it difficult to handle Cong councillors
Chandigarh, October 31
It seems that after the Railgate, even Congress councillors have started ignoring local MP Pawan Kumar Bansal's directions. In today's House meeting, Bansal was finding it difficult to control councillors belonging to his party, unlike the previous times.


Two hurt in house collapse
Panchkula, October 31
Two persons were injured when a house collapsed due to incessant rain at Chandi Kotla village near here this evening. The victims, Sangeeta and Chaman Lal were rushed to General Hospital, Sector 6, Panchkula, from where Lal was further referred to the PGI, Chandigarh. The Chandi Kotla village lies in the landslide and flash-flood prone area. Sangeeta, who lives in a rented accommodation in the nearby village, had come to see the repair work of her house that had developed cracks at Chadi Kotla.

Sangeeta, one of the survivors of the mishap, being taken to PGI in Chandigarh. A tribune photograph
Govt schools closed tomorrow, Monday
Chandigarh: UT Government schools will remain closed on Saturday and Monday. Officials of the department informed that the decision was taken after consultation with school heads and teachers.
Coldest October 31 in 8 years
Chandigarh, October 31
The city today witnessed the coldest day in October in the past eight years. According to the meteorological department, the maximum temperature today was 21.1 degree Celsius (nine notches below normal), a temperature that is quite unusual to witness during this time of year. The city also received 6.9 mm rainfall today.
Girls save themselves from rain in tricity on Thursday. Tribune Photos: Manoj Mahajan and Vicky Gharu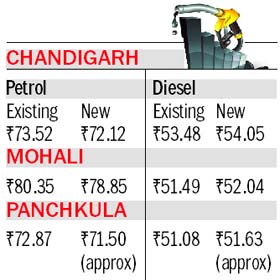 Safeguard your legal rights, ask for a bill from shopkeepers
Chandigarh, October 31
Despite the frequent surprise raids by the local excise department, local sweets and dry fruit shops are not issuing bills to consumers against the sale proceeds. As checked by the Tribune, most of the shops were found selling dry fruits and sweets without issuing any cash memo or sale invoice to the consumers.
3 quintal of khoya destroyed
Mohali, October 31
The district administration destroyed more than three quintals of khoya, sweets and bakery products. The items were highly contaminated and had been prepared under unhygienic conditions.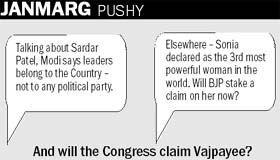 diwali bonanza
UT Administration extends retirement age
Chandigarh, October 31
On the occasion of Diwali, the UT administration today announced the extension of the retirement age from 59 years to 60 years for its employees falling under Group A, Group B, Group C and Group D categories.
Centre told to create awareness on RTI in city
Chandigarh, October 31
The Punjab and Haryana High Court has directed the Central Government to take adequate steps for organising programmes to generate awareness on the Right to Information Act in the Union Territory of Chandigarh.


Chaos prevails at RLA office
Chandigarh, October 31
Chaos prevailed at the registration and licensing authority office in the complex of Sub-Divisional Magistrate (East), when over 100 applicants turned up to get high-security registration plates (HSRP) affixed on their vehicles on the last day of doing the same for series CH-01-AR.
Residents turn up in huge numbers to get high-security registration plates affixed on their vehicles in Chandigarh on Thursday. Tribune photo: Parvesh Chauhan
Dengue cases on the rise
Chandigarh, October 31
The number of dengue cases is on a rise, creating panic among people suffering from high fever. A total of eight cases have been reported in past three days, taking the total number of cases in the current season to 62.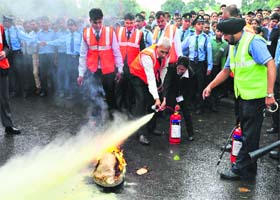 Safety first: The Chandigarh police conducts a mock drill at Elante Mall in Industrial Area, Phase I, in Chandigarh on Thursday. Tribune photo: Manoj Mahajan
LIMIT EXTENSION
Sangharsh panel objects to MC decision
Mohali, October 31
A single objection was filed by Sector 76-80 Plot Allotment Sangharsh Committee, over the decision of the Mohali Municipal Corporation (MMC) to extend its limits. The committee stated that it was not a right decision to place Sector 76-80 under the MC, as the sectors lacked efficiency and has not been completely developed yet.
make a difference
Array of events planned for anniversary celebrations
Chandigarh, October 31
The NGO 'Make A Difference' (MAD) will be celebrating seven years of its existence with a series of events to be organied across the city. MAD was started with the objective to provide quality education to underprivileged children.


re-evaluation system
PU starts intra-networking
Chandigarh, October 31
With an aim to overhaul the re-evaluation system which used to take at least around three-weeks to produce results, the Panjab University (PU) Examination branch has introduced intra-networking of four different branches involved in the re-evaluation process, which would complete the post re-evaluation process in a day.
PU to keep mess open on Diwali
Chandigarh, October 31
The hostellers at Panjab University (PU) who stay back in hostels during Diwali won't go hungry this year as the university has planned to make arrangements for their food in one of the hostel mess. Earlier, all the mess and canteens in the university used to be closed on the eve of the festival.
Anti-cracker campaign culminates
Chandigarh, October 31
Yuvsatta's 10-day long anti-cracker campaign culminated with the closing ceremony at Gurukul Global School, Manimajra. Organised in collaboration with the Environment Department of Chandigarh, the NGO motivated thousands of children to take pledge to stay away from crackers this Diwali.
91 students get placed
Mohali, October 31
Unisys, Wipro Technologies and Data64 Cyber Solutions recruited 91 students of the BTech-2014 batches during a placement week held at the Rayat-Bahra Group of Institutes (RBGI) here.
Education fest organised
Chandigarh, October 31
Fostering a career environment for students with a positive culture and opportunities for progress, Dev Samaj College for Women, Sector-45, came up with a novel idea of holding career-education Fest-'Dishaayein 2013' on its campus. The idea was to provide career counseling and guidance on professional courses to students.
ANNUAL MEETING
Chandigarh: Panjab University (PU) in collaboration with CSIR-IMTECH, Chandigarh and IISER-Mohali would host 79th Annual Meeting of Indian Academy of Sciences (IASc.) from November 8 to 10. IASc. is considered the leading academy amongst the three premier academies of science, promoting the progress and upholding the cause of science in pure and applied branches in the country.
FROM SCHOOLS
Festive fervour
Chandigarh: St Teresa Convent School celebrated the festival of light with great pomp and show on Wednesday. The Class I students made colorful diyas, while the Class II children designed candles, decorated these with different materials. Students of Classes III and IV made the traditional Toran for wishing a healthy and prosperous life to all.