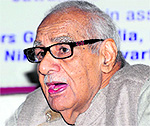 In political terms
The manner in which Indian politics has been robbed off its morality forms the plot of veteran journalist and eminent author Kuldip Nayar's first Punjabi fiction work Mainu Anehra Kyon Nahin Lagda. In the backdrop of 1984 anti-Sikh riots and the Gujarat riots in 2002, the book is his first in any Indian language.
Ageless charm
For Bollywood actor Dharmendra, age is just a number even as he continues to exude his charm on the silver screen. "I don't consider myself old. Even now on the sets, I feel like a newcomer and give my best to every shot. I work hard, love adventure and take everything as a challenge," he says.
Right click
Shake a leg at a Salsa event of repute a couple of times, chances are that your moves would be frozen into eternity by the same lensman — Bangalore-based photographer Sachin Raju, who has become a specialist of sorts in Salsa events.
Action zone
He doesn't have to search far on his body to find remnants of having played with fire or having performed the dare-devil acts from cable ropes. A scar here, a slip disc there…nevertheless, for action director K Ganesh stunts run in the family. "I'm a third generation in this field. My parents and grandparents were all stunts-men and into action direction," he shares while in Chandigarh to direct two fight sequences for the upcoming Punjabi movie Yaaran Da Katchup.
Beauty in green


Actress Michelle Trachtenberg attends the premiere of Killing Kennedy at Saban Theatre in Beverly Hills, California.

One for the artist
The Chandigarh Lalit Kala Akademi is inviting entries in painting, sculpture, graphics (printmaking), mix-media, photography, drawing, installation and multi-media as part of its Annual Art Exhibition, 2013, to be held in February-March 2014. There will be three awards of Rs 50,000 each for professional category and five awards of Rs 15,000 each in the student category.
GET PHYSICAL
Strengthen your core
Aerobics exercises and muscular fitness are the foremost components of most fitness programmes. To make any fitness programme worthwhile, complete inclusion of core strengthening exercises is most important. Core exercises train the muscles in pelvis, lower back, hips and abdomen. Any exercise that involves the use of abdominals and back muscles in coordinated fashion counts as a core exercise.
TROUBLE SHOOTER
Give life a new meaning
I have no real problems but just do not feel happy with life in any sphere. I am single, have no worries about money and my family is supportive. I am not working currently though I have plans to work soon once I am a little better.
it's rocking
Creating a buzz
Sung by Shankar Mahadevan and Shalmali Kholgade, the song from the film, Gori Tere Pyaar Mein, Chingum Chabake, has been creating a buzz this season. Considering the peppiness that the song has to offer with the traditional desi Bollywood tadka, it is definitely the recipe for a super-hit dance number. Here's what Chandigarh folks have to say about it…
The Mighty Avenger is back!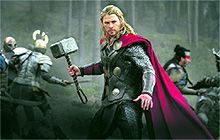 Marvel's Thor: The Dark World continues the big-screen adventures of Thor, the Mighty Avenger, as he battles to save Earth and all the Nine Realms from a shadowy enemy that predates the universe itself. In the aftermath of Marvel's Thor and Marvel's The Avengers, Thor fights to restore order across the cosmos.

Heroic act: Chris Hemsworth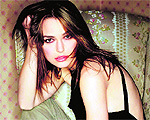 Marriage is liberating: Keira Knightley
Actress Keira Knightley admits she loves being married as she found singledom exhausting. The Anna Karenina star wed Klaxons musician James Righton earlier this year and says she finds marriage liberating. The 28-year-old also revealed that she finds her love life, whether a heartbreak or joy, as inspiration for her acting work.
Good times: Keira Knightley

Creating the right buzz
Actor Ranveer Singh is busy with a two-week campaign to promote his film Ram-Leela but doesn't favour extended campaigns as is now the norm. He hopes the scenario will soon change. "If I had to set a trend, may be in the future when I will be little more established, I would want that an actor does not need to promote his film," Ranveer said during the promotion of his film.
Ranveer Singh
Surmounting the odds
Krrish 3 has been a challenging journey for actor Hrithik Roshan. The film is enjoying great run at the box office. It grossed Rs.72.7 crore within the first three days of its release. The movie is going strong and actor Hrithik Roshan shares his take.
STAR TRACK
Clearing the air
Jennifer Lopez has denied allegations that she had plastic surgery. The rumours started when a UK doctor tweeted a split photo of Lopez, suggesting that she had some work done.