The cross-continental drape of Jamavar shawl
A small piece of fabric - the Jamavar shawl created an international market for itself through its unmatched quality and sustained excellence of production. At one time, these shawls were paid as part of tax to various governments
Jasvinder Kaur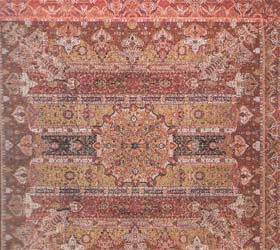 A French shawl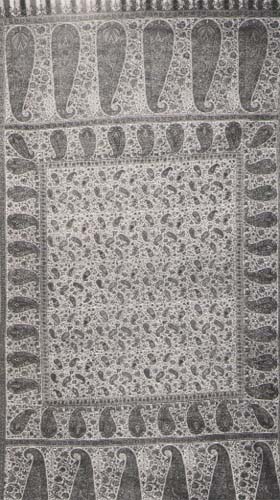 Dorukha shawl - Kashmir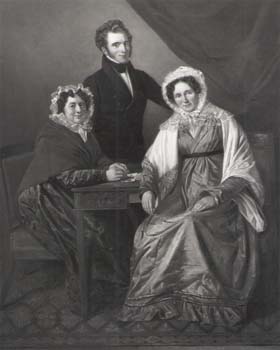 The lady is wearing a Kashmir shawl — "Portrait of a Family", 1825, Geneva.
Picture courtesy- From the collection of Musees d'art et histoire, Geneva, Switzerland.
AS you begin to feel the proverbial nip in the air, Jamavar shawls come out of the closet. They never cease to be a status symbol with the elite, anywhere in the world. And may it be small time traders or stylish fashion stores, the commercial potential of these classic drapes is explored and exploited by both. The idea of owning a woven Kani shawl is linked with luxury of the privileged classes, where this piece of fabric is treated no less than an heirloom. It is still possible to buy one, provided one is willing to spend a handsome amount. Some of these shawls are big, with sizes up to 5 feet by 11 feet which traders cut and make into three or four shawls. What has ensured the continuing popularity of these shawls and its trade in many parts of the world is the unmatched and sustained quality.
To a commoner, a Kashmir shawl can be anything from an antique long shawl with a typical paisley design woven or, an embroidered one. Irrespective of where it is made - Srinagar, Punjab or Europe, what is common to all these shawls is the feel and look of a Kashmir shawl with traditional designs.
Early historic references to shawls are found during Akbar's reign (1556-1605A.D). Ain-i-Akbari mentions the emperor as being a keen admirer of shawls. He used shawls as official gifts and even introduced the fashion of wearing them in pairs stitched back to back which are now known as doshala.
Process of elaboration
Kashmir shawls were exported to Iran and West Asia to Constantinople, Cairo, Russia,Yemen and Oman. The shawls were also used as turbans which were worn in places as far apart as Bokhara and Armenia. The shawl cloth was used for making gowns or Jamawar (jama - tailored coat). Clearly this is what is meant by references to garments made of shawl such as those worn by the Sardar of Erevan when he greeted an emissary from the Czar to the Shah of Persia in 1817. He had worn a shawl-dress and his turban was also made of a shawl.
Kani, or woven shawls were made with more expensive pasham wool. Spinning was done mostly by women who worked from home. Fleece was graded according to fineness and spun into lengths of about 2,500 yards which was doubled and twisted. The yarn then went to the dyer, who bought and sold the yarn independently. It is said that in the Mughal period, there were 300 tints in which yarn was dyed, but by the beginning of the 19th century only 64 tints remained in common use. Most of these were vegetable dyes. The yarn was then twisted to the required thickness. Usually 2000 to 3000 double threaded warps were required for a shawl. The pattern drawer or naqqash who made the pattern of the weave, was an important person and received the highest payment. Written instructions or ta'lim were prepared for weaving, which were done on horizontal loom with two men working side by side. The design was formed by weft thread only, which was inserted with light smooth wooden spools or tojli, the ends of which were charred to prevent them from becoming rough in use. The number of tojli could vary from 400 to 1,500 depending on the pattern. Weaving was done with cloth facing downwards. After each weft line was completed, a comb was brought down with vigour. The quality of a shawl was determined by counting the number of comb-strokes or weft to a girah (one 16th of a yard). All weaving was done by men and the process was slow and laborious, demanding a high degree of specialisation.
The design element
By the early 19th century when designs became more complicated, shawls were woven on two or more looms. Thus a shawl which occupied a loom for 18 months could now be made in much less time. The pieces thus made were put together by rafugar or darner with almost invisible stitches. These shawls were called patchwork shawl.
The beginning of the 19th century saw the introduction of Amli or embroidered shawls. Before this, little embroidery was done by the rafugar when he did the final joining of the shawl pieces. According to John Irwin, the embroidered shawls were introduced by an Armenian named Khwaja Yusuf who was sent to Kashmir in 1803 as an agent of a Constantinopole trading firm. He introduced embroidered shawls which were easier to make and took lesser time. He not only saved production costs but also Government duty, which was levied on woven shawls and procured them at one third of the price.
Kashmir shawls were first worn in the West in the third quarter of the 18th century and by 1800 the shawl trade between Kashmir and the West was well established. The shawls that became most popular initially in Europe were rectangular in shape with plain field and large floral cones. These were called Kasaba.
The Punjab connection
The presence of a large number of Europeans working in Maharaja Ranjit Singh's army was a major factor behind the success of the European trade, especially with France. Two key figures were Napoleonic Generals Jean-Francois Allard and Jean-Batiste Ventura, who were employed by Ranjit Singh since 1822. By1835 they were exporting shawls to Paris.
Ranjit Singh's court was luxurious and had huge stores of textiles which were used in the court, and as gifts. Even when he travelled his camp was luxuriously furnished with tents and beds of shawl-cloth. Many European writers have described the court of Maharaja Ranjit Singh. Among them Emily Eden, sister of Governor general Lord Auckland wrote of the court - "It reduces European magnificence to a very low pitch." Kashmir came under Sikh rule when Ranjit Singh invaded it in 1819. Kashmir paid yearly tribute to the court at Lahore, part of which was paid in shawls. Lahore became a major centre of the shawl trade. In the first quarter of the 19th century Kashmiri weavers and dyers also settled in the plains and hills of Punjab and Amritsar developed into a centre for making shawls.
Punjab shawl had its peak by the first half of the 19th century.
Mid 19th century was a period of great prosperity for dealers and merchants. Between 1850 and 1860 exports to Europe more than doubled. The French market created a demand for certain type of designs which were sent to Kashmir by introducing new colours like magenta.
Europe learns to drape a shawl
Both Britain and France were keen to develop their own shawl industries rather than dealing with the local agents. It was a reflection of the growing popularity of the shawl that Victorian England and Napoleonic France sent missions for getting raw material, weavers and craftsmen to Kashmir. William Moorecraft, who came to Kashmir on one such mission was not successful but has left behind detailed accounts and design samples of the shawl industry from that period. Although most of these missions proved unsuccessful, what did change the nature of trade was the successful replication of these shawls by the West. In 1803 pioneering efforts were made in Norwich and Edinburgh and weavers began imitating Kashmiri shawls. Soon Paisley weavers made headway by using five shuttles simultaneously which allowed them to use multi coloured patterns. They were then able to make close copies of Kashmir shawls. The Paisleys were priced at 12 Pounds in comparison to the originals at 70 or 100 Pounds.
Although British manufacturers pioneered the imitation of Kashmir shawls in Europe, they were soon overtaken by France which developed the revolutionary Jaquard loom in the second quarter of 19thcentury. Many centres like Lyon, Vienna, Switzerland and Paris mushroomed in Europe to imitate the Kashmir shawl. The genuine Kashmir shawl still retained its superiority over the imitation. This explains why some Jacquard weavers in the West went as far as to simulate Persian lettering on their shawls, to give them added authenticity.
Loss of a growing trade
Decline of the shawl trade in the third quarter of 19th century came due to several reasons. The French defeat in the Franco Prussian war of 1870-71 led to the collapse of the French market and the final blow to the Kashmiri weavers came by the terrible famine in 1877.
While the manufacture and export of woven shawls came to an end by early twentieth century, the production of embroidered pashmina shawls was and continues to be fuelled by the growing demand from India's increasing affluent middle class. Impossible though it seemed only a few years ago, but there is a limited revival of the Kani weaver producing shawls. The weavers and entrepreneurs seem to have joined hands to work for their revival. Carpet industry adopted many Kani designs and talim system. The influence of Kashmiri shawl went beyond dress, as the classic shawl design is still known as paisely to the English speaking world, and the soft woollen fabric is still called Cashmere.
The writer is a textile researcher who has worked at the National Museum, New Delhi, and Musee d'art et d'histoire, Geneva.

The long yarn of history
In India and Persia shawls formed part of khilats, a word often translated as robes of honour
European Shawls used wool, silk, or cotton. Kani shawls from Kashmir were made only with pashmina wool of mountain goat Capra Hircus.
The difference between European and Kashmir shawls was that of the weave.
Elaborate examples of Amli shawls are embroidered with maps of Srinagar and the Kashmir valley. The 1852 shawl from Chandigarh Museum has come to be known as "Sikander Nama," depicting stories connected with Alexander's era
Amritsar specialised in embroidered shawls that made same designs as the kani ones.
Striped shawls known as khatraz or jamavar were popular in Iran and Turkey.
Shawls first began to attract the attention of Europeans as desirable dress material in the last quarter of the 18th century
By 1784 the Governor General, Warren Hastings was commissioning shawls for his wife and describes them in a letter as "beautiful beyond imagination."
Paintings of early 19th century French artists were helpful in dating Kashmir shawls.
In1846 when the British government made Kashmir an independent state with Maharaja Gulab Singh as its head, the transfer of state was conditional upon an annual tribute of 'one horse, twelve perfect shawl goats of approved breed (six males and six females) and three pairs of Cashmere shawls. The tribute of goats was later commuted for a sum of money but tribute of shawls continued throughout Queen Victoria's reign and it is said that she bestowed them upon her ladies in waiting.
Empress Josephine was responsible for popularising the shawls in France. The story goes that when some of the soldiers returned from Egypt they had with them Kashmir shawls which were much liked and appreciated by Josephine.