Rekindling traditional music with modernity
Between the classical and Bollywood music, there are many other traditions of music whose potential for commercial success has remained unexplored. The roots music is truly global in scope and approach, if only it is provided with the right platform
Vandana Shukla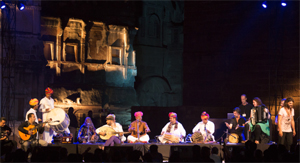 RUSTLE: A unique musical dialogue between participating artistes of Jodhpur RIFF, conducted by Cedric Leonardi (extreme right) on the concluding day. Photos: Kavi Bhansali, Jodhpur RIFF
A festival of sounds, in all its myriad shades that we call music, encompassing the music of the roots, of the earth, of rains, and of life's journeys, merges at Jodhpur RIFF(Rajasthan International Folk Festival), to cross borders of genre and geography. Collaborations between different systems of music and cultures create a new synergy. This synergy has produced many stars in the last seven- year- journey of RIFF, from the folk traditions of music.
This year, the genre-independent festival that offers musical sounds in a distinct informality that allows the audience to get involved and feel close to the sounds being played had 250 musicians from across globe. People pay Rs 6500 for a season ticket to attend a festival of folk music! This is something unheard of. And yet people come in hordes from different states of India and from abroad. While NZCCs and other government bodies, 'burdened' with the task of protecting folk traditions cry hoarse for not getting audience, the audience spectrum grows at RIFF for various factors.
Locations rhyme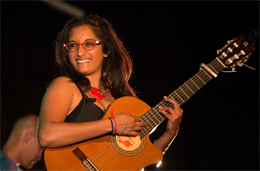 Maya Kamati
The festival is organised in locations that rhyme with the spirit of the music of the roots — from dawn to dusk. The famous 'Desert Lounge' is held under the full moon sky, on Sharad Purnima night, and is free of electronic interventions of the mike and lights. The natural acoustics of the desert reverberate notes of Rajathani musicians on their instruments, this year they were accompanied by the volcanic eruptions of Bhanwari Devi's vocal dynamo, made famous by her Coke Studio musical dialogue with Hard Kaur in "kattey." Bhanwari's songs are not 'rendered', in measured notes, they spring, never losing the aesthetic balance. Dawn concerts begin when it is still dark at 5.3o am, letting the musical notes of traditional instruments like sarangi, sitar and kamaycha welcome the sun from Jaswant thada, a vantage point that offers the view of the blue city and beyond. If the days begin with devotional concerts, the hip club nights and exciting collaborations between Rajasthani and Nordic, British, West Asian and Australian artistes conclude the day, and interactive daytime sessions with artistes offer a peep into the unique traditions of music. Film shows make for a complete musical experience.
Banned music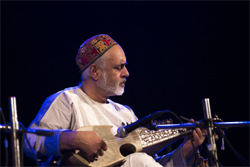 Daud Khan Sadozai
The celebratory notes of Rajasthani folk music may not share any similarity with the angst of Maloya music of Reunion, a small island near Mauritius ruled by the French, but this genre of music, close to the blues of America, found reverberations in the old zanana courtyard of Mehramgarh fort. Maloya was banned until the sixties because of its strong association with creole culture, performances by some maloya groups were banned until the eighties by the French state. But, when Maya Kamati sang maloya songs in a language audience could not comprehend, responding to the beats, to her alaap like renderings, by joining in her song, her music found a new sanctuary. Maya belongs to the sixth generation of migrants who left India as labourers to work in sugarcane plantations in the then Portuguese colony. When they left Indian shore, they carried memories of their songs and rhythms of the drums. Maloya music is said to have African influence, but recently, influences from the sacred drumming of Indian religious festivals has been identified. When the rampart of the fort reverberated with the sound of kayon, an instrument made of sugarcane reeds Maya plays along with her songs, in a way Maya's music had returned home, after a long journey to find a reception that surprised her.
If Maya sang in French, Manu Chao's globally popular Spanish songs made the audience addictive to the rhythm of his fast and furious notes that came accompanied with the sounds of a chugging train, not letting go of nostalgia, of movement, and of migration. His music, with strong influences from salsa, reggae and flamenco, laden with radical political ideology turned the courtyard into a thumping dancing floor.
Music of common roots
RIFF places the best folk musicians from Rajasthan next to the best in the world, from contemporary as well as traditional genres of music, to let them know the worth of their skills. It also helps them keep a tradition alive by infusing new influences. Other folk musicians from the country also join, and a new musical tapestry is formed.
Through the year, representatives of Mehrangarh Fort Museum Trust and Jaipur Virasat Fund, hunt for local talent by visiting villages, listening to artistes and discovering unsung heroes of local traditions. The talents thus discovered are then showcased at RIFF. Many dying art forms are thus saved, by assigning the senior artistes with the task of training the young in their respective genre of music. Bhanwari Devi was discovered two years back by RIFF. This exposure got her invited to foreign music festivals and it changed her life style to enhance her confidence.
This year Dode Khan Fakir, 80, mesmerised the audience with his amazing prowess by playing the wind instrument algoza with extreme élan and grace. The perfection of the tonal quality of Hakim Khan's kamaycha and the range of his trained vocal cords kept the audience in abeyance. Babunath Jogi introduced the audience to the now dying art of impassioned telling of epic stories. He plays the jogiya sarangi while narrating mischievously ironical tales of Raja Bharthari's renunciation, sung by the Nath Panth yogis in the folklore of Punjab, Haryana, Bihar, UP and Chattisgarh.
The legacy of Bhikari Thakur, known as the Shakespeare of Bhojpuri, was introduced by Kalpana Patowary, the reigning star of Bhojpuri popular music industry. Kalpana comes from humble origins, as daughter of a folk musician from Assam, her journey itself is reflective of the transformation of folk music into modernity. It also shows the way how folk music can become a means of earning livelihood by allowing modern interventions and collaborations.
Her Bhjojpuri numbers are not only chartbusters, they make the ringtones of mobile phones of millions of migrants across country. The legacy of Bhikhari Thakur is also the legacy of social change brought forth through popular music, dance and drama. Bhikhari Thakur wrote hundreds of plays aimed at bringing about social reform on dowry, child marriage, caste system, exploitation of women etc.
Musical journey to the North
The roots music travelled away from India to continents with migrants, when these roots reunite with fresh influences of their respective lands, they create global music. When Daud Khan Sadozai of Afghanistan played the heart stirring music on the Robab, associated with Bhai Mardana in the region, joined by Dilshad Khan on the sarangi and Joseph Tawadros on the Oud, an Arabic stringed instrument, the strains of the strings mingled, keeping their distinct tonal quality. The trio played raga Kirmani and an Arabic muqam, to receive thunderous applause. Robab, sarangi, kamaycha, oud or the new age guitar find similarities in the way the instruments are made and strings plucked. They are different stations arrived at on a musical journey.
The journey North took one to the Nordic folk, sounds of the accordion, diatonic accordion and strings introduced by Linda Gytri, Kristoffer Kleiveland and Vidar Berge of APAL, which means an apple tree. If highly popular musicians like Manu Chao bring a storm of sounds that sweep people off their feet, Gytri's music sits close like an intimate friend, holding hands, reassuring solitary moments. The sounds of her music would generate a melodic response anywhere in the world. So, people clapped and tapped just the way they would on bhangra beats.
Collaborate for diversity
Kaela Rowan is gifted with one of the most compelling voices one has ever heard, after performing at RIFF last year, her Scottish folk ensemble that includes drummer James Mackintosh and Ewan Macpherson and Pasty Reid who play highland fiddle, mandolin and jaw's harp(like morchhan played by the Rajasthani folk musicians) collaborated with a selected group of Rajasthani folk artistes and produced some of the most endearing compositions of loss and love and life's celebration. May it be gaelic tunes, thumping ballads, English folk songs or Rajasthani popular folk numbers, instruments or genres of music lost their limitations, the depth and breadth of both systems was enhanced by this collaboration. And it added diversity on the platter for the audience. An impromptu dialogue between jaw's harp and morchhan made the audience ecstatic with the joy that springs from spontaneity in art.
No wonder Jeff Lang, the singer, songwriter and slide guitarist of the Australian roots music, observed, "Their music infused a new life in my songs", on his collaboration with Asif Langa and other Mangnyars of Rajasthan. Roots music from different continents grows organically, because essentially it shares beats and sounds of the earth.


A musical route to scientific discovery
The Roma gypsies had traced their roots to India on the basis of linguistic similarities. The European gypsies found many similarities in their voice culture and musical instruments with the folk musicians of Rajasthan. Now, it has been scientifically proved that all gypsies of the world had migrated from Northwestern India. Molecular studies on the basis of disease causing mutations and haploid DNA markers, collected from 10,000 global samples, supported the view. The STR based network of haplogroup lineage found closest connection of Romani haplotypes with traditional schedule castes and scheduled tribe population groups of Northwestern India. The finding of the study was published in CCMB (Centre for Cellular and Molecular Biology) Journal R2R.