Photography — the new art or a fad
Art festivals used to have a section dedicated to photography, paving the way to fullfledged photo festivals. Will this lead to an exclusive market for photography or is Indian contemporary photography another fad in the burgeoning art circles?
JohnyML
Photography seems to be the 'in thing' in the Indian contemporary art scene. With the second edition of Delhi Photo Festival organised by the Nazar Foundation, an exclusive organisation for promoting photography, initiated by two well known photographers, Prashant Panjiar and Dinesh Khanna, and twenty five collateral photography exhibitions in various galleries and venues in Delhi, the art of photography has come of age or at least one gets that impression. From showcasing of prints sourced out of the original negatives from small town photo studios to politically conscious socio-ethnological photographic studies, marks this new phase of Indian contemporary photography. A few months back Mumbai's Colaba galleries had celebrated a photography and digital art festival. The recently concluded and surprisingly low profile United Art Fair too had a major section devoted to photography.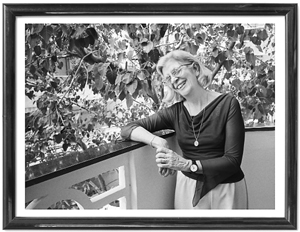 Best English teacher in the world, Rati Wadia, Bombay 2004. Photo Courtesy: Sooni Taraporevala / National Gallery of Modern Art
Where is the moolah
Though the photography artists are in an upbeat mood, the general enthusiasm has not been translated into money. However, the young photography artists are optimistic about the emergence of an exclusive market for photography. Delhi Photo Festival does not aim at marketing photography as it pitches its philosophy on the idea of creating an exclusive platform. "Such platforms are needed for generating an interest about photography amongst the general art loving public," says Vicky Roy, a Delhi based young photographer whose monograph has been published and released by the Nazar Foundation as a part of the Delhi Photo Festival. However, Anubhav Nath, the director of Ojas Art Gallery where Vicky Roy's solo show titled, 'Home.Street.Home' is currently on view, feels that good photography always has takers. "Photography has not yet entered in the speculative investment market. Hence, whoever collects photography works does so out of sheer interest. As it is an edition based medium, the exclusivity that we attribute to a painting cannot be assured," opines Nath who had recently conducted a solo show of the veteran photographer, Raghu Rai.
Promotional efforts for art photography in India have been there for almost a decade now. Seagull Foundation in Kolkata, Tasveer in Bangalore, Photoink in Delhi are the pioneers in this field. They make collaborative programmes with private galleries and showcase major photography exhibitions in different cities. The photography department of the National Institute of Design, Ahmedabad, and Centre for Alternative Photography (Goa CAP) in Goa, have also been at the forefront to promote photography. The recent addition to these efforts is Thiruvannamalai based Ekalokam Trust headed by photography artist, Abul Kalam Azad. In Delhi, two galleries, Wonderwall and Abadi Art Space, have come up at Lado Sarai, a new art street, with an aim to promote photography.
Capturing future
A cursory look at the Delhi Photo Festival and the collateral exhibitions offers an interesting comparison with the art market boom we had a few years back. During the art market boom, galleries and other players in the art market had brought many artists from every nook and corner of the country, propping them up as the future masters. Recession spelt doom for everyone in the art market including the artists. Today, so many young photography artists are given chances to showcase their works in various platforms while none has so far spoken about the future of these artists. Photography artists face a very peculiar challenge, as far as the market is concerned. On the one hand they have to vie with their fellow photography artists, on the other hand a tough competition is already in place, mainly coming from those already established 'artists' who also do photography and digital art as a part of their art practice.
Photographer vs artist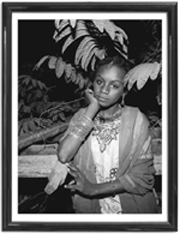 Rizwana, Ratanpur, 2007.
Photo Courtesy Ketaki Sheth/Photoink and National Gallery of Modern Art
Over enthusiasm and availability of technology has generated a new crop of photographers, who claim themselves as photography artists, taking advantage of this unique opportunity. Till very recently, a photographer was called a photographer. But when photography itself achieved the status of a distinct art form, removed from its traditional roles as documentary, journalistic, advertising, popular and hobby photography, photographers became 'photography artists'. Today, anybody who takes a picture with any kind of photographic equipment says, she/he is a photography artist. Perhaps, that is the reason why Prashant Panjiar, the curatorial director of Delhi Photo Festival stated in one of the interviews that this year the submissions from Indian photographers were not up to the mark. The result was that Delhi Photo Festival had more than sixty per cent of foreign photography artists as participants.
Some people preferred to read the statement of Panjiar as elitist and condescending. In its second edition, with the minimal presence of Indian photography artists within the Delhi Photo Festival, it has received a huge amount of criticism for the same. "It has become elitist and exclusivist," says a Delhi based photography artist who does not want to be named. "May be Delhi Photo Festival aspires to be an international photo festival. But it should have achieved that goal through a fair representation of the Indian photographers too. One cannot say that contemporary Indian photography has not produced international quality artists," he adds, a bit dejected. This photography artist's opinion finds many takers. Most of them are happy that something like Delhi Photo Festival is taking place in Delhi but they are equally worried about the skeletal presence of Indian photographers. "I have never said Indian contemporary photography is not good or not world class. What I said was that this year we had poor submissions from Indian photographers," clarifies Panjiar.
The Indian photo artist
Delhi Photo Festival may not have enough Indian artists in it but the collateral shows prove that the quality of Indian photography can match up with its international counterpart. The National Gallery of Modern Art wakes up to the situation by mounting two solo exhibitions by Sooni Taraporewala and Ketaki Sheth. Taraporewala's three decades long documentation of the Parsi community makes an interesting show while Sheth's documentation on the Sidis, the Afro-Indian tribe sheds light on the marginalised racial group in India. Photoink has presented Raghu Rai's solo exhibition and Pablo Bartholomew has occupied the new IIC Gallery with his documentation of North-East tribes. At Art Heritage, noted photography scholar Christopher Pinney presents an exhibition titled, 'Studio Suhag' that features the experiments of a small town studio photographer, before the advent of digital technology. At the same venue, Cop Siva, a policeman turned photographer follows the lives of two people who impersonate Mahatma Gandhi and M.G.Ramachandran (MGR), for a livelihood.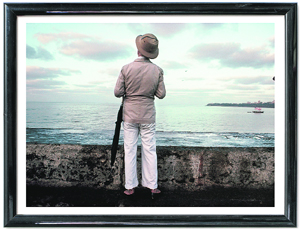 The man in the sola hat, Bombay, 1985. Photo Courtesy: Sooni Taraporevala / National Gallery of Modern Art
Interest in photography, as an art form, is growing across sections. "We came from Ahmedabad only to see the photo festival," says a post graduate photography student from the National Institute of Design. "The seminars are interesting as we get to hear from scholars and photography artists." But another set of seminar hoppers contest it by saying that the Delhi Photo Festival seminar has become another elitist platform where autobiographical narratives overtake scholarly engagements. There seems to be no end to disagreements and critique. But everyone would unanimously accept that photography has become the latest fad in the art circuit. But, major galleries in India are yet to promote their own photography artists. In the meanwhile, photography itself is on its way to find a new language by rearticulating the old technology, old studios, old albums and anything that looks old. In photography, old is the new 'New'.
India show abroad
* Dayanita Singh's show of photographs "Go Away Closer" is presently on at Hayward Gallery, London(October 8-December 15). Her images capture insights into contemporary Indian life that often challenge the exotic stereotypes of the West.
*z A growing interest in the politically conscious, socio-ethnological photographic studies and documentation of the multi- ethnic India has led to several shows of Indian contemporary photographers in prestigious galleries abroad.
* Along with the famous art show of contemporary Indian artists in Paris, "Indian Highway," at Pompidou, in 2011, "India abroad: 10 Indian photographers show in Paris" was co-curated by Mumbai-based photographer Fabien Charuau, to break the western convention of photo festivals.
The writer is Managing Editor of Art &Deal magazine