Procurement Pangs at several mandis
State government approaches FCI
Chandigarh, October 17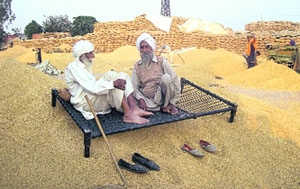 Facing procurement hurdles owing to discolouration of paddy at several places, the Punjab Government today approached the Food Corporation of India (FCI) to deal with the issue. The FCI authorities have been asked to inspect the rejected heaps of paddy owing to discoloured grains and ascertain whether or not these could be procured.
Farmers waiting for their paddy to be bought at the grain market in Mukerian, Hoshiarpur, on Thursday. Tribune photo: Malkiat Singh

Akalis to be blamed for distress sale of paddy by farmers: Bajwa
Jalandhar, October 17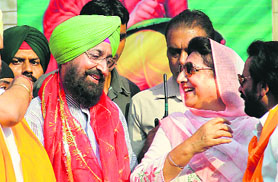 Punjab Pradesh Congress Committee (PPCC) president Partap Singh Bajwa has alleged that farmers were being harassed and fleeced in mandis as their paddy was being procured at least Rs 300 per quintal less than the minimum support price (MSP). Bajwa urged the Punjab Government to at least ensure that support price was paid to the farmers if it was unable to give them bonus.
Partap Singh Bajwa, PPCC chief, and Congress MLA Rajinder Kaur Bhattal at Valmiki Jayanti Shobha Yatra in Jalandhar on Thursday. Tribune photo: Sarabjit Singh

Water Pollution-V
Once a lifeline, Ghaggar now a perennial pollution source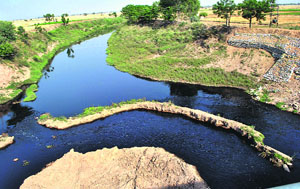 Patiala, October 17
Once a lifeline for villages situated along its course, the Ghaggar has in recent years turned into a perennial source of pollution in the district. As untreated waste continues to be discharged unabated into the river, the prevalence of cancer and other diseases has been steadily rising among the residents.
The Ghaggar that has turned black at several points in Patiala. Tribune photo: Rajesh Sachar

Govt rejects RTI plea on shamlat land, says re-apply in Punjabi
Chandigarh, October 17
Avoiding a reply on the controversial shamlat land issue, the Department of Panchayats and Rural Development has asked an RTI activist to apply in Punjabi as per orders of the Language Department. The reply has been denied by Assistant Public Information Officer, Mohali. The development assumes significance in view of the recent barrage of charges and counter charges regarding shady land deals between leaders of Congress and the SAD.
Modi may skip Moga rally, says Sharma
Jalandhar, October 17
Even as the SAD-BJP is preparing to make the birthday celebrations of Chief Minister Parkash Singh Badal on December 8 in Moga a big event, it is yet uncertain if BJP prime ministerial candidate Narendra Modi will attend the function. This is so as the assembly election results forfive states are scheduled to be announced on the same day.
Land deals: Khaira deposits stamp duty with interest


Chandigarh, October 17
Congress spokesperson and former legislator Sukhpal Khaira today deposited Rs 1.07 lakh on account of evading stamp duty worth Rs 76,000 at the Kharar office. He paid the principal amount along with interest at the rate of 12 per cent for three years and five months. Khaira said he had already filed an appeal before the Commissioner, Ropar, on the issue and the hearing had been fixed for November 15.
Sikh student wearing kirpan not allowed on bus in US
New York, October 17
A Sikh student in the US was not allowed to board a bus because he was wearing a kirpan. Harsimran Singh, a student of the University of California in Davis, said he was not allowed to board an Amtrak bus on Saturday because the driver was against him for wearing the kirpan.
Need to preserve age-old traditions: Badal
Sangrur, October 17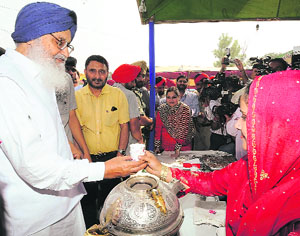 Chief Minister Parkash Singh Badal today stressed upon the need for preserving age-old traditions and handicrafts. Inaugurating the 12-day regional SARAS (Sale of Articles of Rural Artisans' Society) fair at Government Ranbir College here, Badal appreciated the role played by such events in keeping age-old traditions alive. Badal also interacted with the 600 artisans and 100 artistes who had arrived at the fair from 24 states.
A Kashmiri participant offers 'kahwa' to Chief Minister Parkash Singh Badal at SARAS Mela in Sangrur on Thursday. A Tribune photo

Fault in power line hits rail traffic
Phagwara, October 17
Train traffic on the Amritsar-Ludhiana section remained suspended for more than three hours owing to snapping of an electricity wire between Bhattian and Phillaur railway stations at 6.40 am today.
Amritsar Town Planner suspended on graft charge
Chandigarh, October 17
Punjab Local Bodies Minister Anil Joshi today suspended Amritsar Municipal Town Planner Des Raj on charges of corruption.