Deputy CM misleading industrial houses: Bajwa
Amritsar, October 6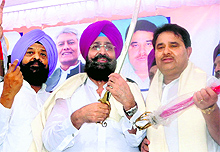 Partap Singh Bajwa, PPCC president, claimed today that Deputy Chief Minister Sukhbir Singh Badal was making fake projections on investment opportunities in Punjab and offering a "lollipop" to industrial houses in the name of "investor-friendly" industrial policy that was announced in June but was yet to be notified.


PS Bajwa (centre), PPCC chief, and OP Soni (right), vice-president, at a rally in Amritsar on Sunday. Photo: Vishal Kumar

Delhi Poll
BJP may give Akalis not more than 4 seats
Chandigarh, October 6
It is not yet clear as to how many constituencies will the BJP allocate to the Shiromani Akali Dal (SAD) for the Delhi assembly elections. Though the SAD has asked for six constituencies, the BJP is not likely to give more than four, say reliable sources.
Eyeing Dalit vote, Congress to form village committees
Fatehgarh Sahib, October 6
Eyeing the Lok Sabha elections, the Scheduled Caste cell of the Congress has decided to constitute committees in villages and towns of the district to fight the alleged atrocities committed on Dalits by the SAD-BJP Government.


NRI police wing gets more teeth
Bathinda, October 6
With complaints of NRIs rising threefold in the last two years, the government has given more powers to the NRI wing headed by an IG-rank officer.
Sikh scholar speaks of Guru's peace message at Vatican
New Delhi, October 6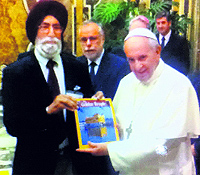 Sikh scholar Mohinder Singh took Guru Nanak's message of peaceful co-existence to the world stage last week. The occasion was International Prayer for Peace, a two-day congregation of representatives of different faiths to appeal for reconciliation in Syria. Attended by 350 delegates, it was hosted by the Community of Sant'Egidio and officially supported by the Head of the Roman Catholic Churchn Pope Francis.

Mohinder Singh, honorary director, Bhai Veer Singh Sadan, with Pope Francis at The Vatican in Rome

No gypsum import via ICP from today
Amritsar, October 6
Deciding to stop imports via the Attari border beginning tomorrow in protest against the hike in storage tariff and weighing charges at the Integrated Check Post (ICP), gypsum traders are now contemplating to shift trade to the Kandla port in Gujarat.
Post of MD, Water Supply Board, goes
Jalandhar, October 6
The state government has reorganised the Punjab Water Supply and Sewerage Board. The post of Managing Director has been abolished. Now, the board will be headed by an IAS or a PCS officer (with 18 years of experience) as Chief Executive Officer (CEO).
Extra classes sans adequate staff of no use: Teachers
Chandigarh, October 6
Government schoolteachers have questioned the rationale behind the order to hold remedial classes in science and mathematics for slow learners of Class IX without the element of accountability.
Fire in Rajpura factory
Workers douse a fire inside a packaging factory at Focal Point in Rajpura on Sunday. Photo: JS Virdi

Plot holders' union to observe 'black day' today
Jalandhar, October 6
Protesting against the "hefty" charges being levied on its members, the Punjab Plot Holders Welfare Association would be observing "black day" tomorrow, the last day fixed by the state government for applying for the regularisation of illegal colonies.
Luxury tractors make inroads into state
Mumbai, October 6
A small section of affluent farmers in Punjab are gradually moving away from regular tractors to luxury tractors, which can easily match the comfort of a high-end car.
Jails jam-packed, infirm inmates may be set free
Patiala, October 6
To make room for new inmates caught on the wrong side of the law, the Punjab Government is considering to prematurely release certain category of prisoners lodged in state jails.
Amritsar temple warned against raising memorial
Amritsar, October 6
The Durgiana Temple Management Committee has allegedly received a threat letter from the Khalistan Commando Force (KCF), warning it against raising a memorial to those killed during militancy in Punjab.
Stubble burning: Govt to act tough on violators
Patiala, October 6
The Punjab Government will take a strict action against farmers indulging in stubble burning. The Punjab Pollution Control Board will issue a notification, banning the burning of stubble across the state. A public notice in this connection has already been issued.


Heroin worth Rs 85 cr seized
Amritsar, October 6
The BSF has recovered 17 kg of heroin that was being pushed into the Indian territory by Pakistani smugglers from near the Moran Pul border outpost.