Strong security network: PCR vans to get a shot in the arm
Shaurya Karanbir Gurung
Tribune News Service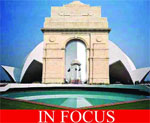 New Delhi, October 6
Patrolling the streets of Delhi and being the first responders to a crime is not the only agenda of the Police Control Room vans, they now plan to be more visible to the public to instil a sense of safety in them and also secure them with a stronger security network called the 'beat' system.
Delhi Police which are planning to implement this security concept in the national Capital, believe that it will be a deterrence for criminals.
To provide greater visibility, the police are planning to mark 'boxes' for a Police Control Room van. There are about 800 PCR vans at present operating on the streets of Delhi. The boxes are designated parking places that have already been created for a PCR van. They will now be marked by paint that will probably read "PCR Parking". The boxes are located in strategically important places that are prone to crime.
"People should know where a PCR van is parked. And when they see it, they will believe that certain amount of surveillance is taking place. This will also be deterrence for criminals," said a senior police officer.
A citizen can walk up to a PCR van and expect an immediate response from it. "In the police parlance, we call it a 'self call'. A person, facing any problem whether eveteasing or chain snatching, has to only approach the PCR staff and they will swing into action," explained the officer.
Adding to the need for greater accountability, a CCTV camera will also be installed in a PCR van. The cameras will help the police to apprehend culprits accused of inciting 'law and order' situations such as riots.
"For example, a group of people damages a PCR van, not even respecting the men sitting inside it. We would examine the footage of the camera and the next day, when we come there, we will apprehend the culprits," said the officer.
Similarly, the police also plan to use the CCTV footage for incidents like the one in which a 19-year-old boy, Karan Pandey, was shot dead by a police officer. The officer had allegedly trained his gun at the rear tyre of the motorcycle, the victim was travelling on. The incident took place on July 28 this year.