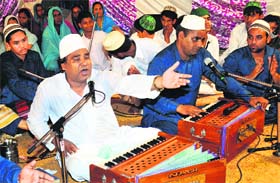 A Sufi qawwal performs at a dargah in Sector 29, Chandigarh. Tribune photo: Pradeep Tewari
PU recommends extension for VC's wife
Chandigarh, October 6
Panjab University, which had appointed Vice-Chancellor Arun Kumar Grover's wife in the music department in 2012, has now recommended an extension of one year for Prof Neera Grover as vocal studies professor. Surprisingly, Prof Neera Grover was present at the meeting of the academic and administrative committee that recommended the extension.
Dr JG Jolly dead
Chandigarh, October 6
An internationally renowned expert in the field of blood transfusion at the PGI, Dr Jai Gopal Jolly, died at his residence in Sector 10, Chandigarh, last night. He was 87. He was keeping ill for over two years and had been lying unconscious for the past seven days.


The man who pioneered voluntary blood donation
Chandigarh: The man who initiated the voluntary blood donation movement in India is no more. It began as a novel idea in Chandigarh when the PGI was in its early stage of construction. He took upon himself the assignment of head of the Blood Transfusion Department.

Dr JG Jolly (in white shirt) accompanies Pandit Jawaharlal Nehru. A file photograph

open house response
PGI should check prices of medicines
The PGI should check the ground realty while deciding the chemists. There is not only a need to control prices of the medicines but also the unethical practices of the chemists at the PGI, especially in the OPD. As a lot of uneducated patients and their attendants can be seen running around to enquire about the medicines and there is no help desk to assist them.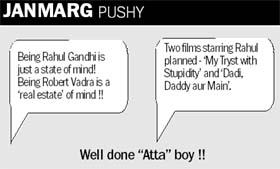 Homecoming for ex-Chief Justice
Chandigarh, October 6
This Dussehra in Chandigarh, not son Rama but father Dasharatha will return back to his home. We are talking about former Chief Justice Shanti Swarup Dewan, who, after months of legal tussle, has finally hopes he will get the full possession of his house from his son before October 10 (three days before Dussehra), thanks to the recent directions of the Supreme Court.
City finally gets a direct train to Shirdi
Chandigarh, October 6
After a long wait, the city resident finally got a direct train from Chandigarh to Sai Nagar, Shirdi. MP Pawan Kumar Bansal flagged off Kalka-Shirdi train from the Chandigarh Railway station here today. The bi-weekly superfast train was approved in the last railway budget.
Kumari Selja and Pawan Kumar Bansal flag off the Kalka-Shirdi train; and (below) a devotee distributes food packets on the occasion at the Chandigarh railway station on Sunday. Tribune photos: Vicky Gharu

navratra fest
1.26 lakh devotees throng Mansa Devi temple
Panchkula, October 6
The Mansa Devi temple saw a whooping donation and huge crowd on the second Navratra today. As many as 1.26 lakh devotees thronged the temple premises. Rs 29.95 lakh, 15 gold 'nugs' and 181 silver 'nugs' were also received as donations today.
A devotee performs puja at the Mansa Devi temple on Sunday. A Tribune photograph



ramlila in city
Muslims, Christians play key roles
Chandigarh, October 6
Ramlilas of Chandigarh have a unique feature of members of different communities including Muslims and Christians playing prominent roles in centuries old Ramlilas. For instance, Ram Lila in Manimajra has three Muslim artists, playing prominent roles.
Nasir Ali (extreme right) and Shoaib Hussain (second from left) enact a scene from Ramlila at Sector 28 in Chandigarh on Sunday. Tribune photo: Vicky Gharu



Delay in repair work at park irks residents
Chandigarh, October 6
Residents of the AG Audit Colony, Sector 41, are facing problems due to the pending repair works at a park in their area. According to the residents, the park was uprooted a week ago and no effort has been made to complete the pending work.

A park in a deplorable condition in Sector 41, Chandigarh. A Tribune photograph


FOSWAC urges RWAs to adopt parks
Chandigarh, October 6
The Federation of Sector Welfare Association (FOSWAC) today held its monthly meeting at the Community Centre in Sector 18 during which the Resident Welfare Associations (RWA) were urged to adopt neighborhood parks for maintenance.


Punjab Regiment to hold reunion
Chandigarh, October 6
The Punjab Regiment, one of the oldest and most illustrious infantry regiment of the Army, will be organising its 11 Reunion at its Regimental Centre at Ramgarh Cantonment in Jharkhand from October 25 to 27.

Members of the Punjab Regiment Officers Association at the DSOI, Sector 36, in Chandigarh on Sunday. Tribune photo: S Chandan

Kharga Corps celebrates 42nd anniversary
Chandigarh, October 6
The Army's premier strike formation, Kharga Corps, celebrated its 42nd Raising Day at Ambala cantonment today. The corps was raised at Krishnanagar in West Bengal in 1971 under Lt-Gen TN Raina, who later became the Chief of the Army Staff. Under his command, the corps successfully accomplished tasks assigned in East Pakistan, now Bangladesh, during the 1971 Indo-Pak war.

GOC, Kharga Corps, Lt-Gen RP Shahi, lays a wreath at Vijay Smarak in Ambala on Sunday. A Tribune photograph



reporter's diary
Councillors on shopping spree for study tour
These days MC councillors are busy in shopping. But wait --- this shopping is not for the festive season but it is for a study tour. Though they are hardly aware of the problems of the city and what solution they will get in states like Gujarat and Hyderabad, where they are leaving for the study tour this month, they are mainly concerned about their clothes.


Haryana Congress workers rest outside the party office in Chandigarh on Sunday. Tribune photo: Pradeep Tewari
Power cuts in city
Chandigarh, October 6
Ahead of maintenance work at the Nalagarh Grid Substation, certain sectors faced short power cuts here today. The department suspended power supply to some sectors of the city due to the maintenance work at the 400/200 KV Nalagarh Grid Sub-station.


Musical events, rock show mark Day 2
Chandigarh, October 6
The second day of Apratim'13, the fest at the Chandigarh College of Engineering and Technology, Sector 26, witnessed a series of musical events, including the rock show. The evening attracted a huge audience as Bollywood stars Minissha Lamba and Arya Babbar paid a visit to the fest.
The star cast of "Heer and Hero" at the Chandigarh College of Engineering and Technology, Sector 26; and (above) students take part in a "robo war" during the annual fest on Sunday. Tribune photos: S. Chandan & Vicky Gharu
10,738 students take part in abacus contest
Chandigarh, October 6
The eighth national-level abacus competition was held at the Lajpat Rai Bhavan, Sector 15, Chandigarh. As many as 10,738 students of 429 various centres of Challengers from Punjab, Haryana, Himachal Pradesh, Uttar Pradesh, Delhi, Rajasthan and Jammu & Kashmir participated in the competition.
263 schools to lose associate status
Mohali, October 6
For not fulfilling the required conditions being laid under the Right to Education (RTE) Act, the Punjab School Education Board (PSEB) has decided to cancel the associate status of 263 schools from the next session across the state.
Rayat-Bahra students excel
Mohali, October 6
Gurleen Kaur brought laurels to the Rayat-Bahra Institute of Engineering and Biotechnology (RBIEBT) by securing first position in BTech. In the postgraduate engineering course, Amit Rana got second position in MTech.
Modelling competition held
Mohali, October 6
Students of the Aryans Group of Colleges had fun when a modelling competition was organised on the Nepra village (Banur) campus here. The students of BTech, MBA, BBA, BCA, BEd, BA, BCom, Polytechnic and Nursing participated in the competition.


'Parsai Ki Duniya' highlights common man's life
Chandigarh, October 6
The play "Parsai Ki Duniya" staged at Punjab Kala Bhawan, Sector 16, presented a collage of stories touching common man's life. Directed by Sumit Kalia and Rajesh Kumar, the play was a combination of three stories written by Harishankar Parsai.

Artistes of the Alankar Theatre group present a play "Parsai Ki Duniya" at Punjab Kala Bhawan, Sector 16, Chandigarh, on Sunday. Tribune photo: Pradeep Tewari

PU/COLLEGE NOTES
DJ party
A DJ party was organised at the auditorium of the Evening Department on the Panjab University campus by HIMSU, a students' front of Himachal Pradesh, to celebrate the party's recent win in the Panjab University Campus Student Council (PUCSC) elections. HIMSU had given their unconditional support to NSUI candidate Chandan Rana, who won the elections for the presidential post.


Panjab University students from Himachal Pradesh celebrate the recent victory of their party, HIMSU, in the PU Campus Student Council elections on Sunday. Tribune photo: Pradeep Tewari
FROM SCHOOLS
Spell bee contest
Oakridge International School, Mohali, organised a grand spell bee contest for the children of Mohali under the title "are you a word wizard" to find out the champion of spellings. The Oakridge campus was abuzz with elated children from almost all renowned schools of the tricity.