Disinvestment in three PSUs put on fast track
Chandigarh, october 2
Punjab has put on fast track the disinvestment of three of its public sector undertakings- Punjab Alkalies and Chemicals Limited (PACL), Punjab Communication Limited (PUNCOM) and Punjab Agro Juices Limited (PAJL). The government proposes to get the disinvestment process started by the end of this year.


State Youth Congress begins 'Adhikar Yatra'
Amritsar, October 2

Punjab Pradesh Congress Committee (PPCC) president Partap Singh Bajwa today said he favoured student elections in Punjab colleges and universities on the pattern of those held in Panjab University, Chandigarh.





From left: OP Soni, PS Bajwa, PPCC chief, CLP Leader Sunil Jakhar and Vikramjit Singh Chaudhary, PYC president, at the launch of 'Adhikar Yatra' in Amritsar on Wednesday. Photo: Vishal Kumar

Give grievances in writing, Jakhar to Rajasansi MLA
Amritsar, October 2
Congress MLA from Rajasansi Sukhbinder Singh Sarkaria will give in writing his grievances against Punjab Pradesh Congress Committee president Partap Singh Bajwa to Congress Legislature Party Leader Sunil Jakhar within two days.
Eye on poll, CM to launch string of welfare schemes
Chandigarh, October 2
With an eye on the coming parliamentary elections, the Chief Minister's office has revised the schedule for announcing social welfare programmes besides commissioning vital power projects.
US rights group to serve summons on PM in Delhi
New York, October 2
A Sikh rights group has said it will serve US court summons to Prime Minister Manmohan Singh in New Delhi in connection with the alleged human rights violations in the counter-insurgency operations in Punjab in the 1990s.
Ranike slams Cong for 'doing nothing' for SCs
Mohali, October 2
"Except false promises, the Congress has done nothing for the Scheduled Castes and Backward Class during its regime," said Punjab Animal Husbandry and Dairy Development Minister Gulzar Singh Ranike here yesterday.


To discuss waterlogging, Badal to meet PM tomorrow
Muktsar, October 2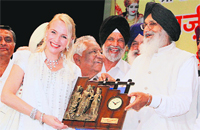 Chief Minister Parkash Singh Badal today said he would meet Prime Minister Manmohan Singh in Delhi on October 4 to seek a permanent solution to the problem of waterlogging and apprise him of the losses caused due to it in the state recently.

Chief Minister Parkash Singh Badal presents a memento to Danish singer Anita Liakre during a function in Jalandhar on Wednesday. Photo: Sarabjit Singh
Mittal visits Bathinda refinery, inspects expansion work
Bathinda, October 2
Guru Gobind Singh Refinery, Bathinda, that has of late remained in news for all the wrong reasons is all set to double its capacity from 9 million metric tonnes (mmt) to 18 mmt per annum.
Malerkotla tense, schoolboy detained for questioning
Sangrur, October 2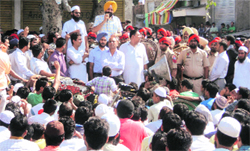 Tension prevailed in Malerkotla this morning as the police took a schoolboy into custody for questioning in connection with the killing of 13-year-old Vidhu Jain, who was burnt alive on September 30.



Sangrur SSP (in orange turban) Mandeep Singh Sidhu pacifies protesters at Jarag Chowk in Malerkotla on Wednesday. A Tribune photograph
3 lakh tonnes rice worth Rs 700 cr yet to be milled
Fatehgarh Sahib, October 2
The state government has taken up the issue of extending the date of custom milling of paddy for one month with the Union Food and Civil Supply Minister.
Millers fail to deliver rice worth Rs 120 cr
Moga, October 2
Various mills of the district are yet to deliver 44,597 tonnes of rice to the Food Corporation of India (FCI) against the paddy procured last year even as fresh paddy has started arriving in the market. The extended milling period expired on September 30. Initial estimates suggest the rice is valued around Rs 120 crore, which has probably been siphoned off by the 50-odd rice mills.
Few farmers opt for direct payment scheme
Ludhiana, October 2
The Punjab Mandi Board got lukewarm response of farmers for the direct payment provision of their crop in both district as well as in the state.
Bizarre messages fuel sanitation drive
Muktsar, October 2
To spread the message of total sanitation, the state water supply and sanitation department has come up with a bizarre idea. It has put up posters, showing man and dog both answering the call of nature in the open, with the message, "Kutte di taan mazboori ho sakdi hai, par tuhadi nahi (It may be a compulsion for dogs, but not for you).
Cancer cases up in Muktsar district
Muktsar, october 2
The number of cancer cases is on the rise in Muktsar district. At the two-day special check-up camp organised at the Civil Hospital here recently, at least 24 people have been diagnosed with this lethal disease and seven of them are reported to be suffering from breast cancer.
Vet staff on indefinite fast near Dhindsa's residence
Sangrur, October 2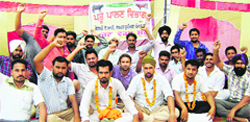 An indefinite fast by three members of the Veterinary Artificial Insemination (AI) Workers' Union, Punjab, entered second day today.



Members of the Veterinary Artificial Insemination Workers' Union, Punjab, stage a dharna in Sangrur on Wednesday. A Tribune photograph
Teachers to gherao Maluka on October 5
Patiala, October 2
Members of the Government Aided Schools and Other Employees Union have decided to gherao Punjab Education Minister Sikander Singh Maluka on October 5.
New twist in Abohar rape case
Abohar, October 2
Having been given enough time to elude arrests, the main accused in the village schoolgirl rape case has now produced a certificate to assert that he had married the victim after the incident. The certificate issued carries the seal of Government of India registration number by the Arya Samaj Fort based at Golnandi, Ummaid Chowk and Jodhpur.
Moga paddy farmers reap rich harvest
Moga, October 2
Farmers in the district are being offered a premium of Rs 100 over and above the minimum support price fixed by the central government. The price fixed for normal quality produce is Rs 1,310 and Rs 1,345 for good quality paddy.
Unemployed youth take to beekeeping in Sangrur
Sangrur, October 2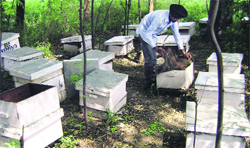 Rising unemployment and initiatives of the Horticulture Department to promote beekeeping have driven youth in Sangrur to take up the profession. At the Krishi Vigiyan Kendra (KVK), Kherri, Sangrur, training is imparted in beekeeping four times a year. For every batch of 35 that is trained for six days, an equal number of people are on the waiting list.

Beekeeper Sukhwinder Singh with his bee colonies in Sohian village near Sangrur.
Milkfed looks to increase profit through exports
Chandigarh, October 2
Punjab State Cooperative Milk Producers Federation (Milkfed) is looking at maximising its profits through exports. By getting the approval for notifying its Chandigarh-based plant into an export-oriented unit (EOU), Milkfed will now start exporting ultra high temperature (UHT) processed milk and lassi.
Chinese products may swallow Ludhiana cycle market
Ludhiana, October 2
The fact that the cycle market at Gill Road, Ludhiana, has been rechristened to "Mini China Market" is a testimony to the harsh reality that China is all set to gulp down the local cycle market.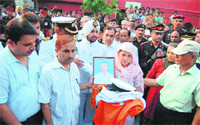 Last rites of missing sailor performed
Amritsar, October 2
The last rites of Atul Sharma (22), who went missing after the Indian Submarine Sindhurakshak tragedy on August 13, were performed with military honours at Shivpuri Cremation Ground here today.
Naval officials hand over Seaman Atul Sharma's uniform and other belongings to his mother in Amritsar on Wednesday. Photo: Sameer Sehgal



Resolve disputes amicably, Sessions Judge tells lawyers
Ludhiana, October 2
Lawyers should come forward for settling the pending cases through mediation and reconciliation in the larger interest of society.


Robbers attack ASI in Gurdaspur
Gurdaspur, October 2
An Assistant Sub Inspector (ASI) was seriously injured when he tired to nab a person accused in a robbery case at Dera Baba Nanak today.
Missing woman found dead
Tarn Taran, October 2
The police today recovered the decomposed body of Sarabjit Kaur (38) from a field in Thathian Mahantan village, 20 km from here.
Another BSF man held in drug haul case
Amritsar, October 2
The Tarn Taran police today arrested another BSF constable allegedly involved in drug smuggling. The arrest came a day after three drug peddlers, including a BSF jawan, were held with 19 kg of heroin.
Clerk held for embezzlement of funds
Patiala, October 2
The Patiala police has arrested a clerk of an NGO for alleged embezzlement of the grants worth Rs 2.68 lakh for the welfare of disabled children.