Weekly Amritsar-Lalkuan train flagged off
Chandigarh, October 2
The weekly Amritsar-Lalkuan train was flagged off from the city railway station by former Railway Minister and MP Pawan Kumar Bansal today. The train will directly connect city to Uttarakhand.


MP Pawan Kumar Bansal flags off the Amritsar-Lalkuan train from the Chandigarh railway station on Wednesday. Tribune photo: Manoj Mahajan

Uttarakhand residents not happy with timings
Chandigarh, October 2
Residents of Uttarakhand demanded that the timing of the train should be changed from 5.55 am in the morning from Amritsar to 5.55 pm in the evening for the convenience of the passengers.


A vintage diesel engine, 155, has been placed in front of the Chandigarh railway station to beautify the premises. Tribune photo: Manoj Mahajan


Nitin Chopra with his family; and (right) ailing Vikas with his father at the Chandigarh railway station. Tribune photos: Manoj Mahajan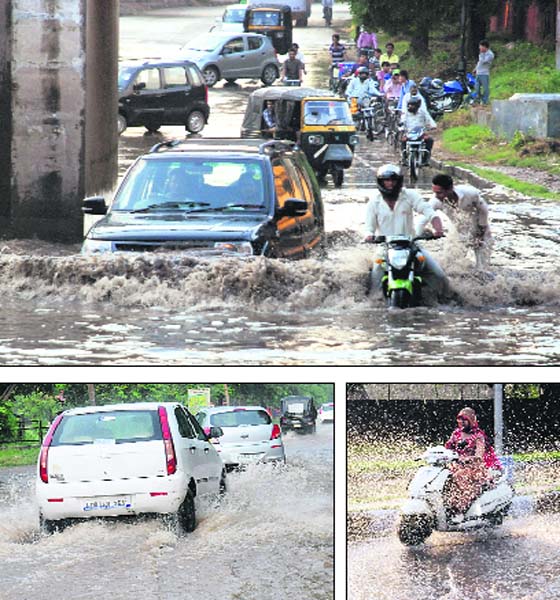 Going gets tough: Vehicles make way through an inundated road at Industrial Area, Phase I, Chandigarh; and residents face a tough time commuting on flooded roads in Chandigarh on Wednesday. Tribune photos: Nitin Mittal, Manoj Mahajan and Parvesh Chauhan

'Money'bee stings Ramlila organisers
Chandigarh, October 2
This Navratras, entertainment will come at a price. The rising cost of stage lighting and costumes has come as a jolt to Ramlila organisers. Starting tomorrow, the event will be staged at 49 places across the city.

The stage is set for Ramlila at Ordnance Cable Factory Colony in Sector 29, Chandigarh. Tribune photo: Parvesh Chauhan



Rain no dampener
Panchkula, October 2
Rain left the effigy of Ravana damaged at Shalimar Ground in Sector 5 this evening. But this did not dampen the enthusiasm of artists. An official of Adarsh Ramlila Dramatic Club got a waterproof tent pitched in the evening.


Artists cover the effigy of Ravana at the Sector 5 parade ground in Panchkula. Tribune photo: Nitin Mittal



20 test positive for dengue
Chandigarh, October 2
With an increase in breeding of aedes mosquito, and the post-monsoon season setting in, 20 residents have tested positive for dengue, so far. So far, three dengue deaths have been reported at the city hospitals, including two at the PGIMER and one at GMCH-32.
Fluctuation damages goods in Panchkula
Panchkula, October 2
A sudden surge in the voltage damaged various electrical appliances at a number of houses in Sector 2, Panchkula, last night. Most of the residents complained of damaged televisions and refrigerators.
A mechanic repairs a fan and (right); a woman shows out-of-order washing machine in Sector 2, Panchkula, on Wednesday. Tribune photos: Nitin Mittal
SASE celebrates 45th Raising Day
Chandigarh, October 2
The Snow and Avalanche Study Establishment (SASE), a premier laboratory of the Defence Research and Development Organisation, based here, celebrated its 45th Raising Day today.


demand for need-based changes
CHB residents take out rallies at 11 venues in city
Chandigarh, October 2
The Chandigarh Housing Board Residents' Federation today stage a protest at 11 venues across the city against the unfriendly policy of the authorities.


Members of the CHB Residents' Federation at Sector 29, Chandigarh, on Wednesday. Tribune photo: Parvesh Chauhan
International Day of Elderly celebrated
Chandigarh, October 2
In a bid to create awareness among youngsters about the need to take care of the elderly, the Desh Bhagat Group and the State Legal Services Authority, Chandigarh, organised a cultural programme at the old age home at Sector 43, Chandigarh.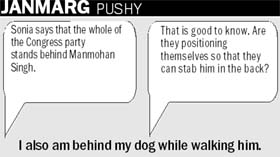 150 donate blood
Mohali, October 2
Everyday hundreds of people in India require blood for transfusion, surgery or other medical procedure. As per official statistics, the nation requires 4 crore units of blood and only 40 lakh units are actually available.
Retired officers write to Haryana CM
Panchkula, October 2
Haryana Government Retired Officers Welfare Association, Panchkula, wrote a letter to the Haryana CM regarding the pending demands of the pensioners. The demands included proper medical facilities, increase in pension and others.
Kisan haat to come up in Kharar soon
Mohali, October 2
To help farmers sell their produce, the agriculture department will open the first kisan haat at Kharar Tehsil Complex. "The haat will be beneficial to farmers as they will be able to sell their produce at better prices," said Deputy Commissioner Tejinder Pal Singh Sidhu.
Property tax opposed
Mohali, October 2
The House Owners Welfare Association of Phase I has opposed the imposition of property tax in Mohali. At a meeting of the association, residents condemned the government for putting an additional financial burden on residents. They said people had already paid development charges and the tax could have been levied after providing basic amenities in each sector.


Pending demands: Sanitation workers shave their heads
Chandigarh, October 2
Members of the Sweeper Union today shaved their heads in Sector 17. They said the UT Administration and the Municipal Corporation had failed to fulfil their demands. Krishan Kumar Chadha, president of the union, said they were demanding regularisation of services of 134 daily wage sweepers.
Sanitation workers at Sector 17 in Chandigarh on Wednesday. Tribune photo: Parvesh Chauhan






Film festival kicks off at PU
Chandigarh, October 2
A three-day film festival showcasing experimental movies will kick off at Panjab University tomorrow. Open for all, the festival will bring to the city audiences documentaries and movies specially chosen for the purpose. Starting with a 21-minute documentary, "An encounter with faces", at 9 am, all the movies will be screened at the Law Auditorium.



Students pay tributes to Bapu
Chandigarh, October 2
Students came dressed as Mahatma Gandhi and Kasturba Gandhi during the Gandhi Jayanti celebrations at Banyan Tree School. The primary wing students enacted incidents from the couple's lives. The pre-primary wing students sang and spoke a few lines on them.


A student dressed as Mahatma Gandhi spins a wheel at Ashmah International School in Mohali. A Tribune photograph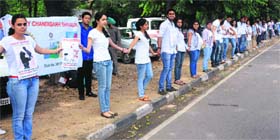 For a cause: Members of various community service organisations form a human chain on National Voluntary Blood Donation Day in Chandigarh. Tribune photo: Manoj Mahajan
College teachers seek promotions
Chandigarh, October 2
Leaders of the local unit of Punjab and Chandigarh College Teachers' Union (PCCTU) met the Director Higher Education (DHE) to press for their demands. Around 50 representatives of the seven aided colleges in the city reached the UT Secretariat.
PU NOTES
'Dalit studies need change in perspective'
Chandigarh, October 2
A two-day national seminar on "Dalit Studies in the 21st Century: Looking Ahead", organised by the ICSSR North-Western Regional Centre at Panjab University, concluded today at the ICSSR Complex.


FROM SCHOOLS
Peace march
Chandigarh: The National Service Scheme volunteers of Government Model Senior Secondary School, Sector 19, joined a peace initiative. Around 50 students marched from the Open Hand to Parade Ground with banners and placards, promoting their "World Without War" drive.
Students and staff pay tributes to former Prime Minister Lal Bahadur Shastri on his birth anniversary at Shastri Model School, Phase I, Mohali, on Wednesday. Tribune photo: Vicky Gharu