2,886 await shagun money in Moga
Moga, October 8
During the last assembly elections, the SAD in its manifesto had promised to enhance amount under the Shagun scheme to Rs 31,000. But the government has not only failed to fulfil its promise but also defaulted on the payment of shagun money, which is Rs 15,000 at present, to a large number of beneficiaries.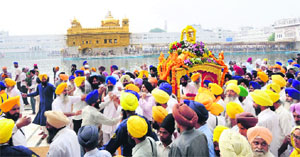 CALL Of FAITH: Devotees carry the Palki Sahib during a 'nagar kirtan' to mark the birth anniversary of Guru Ram Dass at the Golden Temple in Amritsar on Tuesday. Photo: Vishal Kumar
Border farmers decry Rs 3,000 per acre relief
Amritsar, October 8
The border farmers' long wait for relief seems to be over with Deputy Chief Minister Sukhbir Singh Badal scheduled to release a compensation of Rs 3,000 per acre for their land across the border fence at Attari on October 10.
2 Punjabis shot dead in Philippines
Lallian Khurd (Jalandhar), October 8
Two youths from different villages in the district have become the latest victims in a spate of murders of Punjabis in separate incidents in the Philippines. While Amrik Singh (24) of Lallian Khurd village was shot dead in Manila on Monday, Jaswinder Singh (38) of Haripur village had been killed in Barak city a few days earlier and was cremated at Adampur crematorium on Tuesday.
6,180 missing persons yet to be traced
Muktsar, October 8
It has been an unending wait for families of 6,180 persons who have been missing since 2002. All the missing persons belong to areas under 16 police districts and two police commissionerates.
Sharma should resign, demands Congress leader
Dera Bassi, October 8
Congress leader Manpreet Kaur Dolly today demanded local Akali MLA and Chief Parliamentary Secretary NK Sharma's resignation. Sharma has been accused of evading stamp duty while purchasing some land in Zirakpur.
Maize dryer to change fortunes of farmers
Jalandhar, October 8
To help maize cultivators to get better value for their crop, the state government will set up a state-of-the-art maize dryer plant, imported from Taiwan, at the Nawanshahr grain market. It is the first of its kind in the country.
Area under paddy to come down
Chandigarh, October 8
The Punjab Government has launched an agriculture diversification mission to conserve its depleting groundwater and ensure remunerative price to the farmers for alternative crops.
Mullanpur to come up as futuristic city, says Sukhbir
Chandigarh, October 8
Deputy Chief Minister Sukhbir Singh Badal today said Mullanpur, which is coming up as New Chandigarh, would be developed as a futuristic city with hi-tech facilities. He said the road grid of the city would be in synchronisation with its master plan and the road network would be planned keeping in view the pressure of development for the next 50 years.
Effluents from Haryana polluting Punjab villages
(Rasoli) Patiala, October 8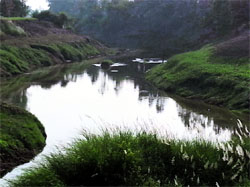 Unable to check Haryana's industrial units from releasing their toxic waste into the Saraswati drain in Punjab, the Punjab Pollution Control Board (PPCB) has decided to strongly take up the matter with the Central Pollution Control Board (CPCB). On July 5, 2012, the pollution board wrote to its Haryana counterpart on the matter, but failed to get any response. It pointed out that wastewater from Ambala units were polluting the Ghaggar. On July 16, 2012, the PPCB requested the central board to intervene.
The Saraswati drain carrying polluted water near Rasoli village in Patiala. A file photograph


Special camps to settle CLU cases: Joshi
Chandigarh, October 8
Local Bodies Minister Anil Joshi today said that the department would initiate "strict action" against officers delaying the change of land use (CLU) permission to applicants within the stipulated period. He said the time schedule for works in different categories would be pasted in offices to make the officers more accountable.
Minister Anil Joshi in Chandigarh on Tuesday. A Tribune photo

Mohali Airport
Govt seeks land from IAF for taxiway
Chandigarh, October 8
Punjab has asked the Air Force for nine acres of land for constructing taxiway along the main runway for international flights at the Mohali airport.


In sync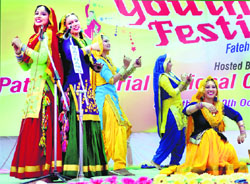 Students perform gidda at Punjabi University Youth Festival at PMN College in Rajpura on Tuesday. Tribune photo: JS Virdi
Industrialist killed in road accident
Ferozepur, October 8
Four persons, including industrialist Subhash Aggarwal, died in a road accident near Saido Ke village on the Jalalabad-Muktsar road this morning. Sources said Aggarwal's driver Sukhdev Singh lost control of their SUV while trying to overtake a tractor-trailer. The vehicle hit a motorcycle coming from the opposite side and then rammed into a tree.
After budgetary glitch, jails now allotted Rs 36 crore
Patiala, October 8
The state Finance Department has allotted Rs 36 crore to the Jails Department in its budget. The Tribune had highlighted how the state government had made a 100 per cent cut in the Office Expenditures of the department.
20 years on, engineer to be reinstated with arrears
Chandigarh, October 8
Ravinder Pal Singh has got justice at last. Twenty years after his service as Assistant Engineer with Ludhiana-based Bicycle and Sewing Machine Research and Development Centre was terminated, the Punjab and Haryana High Court has minced no words to say departmental proceedings against him "were vitiated on account of bias and arbitrariness".
200 more saanjh kendras to be set up in state
Ludhiana, October 8
Despite receiving a lukewarm response, the Punjab Police is going ahead with its ambitious project of setting up 200 more outreach centers (saanjh kendras) across the state. Funds for 85 of the 200 centres have been dispatched.
200 employees of Ropar civic body not paid for 3 months
Ropar, October 8
More than 200 contractual employees of Ropar Municipal Council have not been paid salaries for the last three months as the civic body has gone bankrupt. The bills for fire tenders and generators at water works have not been cleared for a while. The council also owes Rs 6 lakh to the Electricity Department.
Appointment of school board secy under lens
Chandigarh, October 8
The appointment of GPS Baht as Punjab School Education Board secretary has come under the Punjab and Haryana High Court scanner. Taking up a petition challenging his appointment, Justice Mahesh Grover today issued a notice of motion for February 25, 2014, to the Punjab Government, school board chairman Dr Tejinder Kaur Dhaliwal and Baht.
Woman resists rape attempt, set ablaze
Qadian, October 8
A woman was allegedly set ablaze after she resisted a rape attempt by a deaf man and a septuagenarian. The incident was allegedly being kept under the wraps by the family members of the woman. The matter came to light after she recorded her statement in the presence of a duty magistrate at a hospital in Amritsar.
Batala constable kills two over land dispute
Gurdaspur, October 8
A police constable shot dead two persons over a land dispute at Kahlanwali village in Dera Baba Nanak today. SS Mand, Batala Senior Superintendent of Police (SSP), the deceased Bhagwan Singh (50), had a land dispute with his neighbour Virsa Singh, a former Akali sarpanch, over a piece of land adjoining their houses.