Teenage pregnancies — a demographic challenge
Reproductive health initiatives that aim at converting India's population of over 240 million adolescents — the largest in the world — into a dividend rather than a liability, face a cultural challenge. Yet, these interventions are one of the building blocks in population stabilisation
Rimjhim Jain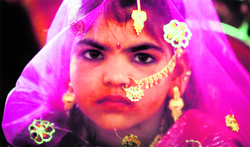 THIS year's population theme marked by the United Nations, focused on adolescent pregnancy, which Dr Babatunde Osotimehin, Executive Director of UNFPA, the United Nations Population Fund, was keen to expand upon. Across world around 16 million girls between the age group of 16 to 19 give birth every year, and nine out of 10 are already married. This poses a serious challenge to the population control programme, because most adolescent girls are not aware of reproductive health and mother and child care. This apart, some of the major difficulties associated with adolescent pregnancy, such as obstetric fistula and stillbirth, complications of what is described as "a child bearing a child" complicate teenage pregnancies further. Adolescent pregnancies tend to be distributed mostly amongst developing countries and within the low socio-economic classes, where morbidity and mortality are high, while a further three million girls undergo unsafe abortions. The biggest challenge facing population control programmes across world is how to be sensitive to the local, cultural and religious contexts, while controlling number of teenage pregnancy.
Including the adolescent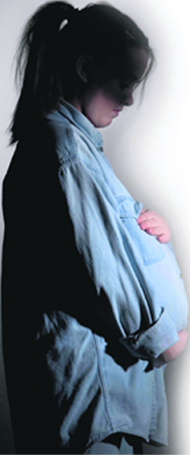 In India, realising that while a number of programmes existed for children through the ICDS (Integrated Child Development Services) and also for mothers, there was no specific programme catering to the large number of married or unmarried school dropout adolescent girls between 11-18 years. In 2000, the central government extended the ICDS cover to adolescent girls. Through the Kishori Shakti Yojana (KSY), it allowed use of the ICDS infrastructure like Anganwadis for providing health services and other empowerment programmes to the girls. The aim was to break the intergenerational cycle of nutritional and gender disadvantage the adolescents faced.
The Nutrition Programme for Adolescent Girls (NPAG) was launched in 2002-03 and together with the KSY, made available a basket of programme options which some states modified according to their needs. In 2011-12, in some areas, the centre merged the KSY and NPAG and converted it into the Rajiv Gandhi Scheme for Empowerment of Adolescent Girls or the Sabla Yojana. The Sabla programme is being implemented in 200 districts, which includes six districts of Punjab, four in Himachal Pradesh and 22 in Uttar Pradesh. Several states have adapted the programmes in various ways, based on specific local requirements. Gujarat, for instance, developed the Mamta Taruni programme, Uttarakhand UDAAN (Understanding and Delivering to Address Adolescent Needs), UP the Saloni Swasthya Kishori Yojana, Rajasthan LEHAR (Learning Enhancement through Activity in Rajasthan), Haryana, the Indira Bal Swasthya Yojana and in Jammu and Kashmir AYUSH linked with ARSH (Adolescent Reproductive and Sexual Health).
Anaemia and ignorance
In India, currently a whopping 56 per cent of adolescent girls are anaemic and 30 per cent of 15-19 year- old girls are married or, are in a union, while one in five women between 20-24 years had given birth before the age of 18. Confronted with this huge challenge, in Gujarat, peer educators were introduced to raise awareness on health and nutrition among out- of- school adolescent girls of 10-19 years in the rural areas. Having peer educators was one of the strategies employed by the Centre for Health Education, Training and Nutrition Awareness (CHETNA) which was supporting the state government's Mamta-Taruni programme, meant to improve the sexual and reproductive health of this section of girls.
Cases like that of Usha, a 16-year-old girl, known as the girl who ate mud and gutka in Majra, and did not go to school nor did she meet other girls in the village, abound. Gomti, a peer educator, took the trouble to pierce through her isolation to find, her trouble lay in severe anaemia. With the help of Anganwadi worker Gomti approached Usha's parents and insisted upon meeting the reclusive, severely anaemic girl, who had frequent fainting spells because of which her parents did not let her out of the house. Though she was sixteen, her menstruation cycle had not started due to malnutrition. Her family was too poor and ignorant to understand it or do anything about it. Usha was not alone.
Three years after CHETNA's pilot project began in 2009, supplementing the government programme, a phenomenal change took place in the rural and tribal areas where it was implemented. The data shows a massive increase in the awareness levels of the girls, with a large number of them having reached out for primary health care (see box).
Some elements of the successful project, unique in its design of civil society partnering with the state government, have been scaled up in every district of Gujarat. Some of the features of the project are being extended into the National Adolescents Health Strategy, currently being finalised by the central government under its ARSH programme and Adolescence Education Programme (AEP).
Health of future generation
"Majority of young girls suffer from the two 'A's in adolescence - anaemia and lack of awareness - which impacts their reproductive health later and even influences the health of their future children. Therefore, adolescents should receive health information and services in an organised and concentrated manner," says Pallavi Patel, deputy director, CHETNA, who has been asked to share the learning of their project for adaptation into the national programmes.
CHETNA implemented the state wide Mamta Taruni programme in 53 villages in remote Khedbrahma and Prantij blocks in Sabarkantha, Gujarat. The ongoing government programme works to reduce anaemia among out- of- school adolescent girls, who are hard to target, and brings them better access to information and reproductive health services. This is done by reaching out to and registering all the girls in the target group. The married ones are referred to a monthly Mamta Taruni Divas or Health Day, organised in every village by health workers for providing maternal and child health services. In the case of unmarried girls, their weight is monitored and BMI (Body Mass Index) measured. They are provided tetanus injections, iron and nutritional supplements at an Anganwadi, and are given information on nutrition and sexual and reproductive health, and linked to a PHC.
CHETNA ensured all the girls in its pilot area were reached by peer educators. A monitoring tool, the Mamta Taruni Card, was developed to record the interaction with the adolescents and to conduct a comparative analysis. It showed a significant number of adolescents had moved from undernourished to normal nutritional status.
Communication between the girls and government health workers like the ASHA and Anganwadi worker was strengthened. Among its communication strategies, CHETNA trained 55 adolescent girls within the community, like Gomti, to be peer educators. They reached out to every girl in the target group. Usha, for instance, was taken to the Mamta Taruni Divas for a thorough check up and was later treated at a PHC. Following a course of vitamin and iron tablets and a healthy diet, she no longer experiences dizziness or craves mud or gutka. Within a few months of the intervention, her periods also started.
A Delhi-based independent writer, Rimjhim Jain documents social issues related to health, women and children and environment.
Meeting unique cultural challenges
Providing information on reproductive health as soon as possible is important, because early marriage and even child marriage is a reality, says peer educator Nandi, herself married at 10. In many tribal communities early sexual activity, even before marriage, is an accepted norm. "Some Bhil tribes prefer girls to prove their fertility by getting pregnant before permanent liaisons are formed," says peer educator Sonal, explaining why the girls must have knowledge of issues like RTI (reproductive tract infection) and contraception.
Demographer Leela Visaria who has been associated with the CHETNA programme says, "Such interventions empower even the most marginalised of our adolescents with knowledge and convert them into an asset."
A healthy turnaround
Baseline and endline survey figures from the CHETNA-Mamta Taruni pilot programme between 2009-12 show:
* 56 percent increase in the number of adolescent girls in the project area having visited a primary health centre (PHC)
* Awareness among the girls on use of contraceptives like condoms increased from 46 percent to 84 percent.
* 90 percent girls became aware of reproductive tract infections (RTIs) compared to 40 percent earlier.
* 100 percent girls learnt about anaemia.
The big picture
Teen pregnancy in India is high with 62 pregnant teens out of every 1,000 women.
In comparison, 24 British teens get pregnant before their 19th birthday while the figure is 42 in the US.
Western Europe is better off with merely 7 pregnant teens out of every 1,000 in France and 9 in Germany.
India's neighbours Afghanistan (113), Bangladesh (125) and Nepal (115) out of every 1,000 women are also plagued by similar problems.