Where India fits in China's worldview
Chinese strategists have crafted ideas on a new model for 'big country' relationships. China is seeking accommodation with the US and striving for more cooperation in relations with BRICS, especially Russia and India.
Rajiv Bhatia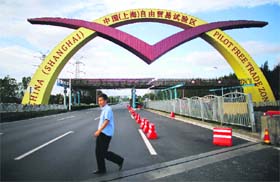 A man walks past the Free Trade Zone in Shanghai, which was inaugurated recently. China's leaders will lay out reform plans to transform the world's second-largest economy at a key party meeting in November. Reuters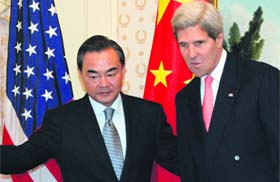 Chinese Foreign Minister Wang Yi meets US Secretary of State John Kerry in New York during the 68th UN General Assembly. AFP
China ranks high in the foreign policy calculus of India. The two countries need to manage their relations wisely, but this cannot be done in isolation from their relationship with other countries. Following Prime Minister Manmohan Singh's visit to the US, the Indian elite interested in foreign affairs is assessing China's latest conception of its major country relationships. Its view, marked by a blend of continuity and change, is still evolving, with different influential voices in China, defining it differently. Therefore, it may be worthwhile to dig deeper.
A valuable opportunity to study China's worldview presented itself as I led a delegation of eminent experts to China, a visit scripted by the Indian Council of World Affairs (ICWA). During the five-day tour in early September, we held dialogues with the Chinese People's Institute of Foreign Affairs (CPIFA) in Beijing and the Shanghai Institutes for International Studies. In addition, we had substantive discussions with three other academic and strategic community institutions. The hosts had made excellent arrangements, providing a congenial environment for us to exchange views on a range of contemporary questions with Chinese scholars of varying backgrounds and persuasions.
The timing was apt too as China's new political leadership had settled down well. It has been according high priority to foreign policy, as illustrated by the visits abroad of its President and Prime Minster, and numerous visits of foreign leaders to China.
International context
Although much has been happening around the world, the Arab region and Asia grab more headlines today than any other area. Triumphs and travails of the Arab Spring have kept the world's attention riveted on West Asia. The election of a new President in Iran and post-2014 prospects of Afghanistan have kept Central Asia in the limelight. Changes in Pakistan, following Nawaz Sharif's election as Prime Minister and the immense uncertainty and tensions caused by violations of the LOC by Pakistan as well as numerous incursions across the LAC on the India-China border have kept up the political temperature in South Asia.
But it is in Southeast and East Asia that we witness a serious strategic rivalry between the US and China, despite the two countries' unprecedented economic interdependence. Linked to it is the fluctuating confrontation between China and Japan as well as between China and a few ASEAN countries on claims and counterclaims relating to the East China Sea and South China Sea, respectively. Further, there are global financial, development and climate change issues facing the international community which groupings like G-20, G-8 and BRICS have been trying to address, however unsatisfactorily.
New G-2?
Against this backdrop, Chinese strategists have crafted their ideas on 'a new model' for the big country relationships. President Xi Jinping proposed them to President Barack Obama at their recent summit in California. Answering our questions, Chinese scholars spoke of the US as 'the established power' and China as 'the rising power', and of China's endeavour to ensure that, unlike pre-World War I and World War II history, 'power sharing' in future takes place through peaceful dialogue rather than armed conflict. The US and China, as the two largest economies and as two of the most powerful nations, should accommodate each other's interests and adopt reconciliation, not confrontation. This was a creative way for China to tackle future challenges, instead of merely complaining about US 'pivot' or 'rebalancing' strategy in East Asia. Our interlocutors disclosed that the American President's response was positive, but he had not yet committed himself to this approach fully.
The endeavour to place US-China relations on a new, higher footing could expose Beijing to the charge that it views China as a potential super power and plans to set up G-2, a condominium that may seek to dominate the world. Chinese scholars showed awareness of this downside; they took pains to stress that China's belief in a multi-polar world had not been abandoned. They argued that Russia and India too were major players with which China wished to establish 'a new model of relations'. With Russia, they already have very close relations, and with India too their relations were developing quite well. But the Chinese argument was that, unlike Russia and India — 'the emerging economies' — the US was 'the established power' and hence China's relations with it would be different from its relations with Russia and India. A scholar stated that China had strategic rivalry with the US but not with Russia or India, a contention that may not be taken at face value in Moscow or New Delhi. Our discussions showed that China would continue moving on two tracks: seek accommodation with the US and strive for more cooperative relations with BRICS, especially its major players — Russia and India.
In China's listing of major powers, only limited mention was made of the EU or Japan. But, the latter continues to trigger bitterness and hostility. To many Chinese, Japan, despite its close economic linkages with China, represents a threat because of US backing. This explains why some Chinese experts showed much unhappiness with India's growing proximity with Japan and the US.
China-India dynamics
In discussing bilateral relations, we preferred to be quite candid, a stance which enabled the two sides to air their grievances frankly. It was done in a friendly manner, with the aim to deepen mutual understanding of each other's viewpoint. While noting that considerable progress in bilateral relations had taken place in the past decade, we pointed out that the relationship today was marked by 'an undercurrent of tensions'. Our 'shared challenge', it was suggested, was to alter this perception and to allow the relationship to assume 'a more positive and benign orientation'.
Barring a couple of scholars who saw India as a 'threat' to China, a majority of our interlocutors presented a more positive view. India and China, they said, were partners who could transform Asia and the world and also help each other in securing their development goals. 'A confident India', said one of them, 'is in China's interest.' But when queried whether India, like China, was a major power, the response was that India was 'a regional power.' Others, more sensitive or polite, chose to depict India as 'a trans-regional power' or even 'an aspiring Great Power.'
Our side voiced criticism of some aspects of China's South Asia policy, arguing that its 'forays' into the region had the potential to affect our security interests adversely. The Chinese side disagreed. Their contention was that connecting southern and western China to South Asia, through the north-south corridor in Pakistan and BCIM projects in the east, would help everyone move towards 'a shared development community', accelerating the development of China, India and the other South Asian nations. This throws up the question whether India could adapt to this vision, a subject that needs to be debated widely.
Chinese scholars articulated concern about India's policy towards South China Sea. They were also critical of India's alleged efforts to regard the Indian Ocean as 'India's ocean' from where China could be excluded 'altogether'. This was a vivid indicator of their misperception of our policy. India remains fully committed to freedom of navigation and safety and security of Sea Lines of Communication (SLOCs) in the world's oceans. Concerning the South China Sea claims, India has not taken sides, but it is keen on international law to prevail and remains steadfast in opposing use or threat of force.
It is from this melange of differences and divergences that a deeper understanding needs to be built. Fundamentally it boils down to China's reading of India's intentions as friendly or hostile, and to India's choosing to view China's rise as benign or threatening in the long term. If we draw lessons from the earlier history of our relationship, we could be optimistic, but if we prefer to focus on the history of recent decades, we must blend our optimism with a substantive dose of realism and caution.
Through media's eyes
Strategic community in both countries is currently engaged in assessing the role and impact of the media on the bilateral relationship. The subject figured prominently in our discussions in Beijing. The Chinese side was critical of Indian media coverage of recent developments. We referred to our difficulties with some of their media outfits. A Chinese expert candidly conceded that the Chinese media was negative, but he stressed that the Indian media was 'more negative'. Clearly media representatives need to sit together and get to understand each other better.
We returned with a clear impression that China-India engagement needs to be expanded beyond governments, defence forces and business communities. It should encompass all of us: strategic experts, journalists, tourists, students, entrepreneurs, civil society activists, and youth and women leaders. Many more conversations and interactions are needed because stakes in China-India relations are indeed very high.
— The writer is a former Ambassador and director-general of the Indian Council of World Affairs.