Touchstones
What is making our youth angry
The pampering of metros at the cost of mofussil towns and the breakdown of civic amenities has created a tsunami of such anger that this mutiny, when it strikes, will sweep the Centre away.
Ira Pande

Early this week, I was in Allahabad to participate in a function I had promised to attend. Allahabad University is my alma mater and there is a special place in my heart for both the university and my old teachers. Apart from that, I spent an important part of my growing up years there and the urge to visit it after a gap of several years was so strong that I found myself rattling away on the Prayag Raj Express with all kinds of apprehensions tumbling in my brain. One of them was whether I would be alive after the train ride because the death rattles that emerged from the nether regions of the compartment and the drunken lurches that took us along the ancient tracks had me wondering whether I would become another statistic in the long litany of rail accidents!
So much has changed in the city that it is no longer possible to negotiate it on my own. The old, gracious bungalows with their quaint tiled roofs and huge gardens and orchards have been carved into smaller plots and an assortment of apartments has sprung up like weeds over graves. The urban squalor that is now a necessary collateral damage of 'development', with its familiar litter of waste, garbage and plastic; overflowing drains and narrow streets choked with traffic that is chaotic to say the least — all this is now so much a part of modern India that it does not raise the same anger it did a few decades ago. What is tragic is the receding levels of civility and grace that were so much a part of small-town India. The spacious boulevards and cultivated gardens of the old Civil Lines were markers of a tamed and cultivated wilderness. All that is now vanishing and the subject of a book of essays titled 'The Last Bungalow' edited few years ago a by the poet Arvind Krishna Mehrotra and brought out by Penguin as a part of its city biography series.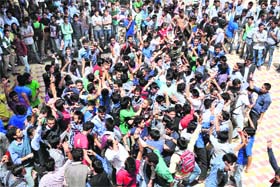 The youth needs more than just lip service.
However, the soul of the ancient city, still called by many Prayag, always lay elsewhere. It bordered the two rivers that gave Prayag its historical and religious significance and had localities with atmospheric names such as Alopi Bagh, Atarsuiya, Muthiganj, Jhoosi, and of course, Chowk. As young girls, we were not allowed by our parents to go to these 'dangerous' areas and I had visions of goons and gangsters who would kidnap us if we dared to defy our parents. What was denied to me then was available now: the venue of the event that had taken me to Allahabad this time was in Atarsuiya, close to the famous Khusro Bagh, the site of the tomb of Jahangir's rebel son, Khusro, who was first blinded and then killed by his brother Prince Khurram (later Shah Jahan). During the mutiny, it provided sanctuary to the rebel sepoys. Its orchards are renowned for their delicious and fragrant guavas that have given the Allahabadi 'amrood' its fame in North India.
Each year, a girls' college, run by the Khatri community, hosts a national essay competition in honour of a distinguished elder, the late Damodar Das Khanna. The competitors submit an essay and then make a presentation before a jury that evaluates their performance in an open house. The process is quite daunting and would unnerve many of us, forget the young students who are grilled. Frankly, I had never imagined that I would encounter such a talented pool of young boys and girls. To my utter delight, the girls did better than the boys and the first prize, a handsome cheque of a lakh, was given to a young girl who studies at the National Institute of Design, Ahmedabad. The despair that I had felt when confronted with the degraded city was overcome by the experience of listening to these confident youngsters who had so much hope and courage that I felt ashamed at the despondency of our generation. The other wonderful discovery was their command over Hindi, a language we seldom hear in Delhi. Unlike a previous generation of youngsters who felt vanquished by their inability to speak fluent English, the speakers who chose to express their views in Hindi made me proud of a language that is my mother tongue. Mind you, it was not the laboured Doordarshan idiom but the voice of a confident, rooted self that gave their thoughts an authenticity that a foreign tongue can seldom copy.
I came away from Allahabad with several points to ponder over: the rise of a new India in cities that have not yet been poisoned by the cynicism of our metros. A new language is being forged in our backyards and those who have developed theories of political reality based on statistics would be well-advised to step outside the leafy environs of their Civil Lines lives to see, hear and understand what it is that disturbs and angers the youth. The pampering of our metros at the cost of our mofussil towns and the total breakdown of civic amenities has created a tsunami of such anger that this mutiny, when it strikes, will sweep the Centre away like a house of cards.