Congress leaders divided over issue of one-man, one-post
Shimla, October 5
The Pradesh Congress Committee (PCC), which met under the chairmanship of party president Sukhwnider Singh Sukhu, seems to be divided on the issue of 'one-man one-post'. When the issue came up for discussion during the state executive meeting today, the opinion was divided on the issue. The consensus was that issue should be left to the party high command, Chief Minister and the PCC chief.
3 women sustain burn injuries in dispute
Hamirpur, October 5
Three women received serious burn injuries in a family dispute over a piece of land at Patta village under Bhoranj police station on Thursday when their relative threw kerosene on them. The three Sharda Devi, Anju Devi and Nisha Kumari after receiving burn injuries were hospitalised.
Dharamsala college students, teachers boycott classes
Dharamsala, October 5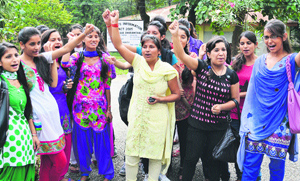 Students of Government College, Dharamsala, today boycotted classes and raised slogans against a history lecturer for allegedly making insensitive statements against girls when they went to him on the problem of eve-teasing in hostels. Unhappy with the students' beahviour, teachers, too, have decided to boycott teaching till college Student Council president Aditya Sharma was suspended.
Girls protest against the administration on the Government College campus at Dharamsala on Saturday. Photo: Kamaljeet

Raid de Himalaya kicks off today
Shimla, October 5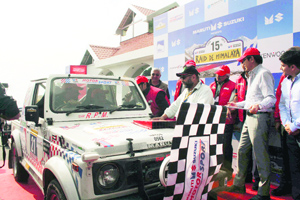 The 15th edition of the world's highest motorsports rally, Maruti Suzuki Raid de Himalaya, will start from here tomorrow. The six-day event will see 153 participants, including 13 women, drive through treacherous hill terrain, passing through 12 high-mountain passes, the highest being Khardung la (18,500 ft) and lowest Jalori pass (10,500 ft). Richa Sharma of the Himachal Police will be the first woman cop of the country to participate in the event.
Raid de Himalaya participants being flagged off from Destination Hotel in Solan on Saturday. Photo: Amit Kanwar
'Udhaar Ka Pati' staged in Shimla
Shimla, October 5
The Amateur Dramatics Club (ADC) staged a Hindi play, titled "Udhaar Ka Pati" as part of the 23rd Raising Day celebrations of ARTRAC (Army Training Command) at the Gaiety Theatre here today.
Dharmani withdraws resignation
Shimla, October 5
Chief Parliamentary Secretary Rajesh Dharmani met Chief Minister Virbhadra Singh here on Friday late evening and withdrew his resignation. He had a detailed discussion with the Chief Minister, who had earlier accepted his resignation, to end the matter. Virbhadra said Dharmani did not have any real grievances.
Panel to monitor paid news in Lok Sabha poll
Chamba, October 5
A district-level Media Certification and Monitoring Committee has been constituted under Deputy Commissioner Kadam Sandeep Vasant, who is also the District Election Officer. The committee will monitor the poll expenditure on paid news and advertisements in the forthcoming Lok Sabha (LS) elections. Complaints or issues related to paid news in newspapers, television, local cable network and Internet in connection with the LS elections had come within the purview of the committee, the Deputy Commissioner said. — OC