Lalu Yadav
The last laugh is on him
The long arm of the law has finally caught up with Lalu. With his political career facing a dead-end, the entertainer in him would be anything but amused.
By Nirmal Sandhu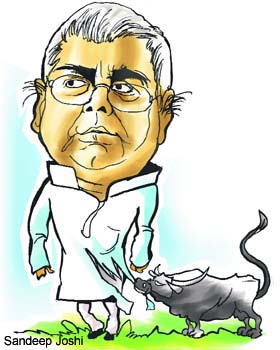 Lalu Prasad enlivened the Indian political scene for the past 35 years with his disarming candour, earthy humour and rustic political lingo until the fodder scam verdict landed him in jail. Is it the end of his long political journey? Does one feel sorry for him? A fellow Bihari's reaction was: "Is he a Subhas Chandra Bose? Did he fight for India's freedom? Why feel sorry?"
Son of a milkman of Phulwaria in Gopalganj district of Bihar, Lalu entered politics as a student leader and embraced the socialist ideas of JP, George Fernandes and Karpoori Thakur. He shot into national fame in 1990 when the then Prime Minister VP Singh picked him up for the post of Bihar Chief Minister, sidelining many others.
The rise
Post-Mandal protests, Lalu Prasad consolidated his political base. Muslims rallied around him after he stopped LK Advani's rath yatra at Samastipur in 1990. The combination of Yadavs and Muslims strengthened his position and enabled him to continue as the undisputed Bihar ruler for seven years. His biggest contribution: secularism and making the extremely backward and poor people politically conscious. He spoke to them in their own language and regaled them with jokes, taking potshots at people symbolising power. Citing his own example, he inspired them to dream big. Lalu continued as the Chief Minister for seven years till 1997 and then ruled by proxy till 2005 after handing over the post to his wife, Rabri Devi.
A cartoonist's delight, Lalu's look, 'lungi' and language were carefully thought out initially for the intended effect. Over the years these have become part of his personality. He is no village bumpkin. It is not that he did not know the names of all his seven daughters and two sons, when asked. He plays an entertainer in the political circus. He is a Bachelor in Laws and holds a master's degree in political science. If rustic charm was his strength, greed was the tragic flaw in his character that caused his downfall and turned his largely comfortable, comic life into a tragedy. He is a calculating politician who has pursued and used power for personal and political advantage.
The fall
For years before he became the Chief Minister, ministers and IAS officers, among others, had been withdrawing large sums of money from state treasuries for buying fodder, medicines and artificial insemination equipment for non-existent herds of cattle. Instead of stopping the loot, Lalu joined them. In total they misappropriated Rs 950 crore. Of the 600 accused, 550 have been convicted. Lalu has been sentenced in one case along with 44 others, including an MP, a former minister of Bihar and three IAS officers. Five more cases are pending against him involving a sum of Rs 200 crore.
Bihar pays
As a Chief Minister, Lalu was a disaster. He ruled Bihar for 15 years and pushed the state to the lowest level in economic and social rankings in the country. He believed cars were not required as Bihar had no roads. He told villagers to use kerosene since electricity was unavailable. Lawlessness prevailed and kidnappings for ransom became a cottage industry, inspiring a Hindi film. Coming from a similar humble background and facing the same challenges, his one-time friend, Nitish, has rescued the sinking Bihar, ended the "goonda raj" and put the state on the growth track. It shows how one non-performer at the top can spread so much ruin.
Not funny
As Railway Minister, Lalu Prasad took the entire country for a ride. He made everyone believe that the Railways had stopped making losses and become profitable. The turnaround surprised even global management schools. Harvard and Wharton invited him for lectures. A CAG report later revealed that the Railway "success" story was due to the new practice of issuing a "statement of cash and investible surplus". When accidents happened and Lalu was cornered, he said: "Indian Railways is the responsibility of Lord Vishwakarma. So is the safety of passengers."
Thought to divine
While going to the Ranchi CBI court to hear the verdict, Lalu Prasad carried in a briefcase the pictures of Durga, Hanuman and Krishna, forgetting that prayers without good deeds won't help. Five years in jail and a six-year bar thereafter on contesting elections mean the 65-year-old RJD boss may possibly remain off the political centre stage for 11 long years. His wife and son will have to try hard to retain the supporters and the vote bank.
There is hope, still. The superior court can stay the conviction and the sentence. In 2007, the Supreme Court stayed the conviction and sentence of Navjot Sidhu in a road rage death case and allowed him to contest the Amritsar Lok Sabha byelection. Such relief, according to the apex court, "is not the rule but an exception resorted to in rare cases depending on the facts of the case".
The fodder case, which dragged on for 17 years due to Lalu's crafty coalition politics and dilatory tactics, did not weigh on his mind until Rahul Gandhi's dramatic ordinance reversal upset the applecart. Sonia Gandhi and Manmohan Singh liked him. Kapil Sibal, who as the Law Minister framed the ordinance and defended it publicly, had argued Lalu's case in the Patna High Court in the late 1990s. The Rahul camp, however, seems to have other priorities. Why have Lalu the loser when Nitish the winner is ready to be seduced? After Rasheed Masood, Lalu is the second politician to lose his parliamentary seat, post the Supreme Court verdict on convicted legislators.