Government agencies refuse to procure damaged paddy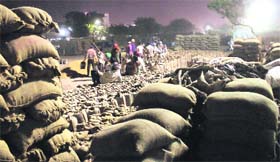 Chandigarh, October 16
With government procurement agencies refusing to procure heaps of paddy with discoloured and shrivelled grains and high moisture content, farmers in several parts of the state are facing hardship in selling their crop.



Heaps of paddy bags lying at the Rajpura grain market. Photo: JS Virdi

Water Pollution-IV
Budha Nullah continues to flow as bane of Ludhiana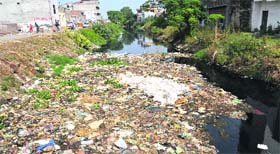 Ludhiana, October 16
Though several projects have been started to clean the Budha Nullah, the polluted drain continues to be a health hazard. Flowing 44 km through Ludhiana, the water body belies the claims of the Punjab Pollution Control Board (PPCB) that the toxicity of the 'nullah' (stream) has decreased.

The polluted Budha Nullah in Ludhiana. Photos: Inderjeet Verma

Hoshiarpur's elevation will benefit mafia: Cong leader
Hoshiarpur, October 16
Former Minister and Congress leader Naresh Thakur today alleged that land mafia, comprising leaders of the ruling alliance, had succeeded in getting Municipal Corporation status for Hoshiarpur.


NK Sharma, Cong leaders evaded stamp duty: Report
Chandigarh, October 16
The Revenue Department has held that the construction firm, VN Builders, owned by the treasurer of the Shiromani Akali Dal and Chief Parliamentary Secretary NK Sharma and members of his family, evaded stamp duty to the tune of Rs 1.30 crore.
35 years on, teachers get increment
Chandigarh, October 16
Nearly 35 years after Punjab teachers refused to observe "mass strike", the Punjab and Haryana High Court has directed the release of an additional increment. The directions came two decades after the teachers moved the High Court for the grant of financial incentive.


Exchanging Eid greetings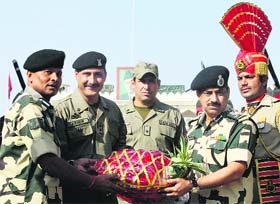 MF Farooqui (right), BSF DIG, presents a gift to Pakistani Ranger Wing Commander Asher Khan (second from left) on Eid-ul-Zuha at the Attari-Wagah joint check post. A Tribune photo
Cong leaders join protests in Amritsar, Gurdaspur
Amritsar, October 16
Congress leaders and farmers' bodies today poured into the grain markets at Amritsar and Gurdaspur and held a protest against the "faulty" policies of the SAD-BJP Government, delaying procurement of paddy.
State packaging central schemes as their own: Fernandes
Dhuri (Sangrur), October 16
Union Minister for Road Transport and Highways Oscar Fernandes attended the 'Adhikar Yatra' here today. He asked the youths to support the Punjab Youth Congress and help Congress vice-president Rahul Gandhi in protecting the rights of farmers, labourers and the down-trodden.
Cong out to harm regularisation move: Majithia
Bhaini Sahib, October 16
Flaying the Opposition for "misleading" the public on the regularisation policy, Revenue Minister Bikram Majithia said builders and plot owners should come forward to get their colonies/plots regularised after paying the composition fee.
Education standard declines with few regular teachers
Ludhiana, October 16
Contrary to the state government's claims of reforming the education system, government colleges face an acute shortage of staff. Students' education is hit with few regular teachers, librarians, lab staff, wardens and chowkidars.
Art of Living denied permission to hold event on SGPC grounds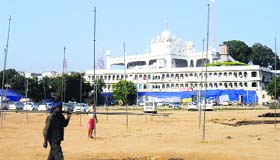 Anandpur Sahib, October 16
The Shiromani Gurduwara Parbandhak Committee (SGPC) today refused to permit the Art of Living organisation to hold a function on the SGPC grounds at Takht Sri Kesgarh Sahib on October 19.



The poles erected on the SGPC grounds being removed. A Tribune photograph

Police yet to nab kingpin in drug seizure case
Ludhiana, October 16
The local police are yet to arrest Nitin Goel and his father Pawan Goel, the main accused in the Rs 10 crore seizure of habit forming drugs at a factory in Baddi, Himachal Pradesh.
Man held for attacking Punjabi varsity student
Patiala, October 16
The autorickshaw driver, who had attacked a Punjabi University student four days ago, was today arrested by the local police. Student and teacher unions had raised a hue and cry over the rising crimes against women.
Winged visitors descend on Nangal wetland
Ropar, October 16
At least 400 migratory birds from different countries have arrived at the Nangal Sutlej Lake, a national wetland, near here. The birds are of various species, including ruddy shellduck, gadwall, northern shoveler and coot. More than 300 birds have settled at the ash pond of National Fertilisers Limited at Mojewal village.
PAU staff not paid wages for September
Ludhiana, October 16
Though the Akali-BJP led Punjab Government has increased the annual grant-in-aid for Punjab Agricultural University (PAU) from Rs 180 crore to Rs 300 crore, it has failed to release the monthly and quarterly grant instalments on time.


Ex-sarpanch booked for liquor smuggling
Moga, October 16
A former Akali sarpanch of Duneke village, Jarnail Singh, a close aide of former DGP Paramdip Singh Gill who had even shared the dais with Deputy Chief Minister Sukhbir Singh Badal during the last assembly elections, was booked on the charges of liquor smuggling last night. He, however, managed to escape.
Teenagers end life as parents oppose ties
Ludhiana, October 16
A minor boy and a girl, both classmates, allegedly committed suicide by jumping before a train at Jassian village today.
US couple of Punjabi descent held for murder
Washington, October 16
An Indian-American couple has been arrested for the murder of the man's former wife, also a person of Indian origin (PIO), in a Washington suburb.
Two killed, 13 hurt in Kapurthala mishap
Kapurthala, October 16
Two passengers were killed and 13 injured when a private mini bus fell into a 5-ft deep gorge on the Kapurthala-Kanjli road this morning.