UPA has ruined federal structure: Badal
Gidderbaha, October 10
Chief Minister Parkash Singh Badal today said the allegedly hostile attitude of the Congress-led UPA government towards the states ruled by opposition parties was straining the Centre-state relations in the country.
20 pilgrims killed in Hoshiarpur accident
Hoshiarpur, October 10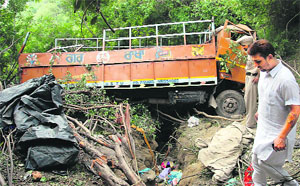 Twenty pilgrims, among them 12 women and four children, returning from the Chintpurni shrine, were killed and 45 injured when the truck (Tata 407) carrying them plunged into a 200-ft deep gorge near Manguwal village, 20 km from here. Eyewitnesses said the driver failed to negotiate a sharp turn and the truck into the gorge.
The truck that fell into a gorge near Manguwal village in Hoshiarpur on Wednesday. Tribune photo: Malkiat Singh

Bholath family loses 11 members
Fatehpur (Kapurthala), October 10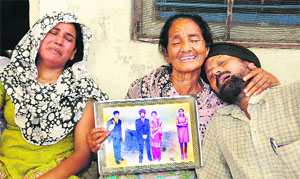 A family of Fatehpur village in Bholath lost 11 members in the accident at Manguwal village. Balwinder Kaur (35) had planned a trip to Chintpurni to thank the Almighty. Her husband Jaswinder Singh had migrated to the UK recently.

Jagir Singh (right) who lost 11 members of his family with grieving relatives in Kapurthala on Thursday. Tribune photo: Malkiat Singh

Badal was sent e-invite for Sangrur function
Chandigarh, October 10
While Chief Minister Parkash Singh Badal, expressing resentment over "not being invited", skipped the foundation stone-laying ceremony of the PGI's satellite centre in Sangrur today, sources at the premier hospital said the latter had been invited but only through an email.
Chief Minister Parkash Singh Badal honours a villager who went to jail several times during Akali Dal protests, at a village in Muktsar on Thursday. A Tribune photograph
Credit war: Akalis too plan function at Sangrur
Chandigarh, October 10
Annoyed at the Chief Minister not being invited to the stone-laying ceremony in Sangrur, the SAD leadership today decided to organise a function at the same place soon. Accompanied by Congress vice-president Rahul Gandhi, Union Health Minister Ghulam Nabi Azad today laid the stone of PGI's satellite centre in Sangrur.
Gidderbaha Cong MLA not invited for CM's function
Gidderbaha, October 10 Even though Chief Minister Parkash Singh Badal has been giving statements against the Centre for not inviting him to the stone-laying ceremony of the PGI's centre in Sangrur, the state government today did a similar act in Gidderbaha.
Ashwani faces wrath of party men
Gurdaspur, October 10
Beleaguered Rajya Sabha Congress MP Ashwani Kumar, who created a furore for having invited Chief Minister Parkash Singh Badal to Gurdaspur to inaugurate an old-age home constructed with MPLAD (Member Parliament Local Area Development) funds, finds himself isolated in the party.
Will not join politics, says Majithia's father
Amritsar, October 10
Satyajit Singh Majithia, father of Punjab Revenue Minister Bikram Singh Majithia, today said he had no intention to join politics in future. Satyajit is also the father-in-law of Deputy Chief Minister Sukhbir Singh Badal.
Sukhbir awards relief to border farmers
Amritsar, October 10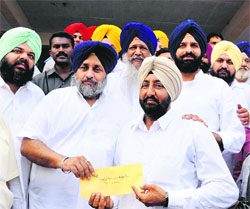 After more than 15 years, farmers owning land across the border fence finally got some respite with the state government awarding an annual compensation of Rs 3,000 per acre to them at Ranike village near Attari today. Deputy Chief Minister Sukhbir Singh Badal distributed compensation cheques worth Rs 99 lakh among 3,285 farmers of 47 border villages in Amritsar district.
Deputy Chief Minister Sukhbir Singh Badal presents a cheque to a border farmer at Attari, Amritsar, on Thursday. Also seen are ministers Bikram Majithia and Gulzar Singh Ranike. Photo: Vishal Kumar

Villagers for more de-addiction centres as police gets cracking
Bathinda, October 10
Appeals to go slow on the anti-drug campaign and set-up de-addiction centre in Bathinda were among the main demands raised by villagers during the Sangat Darshan programme of MP Harsimrat Badal in Goniana yesterday.
Paddy procurement: Storage space no more a worry for govt agencies
Chandigarh, October 10
As paddy procurement begins across Punjab, there is a reason for various state procurement agencies and the Food Corporation of India (FCI) to be happy about. In a departure from the past, there is almost 30 lakh tonnes of vacant space available to store fresh paddy this year.
Killings in the Philippines
MP writes to Khurshid, seeks safety measures
Jalandhar, October 10
Expressing concern over the killing of Punjabi youths in Philippines, Rajya Sabha member from Punjab Avinash Rai Khanna has written a letter to Union Minister for External Affairs Salman Khurshid.
Constituent colleges add to financial woes of Pbi varsity
Patiala, October 10
Set up to give easy access to education in backward districts of Punjab, constituent colleges established under a collaborative scheme of Central and state governments have added to the financial woes of Punjabi University, here.
Bodies of man, 2 children found from Bhakra canal
Ropar, October 10
The bodies of three members of a family that went missing on October 3 were retrieved from the Bhakra canal today. The bodies of Satish Kumar (38) and his two children Payal (12) and Taranpreet Singh (6) were found in the canal. Satish's wife Jaswinder (34) is yet to be traced. The family belonged to Rattewal village in Balachaur.
Villager dies in shell explosion
Amritsar, October 10
Ravinder Singh alias Lalli of Khurmania village lost his life when a shell which he found while grazing his cattle in Army area exploded late last evening.
Clerk held on bribe charge
Patiala, October 10
The Patiala Vigilance Bureau on Thursday caught food and civil supply clerk Amritpal Singh red-handed accepting a bribe of Rs 3,000 from depot holder Sukhpreet Singh. Amritpal, posted in Sangrur, took the money in order to sign a release order for the ration.