Haryana jails bursting at the seams
Chandigarh, October 10
Haryana prisons are bursting at the seams with nearly 18,000 inmates. Statistics revealed that Karnal jail had the maximum inmates (2,354) followed by Gurgaon (2,311), Hisar(1,801), Faridabad (1,702) and Rohtak (1,292). The jails in Panipat, Palwal and Rewari had 33, 41 and 57 inmates, respectively. There is over-crowding in certain jails, official sources said.
Need to empower three-tier panchayat system, says Ansari
Sonepat, October 10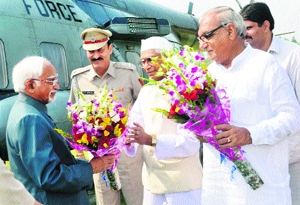 Vice-President Hamid Ansari today said federalism required flexibility, cooperation, tolerance and accommodation of political, societal and economic complexities. There was a need to strengthen 'localism' by way of empowering the three-tier system of panchayati raj institutions in the system of governance, he added.
Governor Jagannath Pahadia and Chief Minister Bhupinder Singh Hooda welcome Vice-President Hamid Ansari at OP Jindal Global University in Sonepat on Thursday. Photo: BS Malik

Modi not unanimous BJP choice for PM's post, says Selja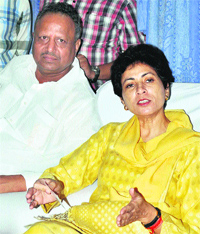 Karnal, October 10
Union Social Justice and Empowerment Minister Selja today mocked at the BJP for creating a media hype over its prime ministerial candidate Narendra Modi and said the move to gain electoral mileage in the general election would not work. Taking a dig at the BJP, she said, "The projection of Gujarat Chief Minister Narendra Modi as the prime ministerial candidate was not a unanimous choice of the BJP. Neither did it help in forging unity in the party, nor did party leaders close ranks."
Kumari Selja, Union Minister for Social Justice and Empowerment, addresses a press conference in Karnal on Thursday. Tribune photo: Ravi Kumar

After Aftab, it's Chiranjeev
Gurgaon, October 10
Sitting Congress MP from Gurgaon Rao Inderjit Singh has neither resigned from the party, nor vacated his Lok Sabha seat as yet. Still, ticket aspirants within the Congress have started staking their claim in expectation of Rao's departure.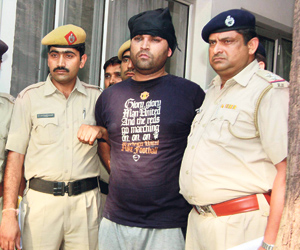 Vikram Kadian, a hardcore criminal allegedly involved in more than 200 heinous crimes, in police custody in Gurgaon on Thursday. He carries a reward of Rs 70,000 on his head. Tribune photo: Sayeed Ahmed

Three get life term for murder
Fatehabad, October 10
District and Sessions Judge SC Goyal has sentenced a widow, her paramour and a brother to life imprisonment for murdering of the woman's brother-in-law. Kuldeep Kaur had liquidated her brother-in-law Baljit Singh on January 1, 2011. with the help of her paramour Makhan Singh and brother Balvinder Singh as he was becoming a hurdle in her relations with Makhan Singh.
5 dera followers acquitted of murder charge
Sirsa, October 10
District and Sessions Judge Kuldeep Jain today acquitted all five accused of murdering a Sikh youth during a clash over 'Naam Charcha' at Dabwali in Sirsa in July, 2008. The court acquitted Sunder Dass, Gurjant Singh, Jagtar Singh, Gurdeep Singh and Harmander Singh, all followers of Dera Sacha Sauda
Jat body chief backs khap panchayats
Hisar, October 10
All-India Jat Arakshan Sangharsh Samiti president Yashpal Malik has supported khap panchayats' demand to ban same-gotra and same-village marriages. Addressing a press conference here today, Malik said khaps had been rightly demanding amendment in the Hindu Marriage Act against same-gotra and same-village marriages.
Panel to monitor fee structure of ETT institutes, HC told
Chandigarh, October 10
The Haryana Government is all set to open up a chapter of fee regulation for ETT institutes. The government has assured the Punjab and Haryana High Court that it will soon constitute a committee for determining the fee structure.
Govt staff plan complete strike on November 13
Hisar, October 10
The two main state government employees' unions--the Sarv Karamchari Sangh (SKS) and the Karamchari Mahasangh (KMS) — have joined hands to give a call for a statewide 'chakka jam' and complete strike on November 13 in support of their demands. The unions have formed a joint workers' coordination committee (WCC) to intensify their agitation.
ASI commits suicide at police station
Faridabad, October 10
Assistant sub-inspector (ASI) Seeshpal committed suicide by shooting himself here today. He used his service revolver to commit suicide and died on the spot. He committed suicide at the NIT police station, where he had been posted for the last five years. He was in charge of the 'mohrar malkhana', the arms and ammunitions store of the police station.
Double murder accused shot
Hisar, October 10
A double murder accused was shot and another person injured when two unidentified assailants opened fire on them near the Government College on the Rajgarh road here this evening. The deceased, Kishori Lal of Mangali village, was an accused in a double murder case. His friend Sumit Kumar from Punjab was shot at.
Major projects hanging fire in Karnal: BJP
Karnal, October 10
State BJP spokesperson Jagmohan Anand today lashed out at the Hooda government for delay in completion of developmental works. He warned that in case the government failed to commence work on declared projects by December 31, BJP workers would hold a one-day fast at Mahatma Gandhi Chowk here.
Farmers not to protest during Hooda's visit
Faridabad, October 10
Farmers demanding higher compensation for the land acquired will not wave black flags to Chief Minister Bhupinder Singh Hooda during his visit here on October 13. The agitating farmers relented following an assurance by the authorities to arrange a meeting with the Chief Minister regarding their demand. The stand-off between the authorities and the farmers ended during a meeting at the office of Deputy Commissioner of Police Devender Singh. The Subdivisional Magistrate was present during the meeting. Kisan Sangharsh Samiti convener TC Sharma said, "A delegation of farmers will meet the authorities on October 12 over the schedule of their meeting with the Chief Minister." — TNS
Body found hanging
Karnal, October 10
The body of a youth was today found hanging from a tree in the Madhuban Police Academy complex. The deceased, Surender of Daha village, worked as a painter. The victim's relative, Raj Kumar, said Surender had a fight with his neighbours two days back and suspected their hand in his death. The police has booked two persons of the same village. — TNS
6-yr-old raped in Bhiwani
Bhiwani, October 10
A six-year-old girl was reportedly raped by a labourer at the Police Lines in Bhiwani last night. The victim was admitted to the PGIMS at Rohtak. The police said the girl was living with her parents who worked as labourers. As the accused found the girl alone last night, he raped her and fled. The girl was found lying in a critical condition later. The police has registered
a case. — TNS
Youth's body found
Jhajjar, October 10
The police recovered the body of a young man from a water pump house at Akheri Madanpur village under the Salhavaas police station here today. The incident came to light this morning when some villagers spotted the body in the water pump house. They immediately called the village sarpanch, who informed the police. The police fished out the body from the pump house and sent it for post-mortem examination. The body, kept at the local Civil Hospital's mortuary, was yet to be identified. — OC
12-yr jail term for rape
Sonepat, October 10
Additional District and Sessions Judge Manisha Batra has sentenced Shashi Kumar of Bidhal village to 12-year of imprisonment and a fine of Rs 30,000 for raping a minor of the same village. The minor's father suspected Shashi Kumar of the village after his daughter went missing on the night of December 31, 2012. The police arrested the accused on January 27 and recovered the girl. After her medical examination and recording of her statement before a magistrate, the girl was restored to her parents. — OC
Apple-laden truck stolen in Jhajjar village
Jhajjar, October 10
A truck loaded with apples was allegedly looted by workers of a dhaba after serving the truck driver and conductor food laced with an intoxicant in Lohari village last night. Truck owner Jagdeep told the police his truck was on its way to Alwar from Jammu. Truck driver Krishan Lal and conductor Ram Kishan stopped the truck at the dhaba to have dinner. Both fell unconscious after having food served by the dhaba workers who had mixed some intoxicant in the food. Thereafter, the workers sped the truck away. The truck driver and conductor were later admitted to the civil hospital. — OC