Truckers stop clinker supply to Ambuja's Nalagarh plant
Solan, October 10
Transportation of clinker from Ambuja Cement, Darlaghat plant, to its Nalagarh plant was suspended for the second day today by all five truck unions following failure of the company to accept their demands, including increase in the freight.
Notice served on Mandi cricket body
Mandi, October 10
The Department of Youth Affairs and Sports has slapped a notice on the District Cricket Association, Mandi, which runs a cricket academy affiliated to the Himachal Pradesh Cricket Association (HPCA) headed by Anurag Thakur.
Dhumal refutes PAN card charges
Shimla, October 10
Former Chief Minister PK Dhumal today accused ministers in the Virbhadra government of trying to mislead the public on his PAN card issue by distorting facts, which had already been verified and found to be untrue by various investigating agencies.
'Anurag, Arun diverting attention from misdeeds'
Bilaspur, October 10
Ram Lal Thakur, Congress state general secretary and Chairman, state Planning Development and 20-Point Programme Implementation Committee, has taken both Anurag Thakur and Arun Dhumal to task by saying that both the brothers are trying to evade real issues of their having committed serious irregularities and illegalities. And now they are making totally false accusations against Chief Minister Virbhadra Singh in an attempt to divert public attention from their "misdeeds".
Charges are baseless: MLAs
Kangra, October 10
Yog Raj, former MLA, Pragpur, and Sanjay Rattan, sitting MLA, Jawalamukhi, have criticised former Chief Minister PK Dhumal's family for launching baseless and false propaganda against Chief Minister Virbhadra Singh. The Congress leaders said here today that the Dhumal family was indulging in such a propaganda just to divert the attention of people from their own "misdeeds".
Centre nod to 800 ITS-enabled buses for state
New Delhi, October 10
The Urban Development Ministry has sanctioned 800 modern Integrated Traffic System (ITS)-enabled buses, including ancillary infrastructure such as depot and workshops, with a total project cost of Rs 313 crore for urban transport for Himachal Pradesh.
Need for regular eye check-up stressed
Kangra, October 10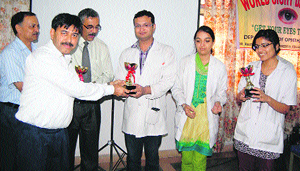 World Sight Day, which is observed on second Thursday of every October, was celebrated with this year's theme "Get your eyes tested" at the Dr Rajendra Prasad Government Medical College (DRPGMC), Tanda, and Rainbow International School, Nagrota Bagwan, today.
Dr Ramesh Bharti, Officiating Principal, DRPGMC, Tanda, gives away prizes to winners on World Sight Day in the college on Thursday. Photo: Ashok Raina

Saurabh Kalia's father shocked over India's stand
Kangra, October 10
Dr NK Kalia, father the martyr Capt Saurabh Kalia, who was brutally killed by Pakistani forces during the Kargil war, today expressed unhappiness over the reply Defence Minister AK Antony had given to Rajeev Chander Shekhar, MP Rajya Sabha, after two years.
HP Chief Secy suffers brain haemorrhage
Shimla, October 10
Chief Secretary Sudripta Roy today suffered brain haemorrhage with his blood pressure shooting above 230.
District-level School Boys Tournament ends
Bilaspur, October 10
"Defeat teaches us a lesson that we are deficient in our preparations and must strive hard to win the next time." This was stated by local Bilaspur Sadar MLA Bambar Thakur while addressing, as chief guest, the concluding function of the District-level School Boys Tournament (under-19) here today.
Thieves take away jewellery worth Rs 4 lakh
Bilaspur, October 10
Thieves struck in a big way at Kharotta village near Barthin, 43 km from here, last night and are said to have taken away gold jewellery worth Rs 4 lakh and cash of Rs 30,000 from the house. Achhar Ram, a Junior Engineer in the HP State Electricity Board posted at Nalagarh, said the theft was committed when no one was in the house. The gold jewellery was recently made for his daughter's marriage. He said all locks of doors of the house were found broken while the Godrej cupboard in which the jewellery and cash was lying was also broken. Someone also stole a computer from a shop at Barthin bazaar the same night after entering the shop from the back door. The police visited the spots and registered cases and was investigating. — OC
2 temple trust workers suspended
Hamirpur, October 10
Subdivisional Magistrate (SDM), Badsar, Akshay Sood has suspended two employees working under the Baba Balak Nath Temple Trust (BBNTT), Deotsidh, for an alleged embezzlement in the trust office. "The employees Vikramjeet Singh Rana and Anil Kumar working in the trust office had been allegedly involved in inflating printing order for permit booklets, issued by the trust office during festivals in the Deotsidh temple," he said. The matter was detected by two trustees after seeing the inflated bills in the BBNTT office after the matter was reported to the SDM, who had conducted an initial inquiry. — TNS
Rs 35 lakh for fencing of Khajjiar lake
Dalhousie, October 10
State Forest Minister Thakur Singh Bharmouri has directed the Forest Department to prepare a comprehensive plan for the conservation of the Khajjiar lake, 24 km from here. The Forest Minister sanctioned a sum of Rs 35 lakh for the fencing of the Khajjiar lake to protect it and its glade from stray animals and directed the department to start work at the earliest. Bharmouri also sanctioned Rs 5 lakh each for the development of the Wildlife Information Centre at Lakkarmandi on the Kalatop link road near Dalhousie and at Manali in Kullu district. — OC
One held for issuing fake certificates
Bilaspur, October 10
The Ghumarwin police has arrested Dharm Singh who runs a private school at Kandraur, near here, under Section 420, IPC, on the charge of issuing fake certificates. Reports said the police, after receiving a complaint that this school had issued a fake certificate resulting in an anganwadi worker getting service on its basis, had raided the school and found some fake certificates there. A police team was also sent to Delhi as the accused had named an educational board of which he used to issue certificates to youths. The team found no institute of that name existed in Delhi. — OC
Circuit Bench to function at Nurpur from Oct 14
Nurpur, October 10
Litigants from far-off places of Nurpur subdivision in lower Kangra district now will not have to travel to the district headquarters in Dharamsala for their hearing in the District and Session Court as the high court has notified the setting up of a Circuit Bench at Nurpur. The Bench, in its maiden opening, will start functioning on the premises of the SDM Court here from October 14 to 19. According to information, the High Court had taken a policy decision for setting up such Circuit Benches at the subdivisional headquarters. — OC
Thunderstorm damages paddy crop in Chamba
Chamba, October 10
Torrential rain, accompanied by thunderstorm, has caused heavy damage to the paddy crop standing in their field in an outlying Bhattiyat region in the Chamba district. This season farmers of the region were expecting a bumper paddy crop, but the thunderstorm has dashed their hopes. The farmers have requested the state government to take stock of the situation and assess the losses caused due to the untimely weather conditions to their paddy crop. They also urged the government to compensate the losses of the crop. — OC
10,000 visit Bhalei temple
Dalhousie, October 10
In the wake of the Navratras, elaborate arrangements have been made for devotees thronging the Bhadrakali Bhalei Mata Temple, 40 km from here. Stating this here today, Bhalei Temple Managing Committee president Kamal Thakur said so far around 10,000 devotees had visited the temple. — OC
Flights cancelled
Kangra, October 10
Both flights of Air-India and Spice Jet were cancelled on the third consecutive day today due to the poor visibility at the Kangra airport. KK Sharma, Director, Kangra Airport, said the bad weather in the valley had forced the airport authorities to cancel the fights. — OC