Clarify stand on IT returns, CM told
Hamirpur, October 9
State executive member of the BJP Pyare Lal Sharma has said Chief Minister Virbhadra Singh should clarify his position on the allegation levelled by Arun Dhumal.
Illegal felling of trees snaps power lines in Solan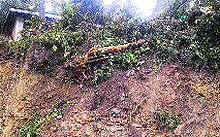 Solan, October 9
Reckless cutting of trees to clear a plot for construction led to disruption of power supply in some areas of Solan today as LT and HT lines located on the Forest Road suffered damage.



A plot where trees were cut illegally on the Forest Road in Solan

Protest against China's firing in Tibet
Dharamsala, October 9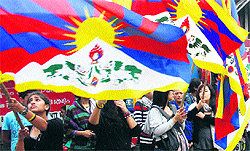 The Regional Tibetan Youth Congress, Dharamsala, and Students for a Free Tibet-India Network organised a solidarity march by raising Tibetan flags on the streets of McLeodganj, Dharamsala. The protesters alleged that on October 6, the Chinese forces opened fire on a group of people in Tibet, in which at least 60 were injured and two were in a critical condition.
Tibetans protest against China's crackdown in Tibet, at McLeodganj on Wednesday. Photo: Kamaljeet

Villager awarded unemployment allowance
Bilaspur, October 9
Rameshwar Dass Gauttam, Lok Pal, MGNREGA, here has passed an order awarding unemployment allowance of Rs 3,933 to villager Dhyana Ram of Takrehda village near here for not providing employment under the government scheme.
Post offices to accept power bills soon
Shimla, October 9
The Rs 5,000 crore Information Technology (IT) project being implemented across the country to computerise the functioning of the Department of Posts will transform it into an e-commerce monolith through integration of banking, insurance, postal and delivery services.
Baddi to get drug testing lab soon
Solan, October 9
With the Central Government providing Rs 8 crore to the Himachal Drug Manufacturers Association (HDMA) to set up a drug testing lab, the pharmaceutical hub, Baddi-Barotiwala-Nalagarh (BBN), is all set to get a first such lab which will facilitate the industry.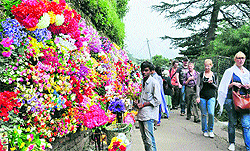 A vendor displays artificial flowers on the occasion of Navratris in Shimla on Wednesday. Photo: Amit Kanwar

AIPJSP to fight LS poll
Hamirpur, October 9
The All-India Pichhda Jan Samaj Party will field its candidates on all four parliament seats in the state.
106 get aid for house construction
Nurpur, October 9
As many as 106 poor persons today got cheques to the tune of Rs 37,500 each as the first instalment for their house construction. The cheques were distributed by local MLA Ajay Mahajan under the Indira and Rajiv Awas Yojna. He said the UPA government had enhanced financial assistance to the poor for house construction from Rs 48,000 to 75,000.
Leopard kills cow
Bilaspur, October 9
A leopard killed a cow of Hari Ram Chaudhary of Changar village, adjoining the Changar sector, here last evening.
Workshop on research in mgmt at CUHP
Kangra, October 9
Prof JK Mitra from the Faculty of Management Studies, Delhi University, emphasised on the importance of history and theory in management education and management being a subject could be taught in interesting ways.
HLP memo to Governor
Hamirpur, October 9
The district unit of the Himachal Lokhit Party submitted a memorandum to the Governor of the state through the SDM, Nadaun, highlighting various issues.
SJVN wind power plant to be commissioned soon
Shimla, October 9
The Satluj Jal Vidyut Nigam (SJVN) is all set to announce its entry into the wind power sector with its 47.6 MW project at Khirveri in Maharashtra to be commissioned within a fortnight.
Jewellery, cash stolen from shops
Bilaspur, October 9
Thieves broke into three jewellery shops and stole silver ornaments and cash worth several lakhs from there yesterday.
Reorganisation of Chail wildlife sanctuary opposed
Solan, October 9
Terming the fresh reorganisation of the Chail Wildlife Sanctuary into three forest divisions following rationalisation of wildlife sanctuaries as inimical to the interest of the sanctuary area, residents of various panchayats resented the move on the plea that it would adversely affect the flora and fauna.
Man held with 3 kg charas
Dalhousie, October 9
The police has seized 3.1 kg charas from a car, near Bounkhari Mor, about 10 km from here, last evening.