| | | |
| --- | --- | --- |
| | OPED — Defence | |
India needs to deal firmly with Pak on Kashmir
Resolution of the Jammu and Kashmir problem between India and Pakistan has defied most theories and approaches of conflict resolution. India needs to safeguard its interests and keep in mind that strength respects strength while the weak get pushed around
Dinesh Kumar
Exactly 67 years ago on 25th October 1947, an Army Airlift Committee headed by the Air Marshal heading what was then known as the Royal Indian Air Force (RIAF) was formed to initially discuss ways and means of sending supplies and arms to Kashmir which was under the invasion of tribesmen from Pakistan. Muzzaffarabad, Domel, Chinari and Uri had fallen and the invaders or razakars, as they were known, were closing in on Baramulla. That very morning the Defence Committee of the Cabinet chaired by Lord Louis Francis Albert Victor Nicholas Mountbatten met to discuss the Maharaja of Jammu and Kashmir (J&K) Hari Singh's request for troops that had been received the previous night (24th October).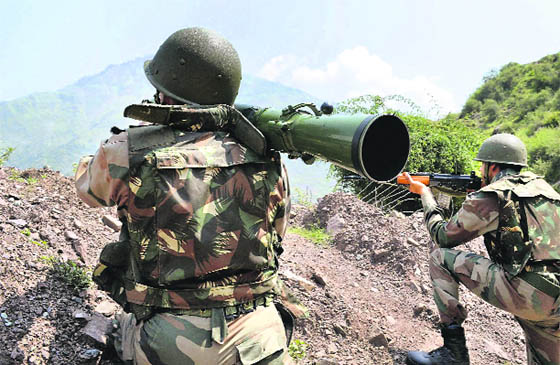 Army soldiers take positions during an encounter with militants at Tangdar area in Kupwara district. — PTI
On 26th October Hari Singh signed the Instrument of Accession and a decision was taken to airlift troops to the Valley. That same day, the razakars went about brutally massacring about 11,000 of the 14,000 residents of Baramulla and wantonly raping and abducting women, including European nuns, while destroying the Mohra power station which supplied electricity to Srinagar. It was in fact this savage orgy of sordid killings, rape (the local theatre was converted into a rape centre), loot, plunder, vandalism and desecration that slowed the movement of the razakars or else they would surely have run over Srinagar and prevented the landing of Indian Army soldiers at Srinagar airfield thereby possibly changing the course of history.
Shortly before midnight the same day, a signal was flashed to 1 Sikh battalion, the nearest located Infantry unit to Delhi (stationed in Gurgaon), to reach Palam airport by 4 am the following morning (27th October). The battalion was not up to full strength and so in order to make up for the shortfall, Sikh personnel from 13 Field Regiment, an artillery regiment then stationed at the Red Fort in Delhi, were hastily organised into an Infantry company and temporarily placed under the 1 Sikh battalion.
An extraordinary operation
Thus on 27th October 1947, barely two months after Independence, 28 vintage Dakota aircraft carrying 474 Army soldiers took off for Srinagar. Six of these Dakotas were civilian and carried 15 soldiers each while the remaining 22 RIAF Dakotas carried 22 soldiers each. So uncertain was the situation in the Valley that the battalion's commanding officer, Lt Col Dewan Ranjit Rai, was instructed to first circle Srinagar airfield and carefully scan the countryside to check whether the raiders had already occupied it. If so, he was to fly back and land in Jammu.
"Such a rider to an operational intrusion", observes the official history of the 1947-48 war, "must surely be unique in modern military history, and was an indication of the uncertainty, hazards and difficulties facing the Indian troops when they went to Kashmir. Even the details and locations of friendly troops in the state on that date were not known to the Indian Army headquarters", states the history. Indeed, saving Srinagar and securing its airfield was of paramount importance since Srinagar was located 480 km from Pathankot, the northernmost Indian railhead at that time.
The first aircraft, piloted by Group Capt. Karori Lal Bhatia (later awarded the Vir Chakra), then commanding 12 Squadron, landed at Srinagar airfield at 8.20 am. Since then, 27th October is observed as Infantry Day.
During the 14 month and five day war which followed, the Army lost 1,103 soldiers including 76 officers and 31 junior commissioned officers (JCOs). Another 3,152 soldiers including 81 officers and 107 JCOs were wounded. The RIAF lost 31 men including nine officers. That the war was full of heroic deeds and valour by the Army is evident from the long list of gallantry awardees that include five Param Vir Chakras (three posthumous), the highest wartime gallantry medal, 53 Maha Vir Chakras (18 posthumous which included Lt Col Rai), and 313 Vir Chakras (57 posthumous).
However, instead of regaining the entire state, the political leadership of that time chose to pull its punches and stop. This was notwithstanding the death of Mahomedali Jinnahbhai (better known as Muhammad Ali Jinnah, in September 1948), the availability of more Army troops following the successful 'Police Action' against the Nizam and his troops in Hyderabad (September 1948), and the Army's successfully freeing Poonch of its year-long siege by the Pakstanis (December 1948). The latter was, however, made possible following a major diversion of troops which resulted in the Army being unable to retake Muffafarabad, Domel and the vital Haji Pir Pass that has subsequently proven to be a strategic blunder in Jammu and Kashmir.
A complicated problem
For decades now, the J&K issue has become badly complicated, mired as it is in ideological and territorial dispute. For, J&K is divided among three countries - India (48 per cent), Pakistan (33 per cent) and China (19 per cent) and has five types of borders — the International Boundary or IB (about 200 km) with Pakkstani Punjab; the Line of Control or LoC (740 km) with Pakistan Occupied Kashmir or POK; the Actual Ground Position Line or AGPL (110 km) ahead of the Siachen glacier starting from a point known as NJ 9842 to Indra Col; the Unnamed Boundary or UB (40 km) with Chinese occupied Shaksam Valley; and the Line of Actual Control or LAC with Chinese occupied Aksai Chin region of Ladakh. India has deployed three different forces along these five 'borders' — the Border Security Force along the IB, the Indo Tibetan Border Police along portions of the 'border' with China in Ladakh and the Army along the LoC, AGPL, UB and the LAC This is the only region where the Indian Army simultaneously faces armies of two different countries - Pakistan and China.
The J&K problem both started of as and primarily remains an Indo-Pak issue. It is the difference in approach that remains palpitating and will continue to come in the way of a solution. For Pakistan, J&K is a Muslim majority state that should logically form part of their country in keeping with their belief in the Two-Nation theory and remains an unfinished agenda of partition. J&K consistently figures at the centre of Pakistan's foreign policy and its national psyche vis-à-vis India. In India, J&K is viewed as a geographical region that Pakistan (and China) has illegally and forcibly occupied and therefore must vacate. India rejects the notion that division should be on religious lines considering that India has chosen to be a secular country comprising a society that is the most diverse, complex and pluralistic in the world in terms of its multi-regional, multi-ethnic, multi-religious, multi-lingual and multi-class segments.
Behind the complicated nature of the problem lies an unsuccessful history of what is seen in India as biased and manipulative mediations by the West starting with post-colonial Britain immediately after the sub continent's partition. This, in fact, set the foundation of a festering problem that does not seem anywhere near resolution.
No place for third party mediation
India never saw itself being rewarded by mediation except during the time of the Kargil War when a stern President William Jefferson (Bill) Clinton persuaded Prime Minister Nawaz Sharif to vacate Pakistani Army incursions across the LoC in Drass, Mushkoh Valley, Kargil and Batalik portions of Ladakh in July 1999. Pakistan, on the other hand, always stood to gain territorially, except during the Kargil War.
Malignancies are best cured if detected and treated early. Alternatively, as conflict resolution theorists would argue, a 'ripening' of the problem leading to a mutually hurting stalemate (plateau) or a crisis bound by a deadline or precipice may offer the best way out. But evidently the opportunity of an early resolution was lost owing to the circumstances in which partition took place and the subsequent role played by Britain and the United Nations. And yet, despite a long and intense history of conflict, hostility and discord comprising four wars (1947-48, 1965, 1971 and 1999), at least three major stand offs, numerous skirmishes along the LoC, AGPL and the IB, sponsorship of insurgency and terrorism, an unending loss of human lives and unpleasant exchanges at the diplomatic, political and public level, the situation has not reached a 'mutually' hurting stalemate either. At the best of times, the J&K stretch of the borders with POK has been marked by no war no peace or, at best, negative peace.
The problem has similarly defied other models and approaches such as 'ripe moment', 'precipice', offensive goals' and 'defensive goals' that form part of third party mediation. At best, international mediation and bilateralism has helped in preventing or ending wars, but not in resolving the dispute. Some thinkers in India would argue that this is because the 'hurt' has mostly been one sided with India being at the receiving end of Pakistan's policy of inflicting death by a thousand cuts to which India's response has been that of applying a thousand bandages.
Nawaz Sharif, like his predecessors, will continue to talk about talks and engage in a charm offensive with Indian journalists and other opinion makers. Yet the Pakistani establishment is not expected to desist from both raising the Kashmir issue and seeking international mediation at every international forum that it finds convenient, even if it is for the sake of simply embarrassing India. Neither is the Pakistani Army or the Inter-Services Intelligence Directorate, which would lose its raison d'etre in case a resolution on Jammu and Kashmir is reached, desist from playing hawk against India. The rising jihadism in Pakistan has added to Islamabad's domestic 'compulsions' thereby impeding any serious detente let alone early resolution to the problem.
Need for new thinking and resolve
India needs to seriously rethink its 'thousand bandage' policy vis-a-vis Pakistan. The only time India succeeded in negotiating a bilateral treaty on its terms (although many argue that the opportunity was not optimised) was the Simla Agreement signed in 1972. That was possible because India had defeated Pakistan in December 1971 and dismembered the country. The taking of 93,000 prisoners at that time was the largest in post-World War-II history and remained so until the 'mother of all surrenders' by Saddam Hussain's Army to US forces in Iraq and then Iraqi occupied Kuwait in 1991. This bilaterally negotiated treaty continues to be cited by India as the basis on which all future discussions on J&K are to be held.
While diplomacy must continue, policy makers on Raisina Hill must always keep in mind the maxim 'strength respects respect and the weak only get pushed around'. Does India's political executive have the will and resolve at the national level? Are both the military and the intelligence agencies sufficiently equipped? Is India's soft power being optimised? Thousands of lives and an expenditure of lakhs of crores of rupees over 67 years (and still counting) later, is there not a need for the Indian leadership to come up with new thinking and approach to handling Pakistan on the J&K problem which does not seem likely to be resolved for a long time ahead?