Monumental neglect of Buddhist sites
While Buddhism is gaining acceptance across globe, in the country of its origin Buddhist sites are vandalised and encroached upon. Negligible resources are spent to preserve the existing sites, hampering tourism potential of these sites
Sidhartha Gauri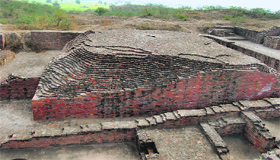 Buddhist stupa at Agroha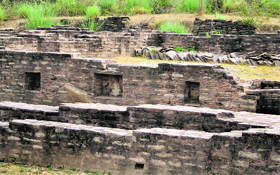 Buddhist monastery, Adi Badri
The place of origin of the Buddhist culture was the Indian subcontinent. From here it spread across the Asian countries. Most of these countries, like Sri Lanka, Nepal, Myanmar, Bhutan, Thailand, Laos, Vietnam, China and Japan have preserved this rich ancient culture and heritage, and a large portion of the population in these countries is also following the teachings of Buddha, keeping the culture that developed around this religion alive. It is disheartening to note that in the country of its origin, this significant culture which has great relevance in the global scenario has no recognition or patronage from the State.
Leave aside protection, the ancient monuments and sites are being vandalised and are being encroached upon in the guise of urban development. Even the most important and significant sites have been ignored and negligible resources have been utilised to preserve them. A Yamunanagar based NGO, in Haryana, has collected data estimating that there are close to 800-900 ancient Buddhist sites scattered across states of India and majority of them are in a dire state. The information gathered under the RTI act exposed the reason of oblivion of ancient Buddhist sites. The Forum sought the information on 12 points which include preservation, promotion and exploration of Buddhist sites in the last 21 years, from 1990 to 2011. The results were shocking. The total financial spending of the State Archaeological departments on the ancient Buddhist sites under their jurisdiction in the last 21years came to be just Rs.17,63,30,549. Which is less even than the budget of several Bollywood movies like Robot, Devdas, Lagan , Kites and many more.
The better and the worst
Arunachal Pradesh comes at the top among all the states of India with Rs.14,00,00,000 invested on Tawang Monastery, Gaden Rabgyaling Monastic School and Jangchub Choeling Nunnery at Singsur. Gujarat comes second with an expenditure of Rs.1,92,09,098, which was done after organising an international seminar on Buddhist heritage. Haryana is at the third place with Rs.80,60,249, spent on restoration of three Buddhist sites, two in Yamunanagar and one in Kurukshetra under their jurisdiction. Jammu and Kashmir has spent just Rs. 28,02,855.00 on Parihaspora Pattan, Baramulla. Ven. Bikkhu Sanghasena, President of Mahabodhi International Meditation Centre, Ladhak, says "Jammu and Kashmir is often in turmoil, therefore the state government is less effective in preserving the rich heritage. Ladhak region is full of Buddhist heritage and these heritage sites have the potential to fulfil the spiritual needs of modern society around the world. But, in order to preserve them for future, the Centre and state governments along with the local, national and international bodies have to work together to bring them back to their glory."
Maharashtra, has spent Rs. 25,00,000 on just one site in Osmanabad. Andhra Pradesh has one of the highest number of Buddhist sites under its jurisdiction but has spent only Rs.18,63,926 on them. So far, 140 Buddhist sites have been identified in the state, only a few have been excavated, the best known being Amaravati and Nagarjunakonda.Odisha spent Rs. 8,26,634 on five ancient sites. Dr Narsingh Charan Sahu, Director, Gajraj Collection Centre, Orissa, says, "Numerous ancient Buddhist monasteries and stupas located in the hillocks of Ratnagiri hold great significance both for religious reasons and for tourism.The department does not have specific financial budget allotted for the preservation of the ancient Buddhist sites. None of the promotional activities about the sites have been initiated and fencing for the security of the sites is yet to be done."
States with maximum sites
Bihar, where Buddha got enlightenment and is the holy destination for the Buddhist pilgrims around the world, the department has listed only three protected Buddhist sites so far. Apart from the famous Buddhist circuit, developed for foreign tourists, there is no information available regarding promotion of tourism, providing public facilities on major Buddhist sites. The ancient Buddhist site of Taradih, which is close to Bodhgaya temple, are lying in a state of neglect. It has become a place for dumping waste, there is no sign board, light arrangement, and a lack of security measures is also visible on the site.
Uttar Pradesh is the most significant area, historically, for Buddhist culture. Buddha gave his first sermon in Sarnath, Varanasi. The RTI reply from the office of the State Archaeological Department was shocking, in 1980-81 the department had launched an exploration programme. An ancient site in Govindnagar, Mathura, has revealed the remains related to Buddhism, still it has not been listed. On the site there is a board of the state archaeology department that states anyone found damaging the site will be fined with the Rs. 5000. This proves that the state archaeology department, Uttar Pradesh, is hiding information regarding Buddhist monuments in the state. Dr. Ravindra Panth, Director, Nav Nalanda Mahavihara Univeristy, Nalanda, Bihar, states that in present times there is an urgent need to promote and revive the Buddhist heritage. He said, NNM University has started heritage awareness programmes in which the unlisted and unprotected sites by the State Archeology Department and Archeology Survey of India, Patna Circle, are visited by the university staff, scholars, students and monks . Locals are sensitised about their importance and measures are thought of to preserve sites in workshops held in the university campus. Antiquities and other valuable artifacts are collected by the university and submitted to the concerned government departments.
A state of neglect
Himachal Pradesh, which has tourism as its significant revenue earning source, and Dharamshala happens to be the second home to Tibetan Buddhism, yet the state department has not initiated any move to protect Buddist sites under its jurisdiction. Roshan Lal Negi, a Buddhist Scholar based in Spiti has informed the state archaeology department that in villages of Lahaul- Spiti itself, there are nearly 20-30 sites which bear evidence of ancient Buddhist culture and heritage. Rajasthan state's archaeological department also has no protected Buddhist sites. The official website of Rajasthan Archaeology Department shows about 50 listed mounds, which in future exploration could reveal existence of evidence related to Buddhist heritage. States like Rajasthan, Himachal Pradesh, Manipur, Meghalaya, Nagaland, Sikkim, Tamil Nadu, Jharkhand, Karnataka, Tripura and Uttarakhand are among the states which never took any initiative in identifying and preserving Buddhist sites.
According to The Buddhist Forum, an NGO, West Bengal archaeological department did not respond to a series of RTI queries, indicating no initiative in this direction. Punjab has Sanghol as the only identified Buddhist site in Fatehgarh Sahib, locally called Ucha Pind. Besides this, the department has no record of budget allocation, expenditure, or explorative efforts made towards identification of such ancient and significant heritage sites. Madhya Pradesh, glorified for one of the oldest and complete monumental Buddhist site, Sanchi Stupa, in the RTI reply the state archaeological department did not show any record of the finances spent on any ancient Buddhist sites in the state.
Reason for neglect
According to Devendra Handa, renowned archaeologist and scholar from Chandigarh, who discovered two of the most important Buddhist stupas in Harayna, one in village Chanti, Yamunanagar and the other in village Asandh, Karnal, states that anything which exists around human beings is maintained and looked after till it serves a tangible purpose. Buddhist culture flourished till the end of 7th century A.D. Thereafter the persecution and downfall of this culture commenced. Handa believes that it was in the 18th and 19th century, that the British archaeologists who rediscovered a large number of Buddhist sites, brought them before the world community. In the present era, due to rapid urbanisation, large scale unchecked encroachments have occurred, thus virtually obliterating what remained at the remaining sites. According to Dr. Sonia Jasrotia, Department of Buddhist Studies, University of Jammu, Jammu, the religious and social sentiment towards this culture nearly vanished in the past 1300 years, and so a lot more effort has to be made to bring back its past glory.
The way ahead
Dr. Sashi Bala, Professor, at International Academy of Indian Culture, New Delhi, says the Buddhist culture and its teachings is one amongst the many ancient Indian cultures, it is also the neo-thought which is gaining acceptance across world. Dr. Bala suggests that the state governments should endorse exclusive funding for exploration, preservation and documentation of relevant sites pertaining to that period after thorough study, authentication and research by all the states where Buddhist culture flourished. She insists upon restoration of these sites in their past glory. The existing archaeological departments are to be empowered to implement the proposals by adding suitable additional staff and develop the Buddhist pilgrimage circuits. Heritage awareness campaigns are to be initiated with the help of NGOs at the schooling and college levels to create importance in the minds of our future generations about an old culture of modernity.
Sidhartha Gauri is a freelance writer. Views expressed are personal.


Saving resources
A Yamunanagar based NGO, collected data on about 800-900 ancient Buddhist sites in India. In the last 21 years, from 1990 to 2011, the total financial spending of the archaeological departments of 29 states for restoration and renovation of 53 Buddhist sites came to be just about Rs.17,63,30,549.