China playing for high stakes
China has been consistent in its policy of 'picking on India'. For 50 years the Western powers used Pakistan as the surrogate to counter India during the cold war years. Now, China is determined to take advantage of surrogate Pakistan to unsettle India
D. N. Panigrahi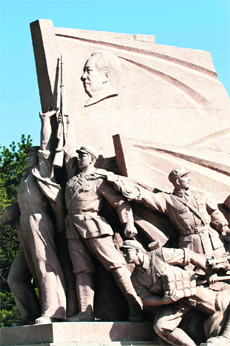 A monument at Tiananmen Square signifying China's might. China's journey from "Revolution, Repression to Renaissance" is a matter of great pride and is worthy of attention.
CHINA is a nation with a grand vision and has a mission to fulfil. Conceptualising China's worldview and perspective in the modern age no doubt may be a daunting task but a close look at its history and culture as a civilisation of the past and the present political, economic, military and cultural scenario reveals that its grand design and mission would be one of expansion of its power, influence, dominance and hegemony wherever and whenever possible.
China's new formulation of building 'a harmonious world' through 'peaceful development' as declared by former President Hu Jintao that China is a 'spiritual civilisation'; that the peaceful rise does not endanger other societies; that they would accommodate 'diversity' and not work for 'uniformity' in the world etc are much welcome. Also, the present President of China, Xi Jinping, spoke on March 13, 2013, of his ambition to fulfil 'the dream of Renaissance' for the Chinese people, assuring the world at the same time that they did not contemplate 'hegemony' over other people seemed quite mind-boggling. The journey from Revolution, Repression to Renaissance is by itself a matter of great pride and is worthy of attention.
A trust deficit
Yet, in spite of these assurances, the neighbouring countries have openly demonstrated considerable scepticism and overall there has been 'a trust deficit' in their relationship with China. China's diplomatic and military posture on issues of vital interest has been somewhat intimidating and aggressive. Even with powerful neighbours like Japan and the Soviet Union, China had displayed military offensive which has baffled the world.
All South East Asian countries have contested China's sovereignty bid over the South China Sea. Each of them protested when China sent a naval vessel while the Phnom Penh Conference was being held in July 2012. The conference reiterated by a resolution to follow the UN convention of 1982 regarding navigation in international waters. Yet, China insisted that the South China Sea, along with its islands, belonged to China only.
Incidentally, India was also involved in the South China Sea region owing to the offshore oil exploration that has been carried out in association with Vietnam ever since 1988. China had warned India not to be associated with these ventures. It is generally believed that the disputed blocks lie in the economic zone of Vietnam. Meanwhile, according to recent reports, China had been engaged in maritime mining activity deep into the Indian Ocean declaring that they were legally tenable being in the midst of the international waters.
Personality clashes
The Sino-Soviet animosity and eventual split were the result of several factors, most important being ideological, personality clashes and the border dispute. The Soviet leaders, led by Joseph Stalin, felt that they had successfully established a kind of paradise of proletariat dictatorship and were not prepared to accept any paradigm shift in this dogma.
Mao believed that the Chinese experience in the Chinese revolution was equally important in building the Marxist Communist revolutionary world. Nikita Khruschev in his memoirs "Khruschev Remembers" edited by Strobe Talbott describes the rationale and depth of discord and split in this regard.
Mao Tsetung in his discussion on Marxism-Leninism with P.F.Yudin, the Soviet philosopher who was the Soviet ambassador in China in order to study Mao's thoughts, felt 'vexed' and wondered: 'Did philosophy reach its limit with Marx and Lenin? He would sometimes wonder out loud… 'Can't the inclusion of Chinese revolutionary experience produce new philosophical thought?' Mao used to say aloud.
When Khruschev visited China to meet Mao, he was literally insulted by Mao. He was to stay for a week but he left only after three days. The chairman was deliberately playing the role of an emperor treating Khruschev as a barbarian who came to pay tribute. Russian designs, according to Mao, were not acceptable. 'Their real purpose is to control us. They're trying to tie our hands and feet' said Mao.
Unbelievable it may seem but the China-Soviet border conflict had the ingredients of a large-scale war. According to historians, 'the clashes at the disputed Zhenbao island on an isolated stretch of the Ussuri river' was of prime concern in 1969. The conflict opened the door to the possibility of a Sino-American re-approachment and the USA seized the opportunity. President Nixon assisted by his adviser Henry Kissinger planned the historic visit to China in 1971-72 through the good offices of Pakistan. That brought about Sino-American reapproachment for a while. On February 21, 1972 President Nixon along with Henry Kissinger met Chairman Mao and Prime Minister Zhou Enlai at Chairman Mao's residence. President Nixon asked, 'why have the Soviets more forces on the border facing you (China) than on the border facing western Europe?' (The Kissinger Transcripts -- top-secret memo of conversation p.62). Also Kissinger in his "On China" observed that 'Soviet troops along the Chinese border grew to some 42 divisions -over a million men'. Towards the end of 1969 in anticipation of a Soviet attack on China's National Day i.e. on 1 October, PLA had ordered full alert in China on 30 September, 1969. But the Soviets did not attack China, which surprised the Chinese leaders.
Henry Kissinger also informs that the Soviet Union had stepped up their armed strength all along the frontier resulting in the wiping out of a Chinese battalion at the Xinjiang border.
China and neighbours
Why did the Chinese build up such an atmosphere of conflict and ill-will with their neighbour and erstwhile benefactor, the Soviet Union? The main reason it seems, as stated by Kissinger was that 'China inevitably found it impossible to play the role of a junior partner'. Elsewhere, he had observed about the attitude of Chinese towards their neighbours.
'The Russians they hate and fear now. The Japanese they fear but do not hate. For the Indians they feel contempt but they are there backed by the USSR.' (The Kissinger Transcripts : The Top-Secret Talks with Beijing and Moscow ed. William Burr, New York 1998, p.42).
Lorenz M. Luthi asked the question who was responsible for the border dispute with the USSR? Henry Kissinger asserted that the USSR started the clashes, while Philip Short, according to Luthi, argued that 'Chairman Mao Tsetung instigated them to seek re-approachment with the United States and to balance the Soviet Union'. Also Lyle Goldstein M.Taylor Fravel held the view that 'the evidence points towards Chinese aggressiveness on March 2 as a Soviet counter-attack on the 15th.'
The Chinese feared a Russian attack. Observes Kissinger: "there were underground shelters in Peking and other cities. They were not against us. They had shown some of the tunnels and they were 35 km. long. The Chinese were far more exercised by the million Soviet troops along the borders then they were by our forces in Japan".
In China's strategic architecture, the supreme place of honour was given to the USA. Despite their acute differences, in terms of ideology, system of governance, concept of international relations, in fact in most public domain, China never wanted to follow a policy of confrontation with them, although once a while Mao Tsetung described the US as nothing but a 'a paper tiger'. In fact China was quite cautious and placed the powerful countries in high pedestal and went out of its way to placate them despite antagonistic aims and objectives on world affairs. President Ziang Zemin, for instance, stressed the point, during his meeting with Kissinger in September 1990. He said: 'Your friend Zhou Enlai used to talk about our five principles of peaceful co-existence. Well, they are still in existence today. It won't do that there should be only a single social system in the world. We don't want to impose our system on others, and we don't want others to impose theirs on us'.
It is quite instructive to note that in relation to Taiwan, Mao and Chou declared that they would not fight a war to liberate it but wait for a peaceful transfer of the country even if it meant a century of waiting. On the east coast of Chinese mainland lies Taiwan, 'with substantial American military presence', as stated by the Chinese representative during the meeting between President Nixon, Kissinger and Premier Chou Enlie. Zhou told the guest of honour: 'Beijing had no intention to liberate Taiwan by armed forces.' Zhou also agreed to the suggestion of Kissinger that they should 'strive for a peaceful liberation.' However, Premier Zhou reminded that John Foster Dulles had suggested at the Warsaw Talks to resolve the Taiwan issue in the next 20 years. 'Since already more than 20 years have passed, it would be good if the liberation of Taiwan could be realised in your next term of office', implored Zhou in a friendly way to Henry Kissinger.
US is exceptional
Nearly hundred years have passed and the Chinese have waited for a solution with the United States of America, without taking 'unilateral action to liberate' Taiwan. Similarly, more than a century has passed but China has not dared ask for the return of Vladivastok from the Soviet Union.
Although the US has declined economically while China has achieved an economic miracle, the fact remains the 'US is still an exceptional country and the leader of the world.' With regard to India, the story is different because comparatively India is both economically and militarily weaker. Khruschev's reminder on China, as he understood is worthy of note: 'Chinese don't recognise any law except the law of power and force. If you don't obey, they would tear your head off.' Nevertheless, whatever may be India's profile, 'India is a major Asian power, a potential rival both nationally and ideologically and a State to which even the hazy traditions of vassalage could not be attached,' observed Francis Watson in "The Frontiers of China". China is fully conscious of this. It would nevertheless continue to unsettle, marginalise, encircle and overwhelm India. India will have to face the inevitable with fortitude, diplomatic skill, wisdom and with strength.
The writer is a former Professor of History, Delhi University