CSR: An effort towards inclusiveness and equity
Corporate houses will now have to spend on social causes. A new clause in the Companies Act will make it necessary for them to do so. It may help to redistribute the benefits of growth
Ranjit Singh Ghuman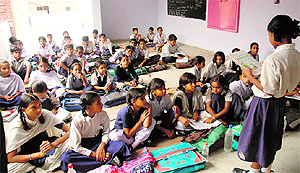 The recently passed CSR Bill seems to aim at corporate responsibility towards society, including education and health. The mandatory two per cent contribution of the profit (after tax) of each company to the CSR will add up to a sizeable amount. It aims at integrating the interest of the business with that of the communities in which it operates. A Tribune photograph

The Indian Companies Bill (2011), passed by both houses of Parliament and going to become the Companies Act 2013, will replace the nearly five-decade-old Companies Act, 1956. This bill, inter-alia, includes a very significant new clause (135) pertaining to Corporate Social Responsibility (CSR) of the companies.
Though Clause 135 consists of the CSR details, yet, sub-clause 35 (1) needs a special mention. It reads as under:
"Every company having a net worth of Rs 500 crore or more, or turnover of Rs 1000 crore or more or a net profit of Rs 5 crore or more during any financial year shall constitute a Corporate Social Responsibility Committee of the Board consisting of three or more directors, out of which at least one director shall be an independent director."
The recommendations of the CSR committee will form the basis of the CSR policy of the company, which shall be disclosed in its report and also be uploaded in the company's website.
The board of every company shall make every endeavour to ensure that the company spends, in every financial year, at least two per cent of the average net profit of the company made during the three immediately preceding financial years, in pursuance of its CSR policy. If the company fails to spend such an amount, the board shall specify the reasons for not spending the amount in its report.
Schedule VIII of the Bill identifies an indicative list of activities to be included by Companies in their CSR Policies. These activities relate to eradicating extreme hunger and poverty; promotion of education; promoting gender equality and empowering women; reducing child mortality and improving maternal health; combating HIV (human immunodeficiency virus), acquired immune deficiency syndrome, malaria and other diseases; ensuring environmental sustainability; employment enhancing vocational skills; social business projects; contribution to the Prime Minister's National Relief Fund or any other fund set up by the Central Government or the state governments for socio-economic development and relief and funds for the welfare of the Schedules Castes, the Schedules Tribes, other Backward Classes, minorities and women; and such other matters as may be prescribed.
Responsibility towards society
Prior to this bill, Indian Companies, both public and private, were voluntarily doing certain philanthropic activities, mainly focussed on religion and education, etc. They, however, were not under any obligation. With the enactment of the new Companies Act, the CSR shall become mandatory for all those companies, covered under the above mentioned clause, 135.
According to the policy for Public Enterprises (2012), the Central Public Enterprises (CPEs) are supposed to spend one per cent of their profit after tax (PAT) on CSR projects. Prior to that, it was only 0.5 per cent.
The rationale of the CSR lies in the fact that the actions of business and industry, particularly corporate sector, directly and indirectly touch and impact the lives of citizens at many points. Hence, the business and industry is expected to assure reasonable level of responsibilities towards society.
The CSR is, thus, a philosophy that looks at the social interest and the enlightened self-interest of business over long run as compared with the old, narrow and unrestrained short-run self interest. It aims at integrating the interest of the business with that of the communities in which it operates. The corporations have an obligation to various groups of society and are expected to be ethical and a good corporate citizen.
The post-Independence mixed economy model (also known as Nehruvian Development Model), based on planned development strategy with public sector in commanding heights, was aware of the state's social responsibility. This model not only pushed Indian growth from less than one per cent per annum, during the first half of the 20th century, to an average annual growth rate of 3.5 per cent during the 3rd quarter of the same century but also had growth with social justice as its cherished goal. To a large extent, this model did not allow inequality to increase while moderately addressing the problem of poverty, illiteracy and unemployment.
The post-1991, new economic policy (also known as neo-liberal model) succeeded to attain a reasonably high growth rate during 1990s and a higher growth rate during the first decade of the 21st century. It also succeeded in moderately addressing the poverty and unemployment but led to an unprecedented increase in inequality and concentration of wealth. Lately, not only the growth rate has dwindled but the economy is also facing an inflationary pressure with high unemployment.
During the post-reform period, the Indian private companies made a good fortune. The share of organised private sector in the GDP of India increased from 13 per cent to 25 per cent during 1993-94 and 2009-10; an unprecedented shift of 12 percentage points in a short span of 15 years. This has happened at the cost of unorganised sector and public sector. Significantly, the share of the unorganised sector in the GDP decreased from 63 per cent to 55 per cent during the same period while this sector employs 92 per cent of workforce.
The share of wages in net domestic product of India witnessed an upward trend during 1993-94 to 2000-01 (from 33.8 per cent to 38.3 per cent) but a sharp decline thereafter. It oscillated between 28 per cent and 31 per cent during 2004-05 and 2009-10. This, along with 77 per cent of Indian people living up to Rs 20 per capita per day (Arjun Sen Gupta Committee Report), provides sufficient evidence of exclusive growth.
Sharing the benefits
Nevertheless, 'growth at any cost' and 'growth is to be followed by redistribution' seems to be a dominant philosophy of Indian policy makers. The CSR clause is aiming at redistributing the benefits of growth among those who have been bye-passed by growth.
The access to education, skill and health still seem to be a distant dream of the common man. Without empowering them with education, skill and health, it is just not possible to enable them to participate in the growth process. Reaping of demographic dividends, their translation into growth and maintaining or achieving high growth rate may just not be possible without empowering the common man.
The main thrust of the new growth theorists and that of Amartya Sen is on the quality of human capital and its role in growth and development. Jagdish Bhagwati, like Indian policy makers, mainly imported from the US and international agencies, however, seem to be more growth sensitive — 'growth at any cost' than the inclusiveness and equity.
One wonders how they will be able to maintain high growth rate leaving a very high proportion of Indian population at the margin! The trade-off is then between the growth and redistribution (the populism and charity) on the one hand and empowerment and participation on the other.
Nonetheless, it does not mean that the hungry should not be fed till they are empowered to participate in growth and development.
The recently passed CSR bill seems to aim at corporate responsibility towards society, including education and health. The mandatory two per cent contribution of the profit (after tax) of each company to the CSR will add up to a sizeable amount.
India's growth story
Significantly, the number of firms in India has increased from 30,000 in 1956 to 8, 50,000 in 2012. All those companies covered by sub-clause 135 (1) of the Companies Act 2013 are under mandate to spend a minimum of two per cent of their yearly profit on CSR activities. This will annually generate billion of rupees for CSR activities. If invested properly, it shall certainly generate formidable result and positive impact.
Many public sector enterprises have been voluntarily performing CSR since the 1950s. For example, the Steel Authority of India Ltd (SAIL) — a public sector Maharatna Company has already set an example by way of its CSR activities. During the last four years (2009-10 to 2012-13), it has spent about Rs 262 crore on its various CSR projects, including education, health, vocational training, rural infrastructure and mid-day meals.
The public sector enterprises were set up as part of state's social welfare approach. Of late, some private enterprises, too, have been doing such activities, most of them aiming at enhancing their business and profit.
The CSR clause of the ensuring Companies Act (2013) will prove to be a revolutionary step-in redistributing the benefits of growth as well as empower the poor and marginalised people of India. This, in turn, will contribute to India's growth story. To reap its fullest benefits, the government, companies and people shall have to be transparent and socially responsible.
Let us hope that the companies rise to the occasion and follow the CSR policy in letter and spirit. Implementation, monitoring and independent evaluation would be the litmus test of this flagship programme.
— The writer is Nehru SAIL Chair Professor and a former Professor of Economics, Punjabi University, Patiala, Centre for Research in Rural & Industrial Development (CRRID), Chandigarh