Announce Rs 50 bonus on paddy, PPCC chief tells Chief Minister
Amritsar, October 20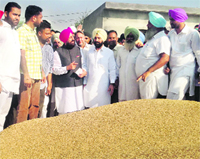 The PPCC president, Partap Singh Bajwa, today asked Chief Minister Parkash Singh Badal to announce Rs 50 per quintal bonus on paddy to help the state's farmers. Bajwa, along with DCC (rural) president Harpartap Singh Ajnala, today toured the grain market at Chamiari village, near here.



Partap Singh Bajwa (pink turban), PPCC chief, at a grain mandi in Ajnala on Sunday. A Tribune photo

Angry Kaamano farmers gherao Pungrain officer
Khamano, October 20
High drama was witnessed at the Raipur Majri grain market that is located in the jurisdiction of Khamano Market Committee when farmers, accompanied by local arhtiyas, gheraoed a Pungrain officer for tardy procurement.

Wheat sowing delayed as farmers await seed: Jakhar
Chandigarh, October 20
Congress Legislative Party Leader Sunil Jakhar has accused the Punjab Government of being anti-farmer and of dilly-dallying the fixing of rates to be charged from them for subsidised wheat seed.

Paddy procurement: SAD delegation to meet Manmohan
Fatehgarh Sahib, October 20
A delegation of SAD (B) will call on Union Food & Civil Supply Minister and the Prime Minister to apprise them of the pitiable plight of the state's farmers, while selling their paddy due to the strict specification of FCI and other procurement agencies and urge them to relax the specifications.




Jyani backs CPS Sidhu's proposal
Fazilka, October

20
Health Minister Surjit Kumar Jyani today said he endorsed Chief Parliamentary Secretary (Health) Dr Navjot Kaur Sidhu's proposal to take along MLAs during inspection of hospitals.

NK Sharma should quit politics, says Cong leader
Dera Bassi, October 20
Congress leader Manpreet Kaur Dolly has demanded that Chief Parliamentary Secretary NK Sharma should quit politics as allegations of corruption have been proved against him in cases of not paying full stamp duty while getting land registered at Zirakpur. She said Sharma had also violated the pollution control norms while constructing flats.


Govt won't get fuel on credit from Nov 1
Amritsar, October 20
The Punjab Petrol Dealers Association (PPDA) will discontinue supplying fuel on credit to the state government from November 1. PPDA president JP Khanna said the decision was taken after the government had failed to clear pending payments.
50 years on, oustees yet to get land ownership
Nangal, October 20
Even as the Bhakra Beas Management Board (BBMB) is set to celebrate golden jubilee of the Bhakra Dam on October 22, the oustees who were rehabilitated at different places in Haryana are yet to get the ownership of the land allotted to them five decades ago.
Cleaning of Bhakra Canal throws up surprises
Rajpura, October 20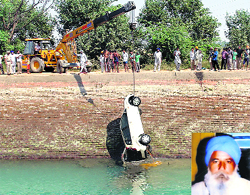 The nearly empty Bhakra Canal is throwing many surprises these days. Officials are seen taking out various items, ranging from cars, gold coins, bicycles to even corpses from the canal that is being cleaned and repaired.






The construction company, Larson and Toubro, has given an undertaking to the workers' union that it will pay a compensation of Rs 18 lakh to the kin of each of the deceased.
Schools in Maluka's constituency get facelift
Bathinda, October 20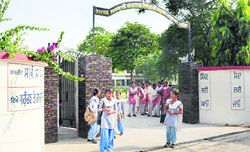 As opposed to stately buildings of private schools, government schools in the state often have little to boast of. In general, these have the bare minimum infrastructure and in particular do not have boundary walls.



The newly constructed gate and boundry wall of the Government Secondary School for Girls at Maluka village in Rampura Phul. A Tribune photograph
Three more police stations for NRIs
Jalandhar, October 20
With a sharp increase in crime against Non Resident Indians (NRIs) across the state, the Punjab Police has set up three more NRI police stations, bringing the total number of such police stations to 11.
Hosptial staff playing truant have it easy
Patiala, October 20
While on one hand, the Government Rajindra Hospital is facing a staff crunch, as a result of which, relatives of the patients are compelled to shift their patients from one place to another for various tests. Even the doctors are facing difficulties in managing their wards properly. There are employees in the hospital who are being extended undue benefits for the past many years, causing resentment amid a large section of Class IV employees.
Health services in rural areas a casualty
Sangrur, October 18
Health services in the rural areas are perhaps not on the priority list of the state government. This is the reason that it has not been paying much attention to posting of requisite number of doctors in the subsidiary health centres (rural dispensaries) being run by Zila Parishads.
Roko Cancer to hold 5 camps
Moga, October 20
Roko Cancer, a UK-based charity, has decided to hold five mega check-up camps, particularly for breast cancer, in Punjab over the next two weeks.
Aadhaar cards of little use to Patiala residents
Patiala, October 20
Local residents, who linked their Aadhaar card with their bank and LPG account numbers, feel cheated as they are paying Rs 27 extra for a subsidised cylinder. Consumers, who have not linked their bank accounts with the card, are getting a subsidised cylinder for Rs 430 while others are paying Rs 457 for the same.
Four labourers fall from winch machine, die
Bathinda, October 20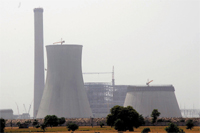 Four labourers were killed when they fell from a winch machine inside a chimney under-construction in the Talwandi Sabo Thermal Power Plant at Banawal village of Mansa district late last night. The labourers were operating the machine when it developed a snag, resulting in their fall from a height of about 30 metres. The construction company, Larson and Toubro, has given an undertaking to the workers' union that it will pay a compensation of Rs 18 lakh to the kin of each of the deceased.
Medical Council Registrar relieved
Chandigarh, October 20
Doctors wanting a licence to practice will now have to wait for the same. With the Punjab Government and the Punjab Medical Council, that grants these licences, headed for a standoff over the appointment of Registrar of the Medical Council, it may take quite a while before the council can resume the work of issuing licences.
Power corpn told to snap supply to DAV varsity
Jalandhar, October 20
After taking the newly established DAV University to court for not obtaining the requisite environmental clearance from the Union Ministry of Environment and Forests (MoEF), the Punjab Pollution Control Board (PPCB) has now directed the Punjab State Power Corporation Limited (PSPCL) to snap power supply to the university.
Navjot Singh Sidhu celebrates 50th birthday
Amritsar, October 20
Bringing to halt all speculations about his leaving the holy city, MP Navjot Singh Sidhu today celebrated his 50th birth day by organising 'havan' at his new two storey palatial house located on the outskirts of Amritsar.


HC refuses PIMS renewed permission for admissions
Chandigarh, October 20
The Punjab and Haryana High Court has made it clear that renewal of permission for admission of 150 third-batch MBBS students cannot be granted to the Punjab Institute of Medical Sciences (PIMS) for the academic session 2013-14.


2 constables held for drug smuggling
Kapurthala, October 20
The district police nabbed two Punjab police personnel on the charge of smuggling heroin and other narcotic substance last evening. The accused have been identified as Sukhwinder Singh, a constable deployed at the Sadar police station, and Buta Ram, also a constable suspended in a similar case.
Busted gang had sold 14 kids
Ludhiana, October 20
A day after the police rescued a two-year-old boy Sameer and arrested four members of a gang, it has come to light that the gang had reportedly sold 14 children. Sameer was kidnapped on October 7 from EWS colony in Jamalpur area.