Govt sitting on payment to local artistes
Bathinda, October 23
Local artistes (dhaddis and kavishris) in the state, who have performed at government functions, are bearing the brunt of financial crisis that the Punjab Government is reeling under. These artistes have performed at congregations such as Jor Mela and at the government's oath-taking ceremonies.
Will approach EC on narco-politics, Kant tells HC
Chandigarh, October 23
More than a month after Punjab's former Director-General of Police (Prisons) Shashi Kant claimed that drug smuggling worth over Rs 60,000 crore took place annually in the state and narcotics were used by political parties to woo voters, he today announced his decision to approach the Election Commission.
Industry captains pledge investment in state
Mumbai, October 23
Several prominent corporate houses in the country have pledged to invest crores of rupees in various projects in Punjab, said Deputy Chief Minister Sukhbir Singh Badal. Sukhbir, who has had several meetings with industrialists during his Mumbai tour, has managed to bag big-ticket projects from Mukesh Ambani's Reliance Industries, Tatas, Mahindra and Mahindra, Hindujas, Godrej and companies in the entertainment sector.
Cong prepares to take on govt
Chandigarh, October 23
The Punjab Vidhan Sabha will meet for a brief period of five days starting October 28. The Congress is preparing its strategy to take on the ruling SAD-BJP alliance in the assembly.
Tewari backs Capt's statewide tour
Ludhiana, October 23
Backing former Chief Minister Capt Amarinder Singh, Union Minister of State for Information and Broadcasting Manish Tewari today said the latter was only strengthening the Congress by undertaking a state-wide tour.

Village sinks in sorrow as 2 brothers die in road mishap
Sangrur, October 23
A pall of gloom descended on Baasi Arak village, 14 km from Dirba, as news of the death of two brothers, Amarjit Singh (50) and Gurmeet Singh (47), in a road accident unfolded with hundreds of people calling on their wailing family members to console them.
Basmati farmers in Fazilka at mercy of private traders
Fazilka, October 23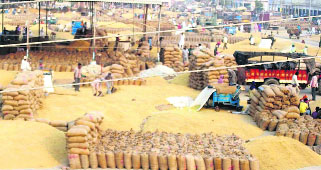 Cultivators of the popular 1121 variety of basmati in Fazilka allege that they are being fleeced by private traders who are lifting their produce at lower prices. "The farmers are being offered a price of around Rs 3,220 per quintal as compared to Rs 3,500 per quintal in the adjoining grain markets of Malout and Muktsar.
Heaps of basmati at the Fazilka grain market. Photo by writer

Tributes paid to '62 war hero
Moga, October 23
Military and civil administration authorities paid floral tributes to Subedar Joginder Singh, a Chinese war hero, on his 51st death anniversary at a commemoration ceremony organised outside the District Courts Complex here today.
Conference on educational intelligence begins today
Chandigarh, October 23
The StudentSpace and Nihal Technology Group along with the Punjab Technical University (PTU) will organise a mega Educational Intelligence Conference at Hotel Mountview on October 24 and 25. A range of issues from providing quality jobs to youth and imparting world-class education to monitoring faculty competence will be discussed at the conference.
Team to assess paddy damage arrives today
Chandigarh, October 23
Reports of distress sale of paddy by farmers have moved the Union Government to send a fact-finding team to the state and ascertain if the procurement parameters require to be relaxed. It is learnt that a two-member team comprising Mahinder Kumar, Deputy Director in the Ministry of Food, and AK Sinha, Assistant General Manager, FCI, will arrive here tomorrow.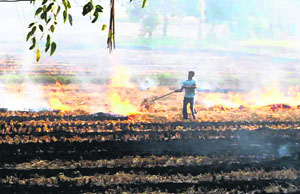 Up in smoke: Despite a ban, a farmhand burns paddy stubble in Patiala on Wednesday. Tribune photo: Rajesh Sachar

New govt appointees may get old grade pay
Chandigarh, October 23
All new recruitments by the Punjab government, including the ones on compassionate grounds, may now be done in the old grade pay. This will not just help the government skip the time consuming recruitment process by the Punjab Public Service Commission (PPSC) but also help the state save money.
Camelot Project
Order on tax recovery from MLAs reserved
Chandigarh, October 23
Just about a fortnight after Punjab MLAs challenged notices issued to them by the Income Tax Department in connection with the Tata Camelot project, the Punjab and Haryana High Court today reserved the orders after granting interim stay on tax recovery proceedings.
Message on FB: SGPC told to act against culprits
Amritsar, October 23
Akal Takht Jathedar Giani Gurbachan Singh has directed the SGPC to initiate action in the case in which an "objectionable message" against Karva Chauth, apparently written on the letterhead of the Akal Takht, was posted by someone on Facebook. SGPC Chief Avtar Singh Makkar claimed they had got some vital clues and they would get a breakthrough soon. Meanwhile, another message went viral on social networking sites today. It asks Sikhs not to celebrate Diwali on November 3, as it was on this day in 1984 when thousands of Sikhs were killed. — TNS
HC raps state for dragging ex-employee into litigation
Chandigarh, October 23
In a major embarrassment for the Punjab Government, the Punjab and Haryana High Court has minced no words to say that the establishment not only acted in an erroneous manner, unnecessarily dragged a former employee into litigation and harassed him, but also stubbornly stuck to an unjustified stand. It also imposed a cost of Rs 10,000 on the State.
HC gives state three weeks for report on mining in Pathankot
Chandigarh, October 23
The Punjab Government is verifying whether stone crushers in a border area of Punjab are using material mined in neighbouring states of Jammu & Kashmir and Himachal. Information to this effect was provided to the Punjab and Haryana High Court this morning during the hearing of a suo motu case on illegal mining in the Beas riverbed. Taking note of the assertion, the Bench of Chief Justice Sanjay Kishan Kaul set three weeks deadline for the state to furnish complete information in the form of a status report.
Verdict in school board recruitment scam soon
Mohali, October 23
With the conclusion of arguments in the Punjab School Education Board recruitment scam involving former Education Minister Tota Singh, the court is expected to pronounce its verdict soon.