Punjab Shamlat Plunder-8
Number of villages applying for land eviction sees a rise
Chandigarh, October 27
Indicating a growing trend of villagers coming forward to get 'shamlat' (village common) land freed from encroachers, cases of more than 700 panchayats have reached the office of the Director, Rural Development and Panchayat Department.
Cong to HC: Take suo motu notice
Chandigarh, October 27
The state Congress today urged the the Punjab and Haryana High Court to take suo motu cognisance of the encroachment of thousands of acres of shamlat land by influential people or those allegedly close to politicians.
GMADA owes panchayats Rs 65 cr against acquired land
Chandigarh, October 27
The Greater Mohali Area Development Authority (GMADA) owes the Punjab Rural Development and Panchayat Department Rs 65 crore in lieu of the land acquired in over two dozen villages. Various reminders to the authorities for the payments have proved futile to date.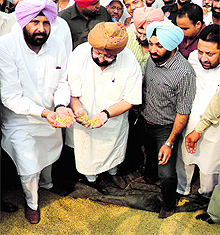 Boycott property tax, says Capt
Barnala, October 27
Former Chief Minister Capt Amarinder Singh today gave a call to all Punjabis to "boycott" property tax and the fee being realised by the SAD-BJP Government for regularising unauthorised colonies/plots. He promised that whenever the Congress returned to power, it would rectify these decisions. He asked the people not to be afraid of the Badal Government as it could not possibly register cases against 2.5 crore people of the state.



Visits Bathinda dera


Former Chief Minister Capt Amarinder Singh (second from left) at the Barnala grain market on Sunday. A Tribune photograph

House Session begins today
Congress to question tax raids on traders
Chandigarh, October 27
As the assembly session begins tomorrow, the main Opposition party is all set to take on the BJP-SAD Government on the issues of the poor financial health of the state government's failure to notify the New Industrial Policy and tardy paddy procurement.
Unwise spending eats into Punjab Infotech's FDRs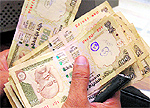 Chandigarh, October 27
Officials of the state government undertaking Punjab Infotech spent crores out of fixed deposit reserves (FDRs) on projects that never took off, depleting the reserves from Rs 75 crore in 2008 to just Rs 34 lakh in 2012. The imprudent spending by the corporation officials between 2006 and 2012 came to light during the performance audit of the corporation.
Bid to vacate Valmiki temple site thwarted
Amritsar, October 27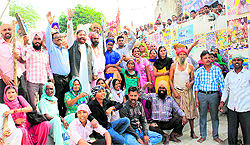 Days after Chief Minister Parkash Singh Badal laid the foundation stone of a temple at ancient Ram Tirath, tension prevailed on the temple premises after a contingent of police tried to vacate the site here today.



Supporters of a group headed by an Akali leader raise slogans against the police in Amritsar on Sunday. A Tribune photograph

Staff of aided colleges stare at 'black' Diwali
Amritsar, October 27
Thousands of teaching and non-teaching employees of Government Aided Colleges in the state anticipate a 'black' Diwali this year as they have not been paid salary for over nine months now.
41 dengue cases from Sangrur dist in 45 days
Sangrur, October 27
In the past 45 days, as many as 41 confirmed cases of dengue fever have been reported from various parts of Sangrur district to the health authorities mainly by the DMC hospital, Ludhiana, and Government Medical College, Patiala.
Health corporation gets ready to curtail maternal mortality rate
Nawanshahr, October 27
The Punjab Government is determined to drastically bring down the maternal mortality rate (MMR) in the state, which is 172 per lakh as of now.
Finally, Sajjad's house located in Jalandhar
Jalandhar, October 27
After days of search, the ancestral house of former acting president of Pakistan Wasim Sajjad was finally located in Suraj Ganj locality here today evening.
Patil for innovative teaching methods
Nabha, October 27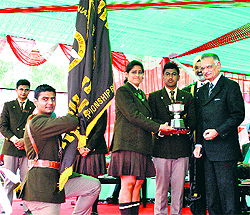 Punjab Governor and Chandigarh Administrator Shivraj V Patil, while presiding over the 54th founder's day function of Punjab Public School (PPS), Nabha, asked students to face challenges of the outside world with a positive attitude. He said in the competitive age, students should strive for excellence through commitment, vision, determination and hard work.



Punjab Governor Shivraj V Patil gives away a prize to students at the event in Nabha on Sunday. Tribune photos: Rajesh Sachar

History conference ends
Delegates want centre for South Asian studies
Patiala, October 27
The South Asian History Conference organised by the Department of History, Punjabi University, Patiala, concluded at the campus here today.
Doctor makes it to Limca Book of Records
Fatehgarh Sahib, October 27
A doctor of Rana Hospital, Sirhind, Dr Hatinder Suri, has made it to the Limca Book of Records and the Unique Book of Records for carrying out the maximum number of surgeries of piles patients in a record time. The Observer of Limca Book of Records, Ram Murti, and the Editor of Unique Book of Records, Shabbabi Mangal, honoured the doctor at a function in Sirhind today.
Wheat scam: Three policemen suspended
Abohar, October 27
CIA staff Assistant Sub Inspector Gurmit Singh, head constables Som Parkash and Balkar Singh have been placed under suspension reportedly in the wake of a wheat scam here.
High Court okays pension for 90-year-old freedom fighter
Chandigarh, October 27
More than 70 years after he took part in the Quit India Movement, 90-year-old freedom fighter Gurdev Singh will get Swatantrata Sainik Samman Pension.
Employee to get gratuity on last month's wages, says HC
Chandigarh, October 27
In a significant judgment, the Punjab and Haryana High Court has made it clear that an employee, whose rank is reduced as punishment for a day just before his retirement, would get gratuity and leave encashment on the basis of the entire month's salary and not last day's emoluments.
Haveli shootout
Another accused, his friend held with drugs
Patiala, October 27
A plan to watch a movie in Patiala cost a murder accused in the Haveli shootout dear as he and his friend were arrested with drugs on their way.
The district police has arrested two smugglers and recovered 5 kg opium from their custody.